This post may contain affiliate links. Read my disclosure policy here.
I think I've been spoiled.
Julia almost never spit-up and Sophia also keeps almost all her milk where it's supposed to be. Maybe once every of couple days she might spit-up a tiny bit, but it wouldn't be enough to even fill a teaspoon.
And in our typical twin fashion, Janice also has birthed non spitting-up children.
It gets me wondering… how common is it for babies to spit up? Does (or did) your baby spit-up? What about his/her siblings?
Part of the reason I'm pondering this question tonight, is that we're going to give three of you a little something to help with your baby spit-up situations.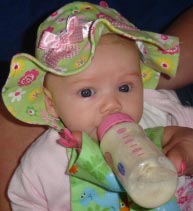 Sheila McGoldrick is another clever mom who has turned a parenting problem into a product.
Sheila's babies did spit up. Her first baby Tyler spat up so regularly that the skin on Sheila's hands began to blister and break open from all the hand washing and the acidic spit up. (She later found out she was allergic to preservatives in soaps and wipes and that the acidic nature of the spit up was aggravating the wounds.)
When Sheila's second baby Brody appeared to have the same spit-up habits as Tyler, Sheila envisioned her new unique design for a burp cloth — the Handy Burpee™.
After donating over 40 Handy Burpees to other mothers, hospitals and various organizations, it became clear that moms loved the Handy Burpee™. In October of 2006, they launched their website, LovePrints.net. And they currently have a patent pending on Handy Burpee™.
Handy Burpee™ protects your hand and baby from wearing spit-up after nursing session or bottle:

* Slide your hand into the protective pocket leaving your thumb out.
* Cradle baby's face with covered hand.
* Lean baby forward, gently patting and rubbing to help baby burp.
* Now, when baby spits up, it will run onto the Handy Burpee™ keeping your hand and baby free from spit-up.

You can continue to bottle/breastfeed your baby while this unique burp cloth is still on your hand. It won't get in the way and is always ready for use.
You can even watch a video on their site to see the Handy Burpee™ in action.
If you'd like to win one of three Handy Burpees, leave a comment here. For complete instructions, see the Christmas Giveaway 2007 post (including the code to put our Christmas Giveaway button on your site.)
But here is the quick run through:
Leave a comment on this post to be entered.
Either post a link to this contest OR post a button linking to our Christmas Giveaway post. (If you post the button and link to the Christmas Giveaway, you are qualified to enter in all the upcoming Christmas Giveaway contests. And we have many more contests to come!) Non-bloggers are welcome too – we understand you can't link – but feel free to pass the word on to your friends.
(This giveaway is open to US and Canadian shipping addresses.)