This post may contain affiliate links. Read my disclosure policy here.
We're getting crafty this Valentine's Day with these adorable pom-pom love bugs! You can have your kids make one just for fun or put together a whole army of pom-pom critters to pair with the cute printable cards we're including in this post. They'll make fun Valentines for all your child's class parties and Valentine's Day events. And they're sure to elicit loads of giggles and smiles.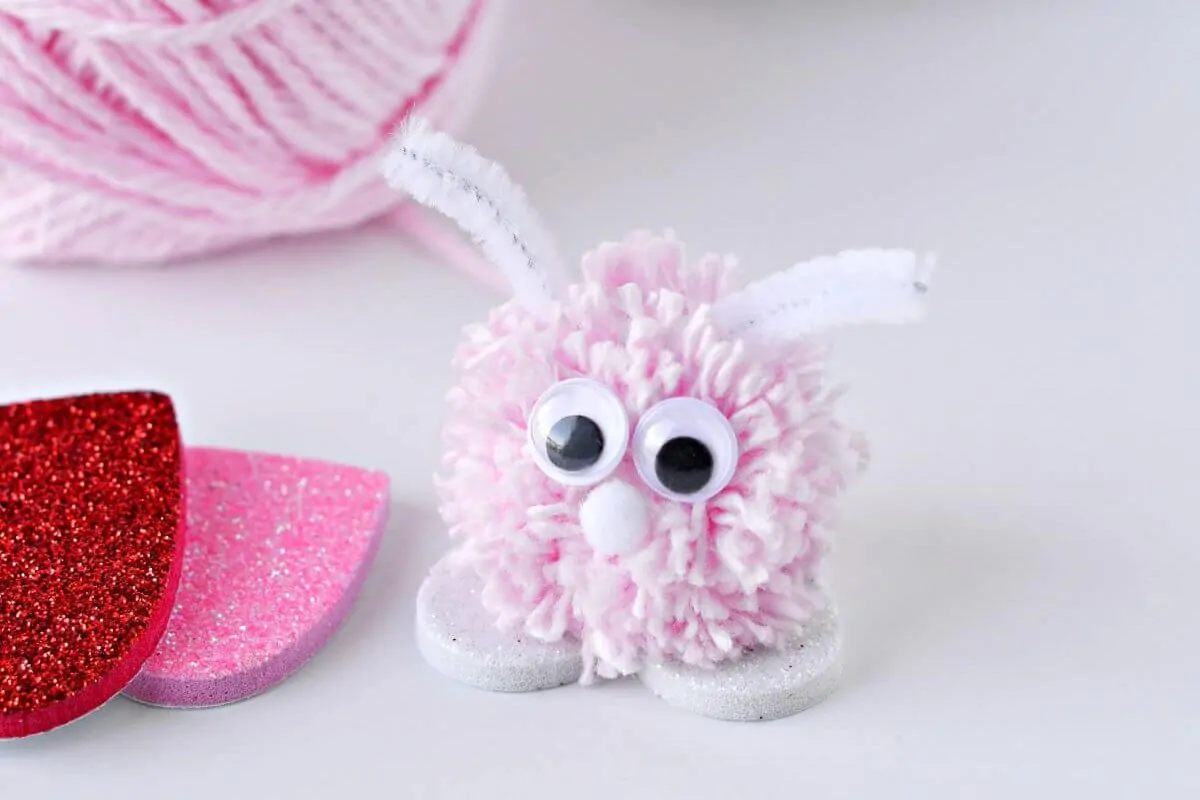 My kids had a blast with this craft. How could they not? Theses pom-pom critters so CUTE! My younger two kiddos were content to make and customize one bug each. But my daughter started a pom-pom bug-making assembly line and already has her Pom-pom Love Bug Valentines ready to hand out to her friends on Valentine's Day.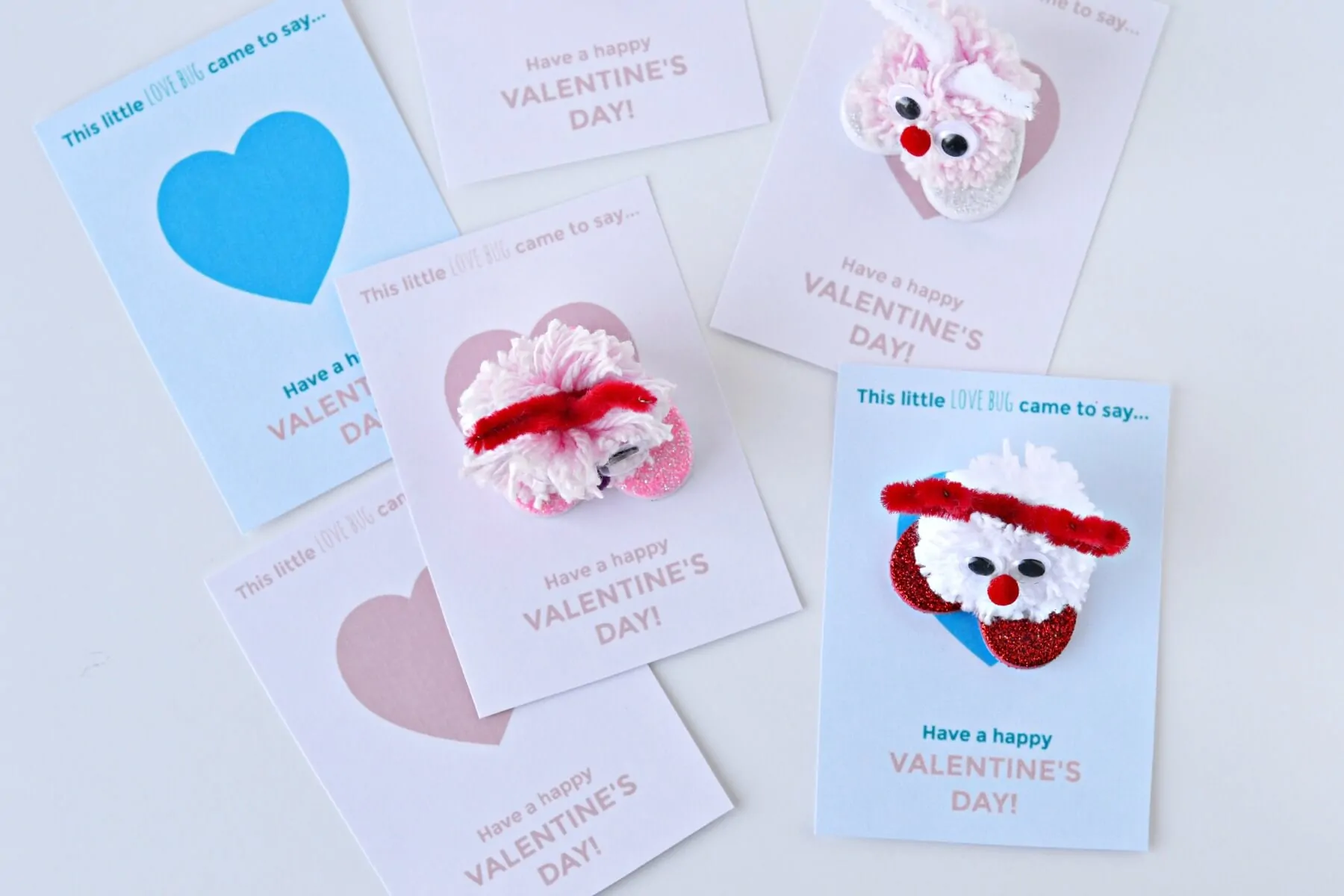 She thought it would be fun to make each pom-pom bug as unique and different as each of her sweet friends. And since these pom-pom critters are super quick and easy to put together, she had several unique and silly bugs finished and ready in no time.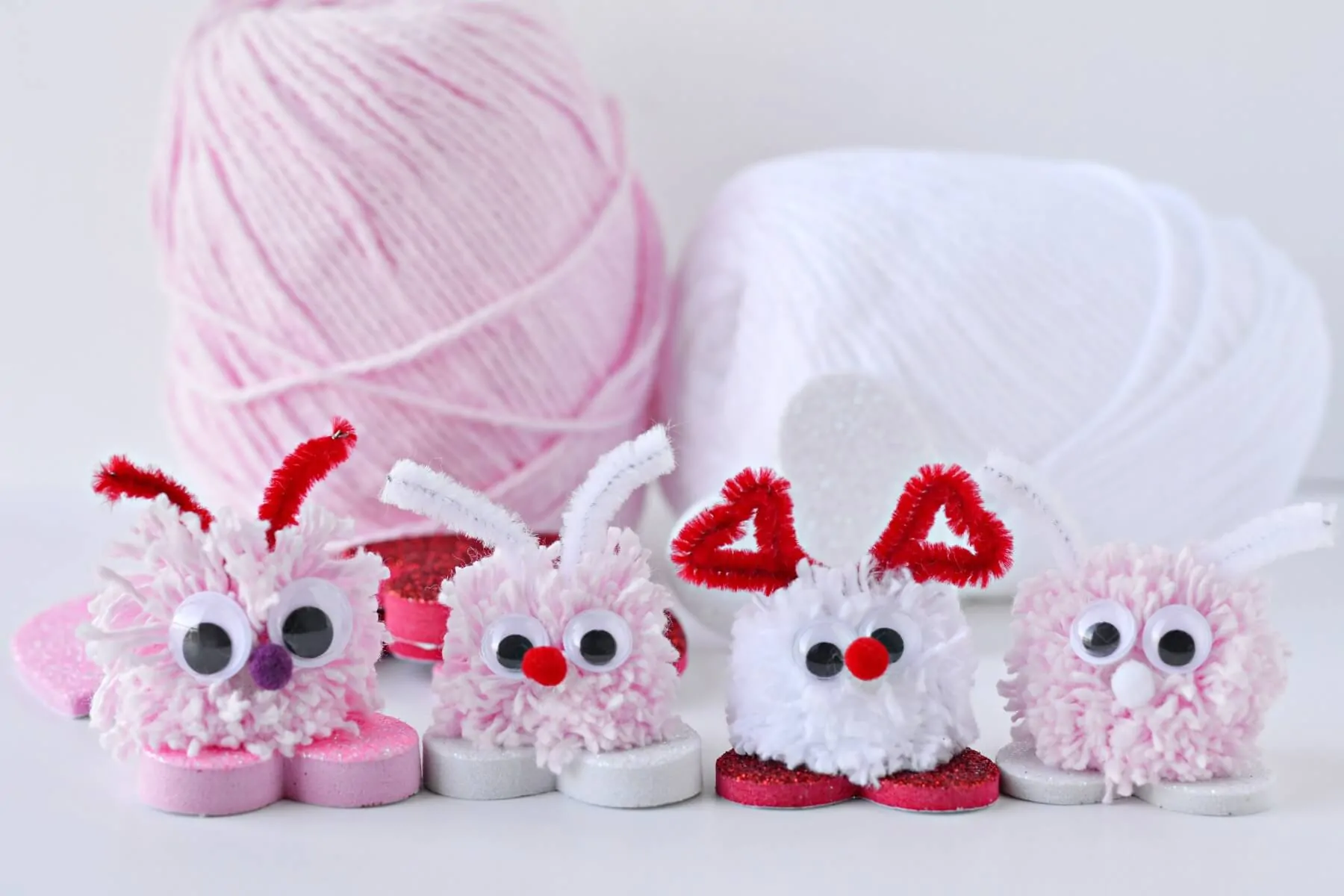 Hi, I'm Jennifer, a mother of three young children, a contributor here at 5 Minutes for Mom, and the blogger behind The Life of Jennifer Dawn. Oh, and a huge fan of all things crafty. I'm so excited to be joining you today to share this fun craft idea for Valentine's Day.
Crafts are something that my kids and I always enjoy doing together. We especially like seasonal crafts. They give us opportunities to celebrate the holidays that pop-up throughout the year in a simple but intentional way. With all the pink, glitter, and hearts, Valentine's Day is one of my favorite holidays to craft for.
Not into pink? Keep reading because we have a fun alternative for these bug-themed Valentines that you aren't going to want to miss.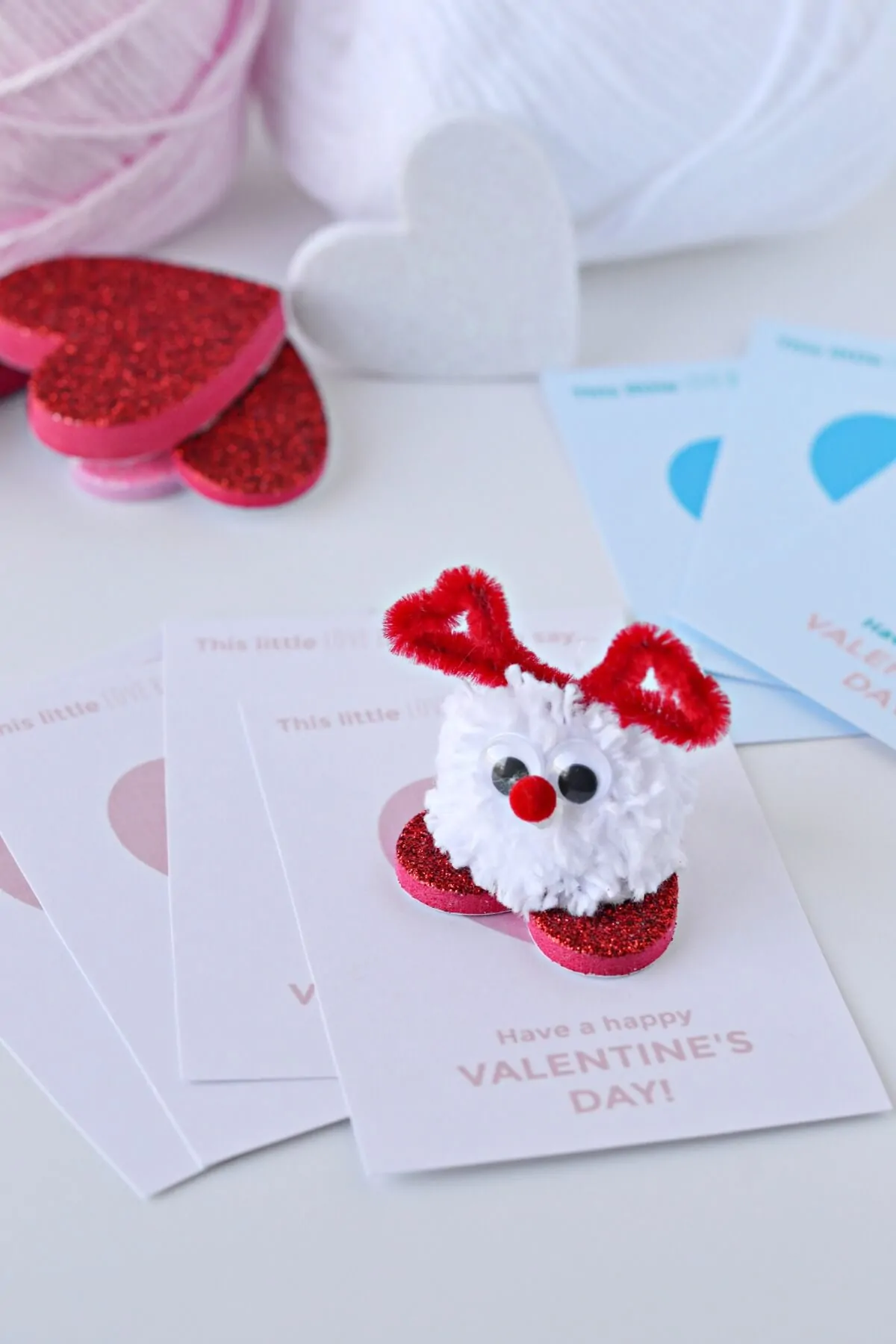 Ready to get crafty with us? You'll get to spend quality time with your kids and check classroom Valentines off your list of things to do? Here's how to make these super fun and creative love bug Valentines. Oh, and don't forget to snag copies of the free printable too.
Pom-pom Love Bugs with Printable Valentines
Materials
yarn
scissors
pipe cleaners
foam hearts
googly eyes
glue dots or craft glue
small felt balls
printable Love Bug Valentines
small toy plastic bugs (optional)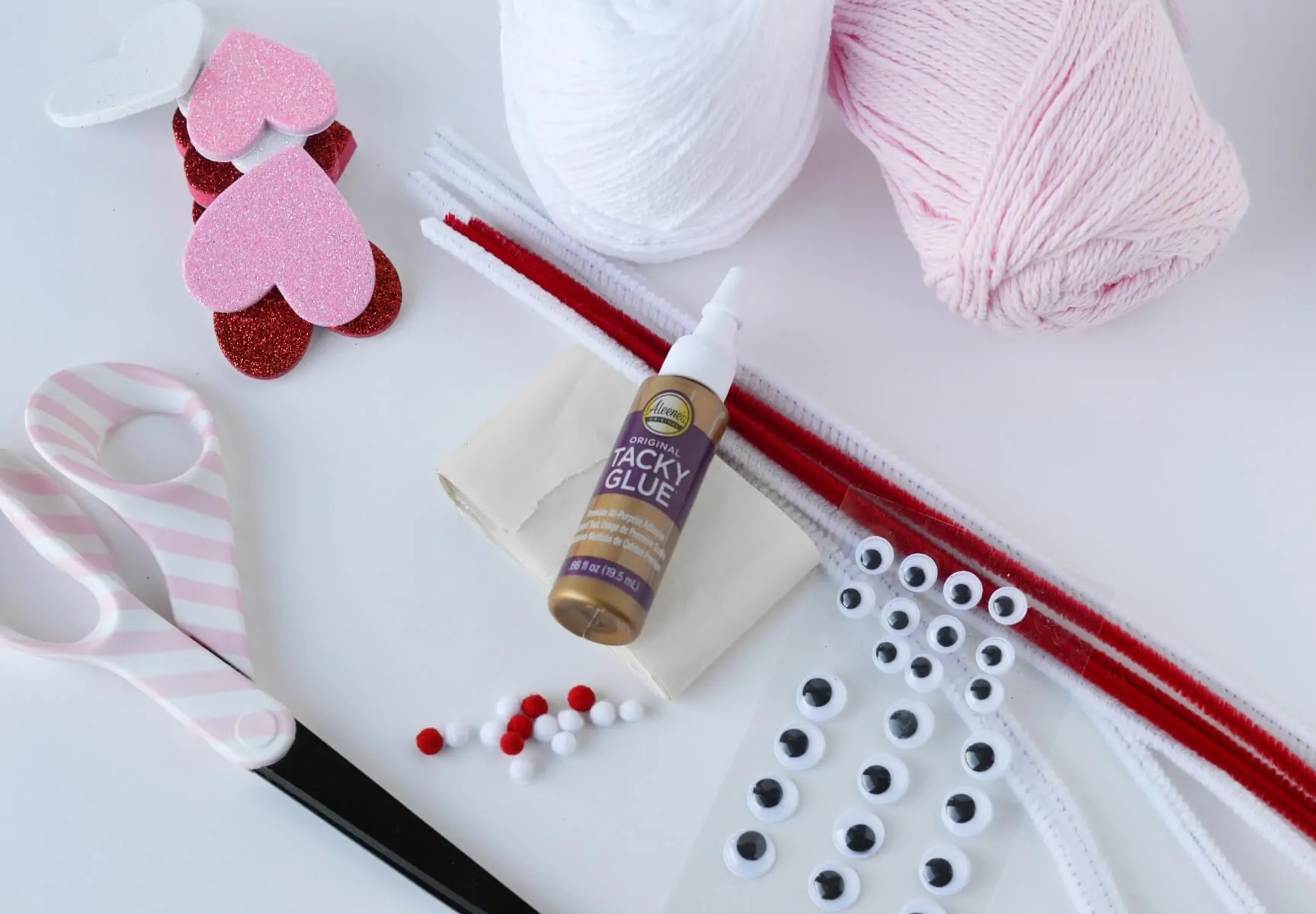 Directions
Gather and prepare your materials. Cut pipe cleaners in half. Since our pom-pom bugs are small, you'll only need 1/2 pipe cleaner for each one.




Wrap yarn repeatedly around a fork. Keep wrapping! About 20-30 times will ensure that your finished pom-pom is nice and full.




While the yarn is still on the fork, slide a pipe cleaner through the fork's prongs and around the bundle of yarn. Pull it tightly around the middle of the yarn and twist it a few times. The excess ends of the pipe cleaner will become the bug's antennae. Snipe the yarn from the skein.




Cut through all of the looped pieces of yarn. Give the pom-pom a haircut by cutting all of the strands of yarn shorter and into a more uniform shape.




Use glue dots or craft glue to adhere the bottom of the pom-pom onto a foam heart. This will serve as the bug's feet. Twist the ends of the pipe cleaners into the desired shape for the bug's antennae.




Use your adhesive to attach googly eyes and a felt ball for the nose. Repeat these steps to make a whole colony of love bugs.




Print off copies of the Love Bug Valentine Printables provided below. Cut the cards apart. Attach a pom-pom bug to each one and share them with others.

Click here to download the Free Printables:

Pink Love Bug Valentine's Day Printable PDF

Blue Love Bug Valentine's Day Printable PDF
Another Option
Short on time? Not feeling very crafty? You can still use these fun BUG VALENTINES. Print off copies of the Love Bug Valentines–pink, blue, or both. Cut the cards apart. Purchase a pack of plastic toy bugs and attach one to each card.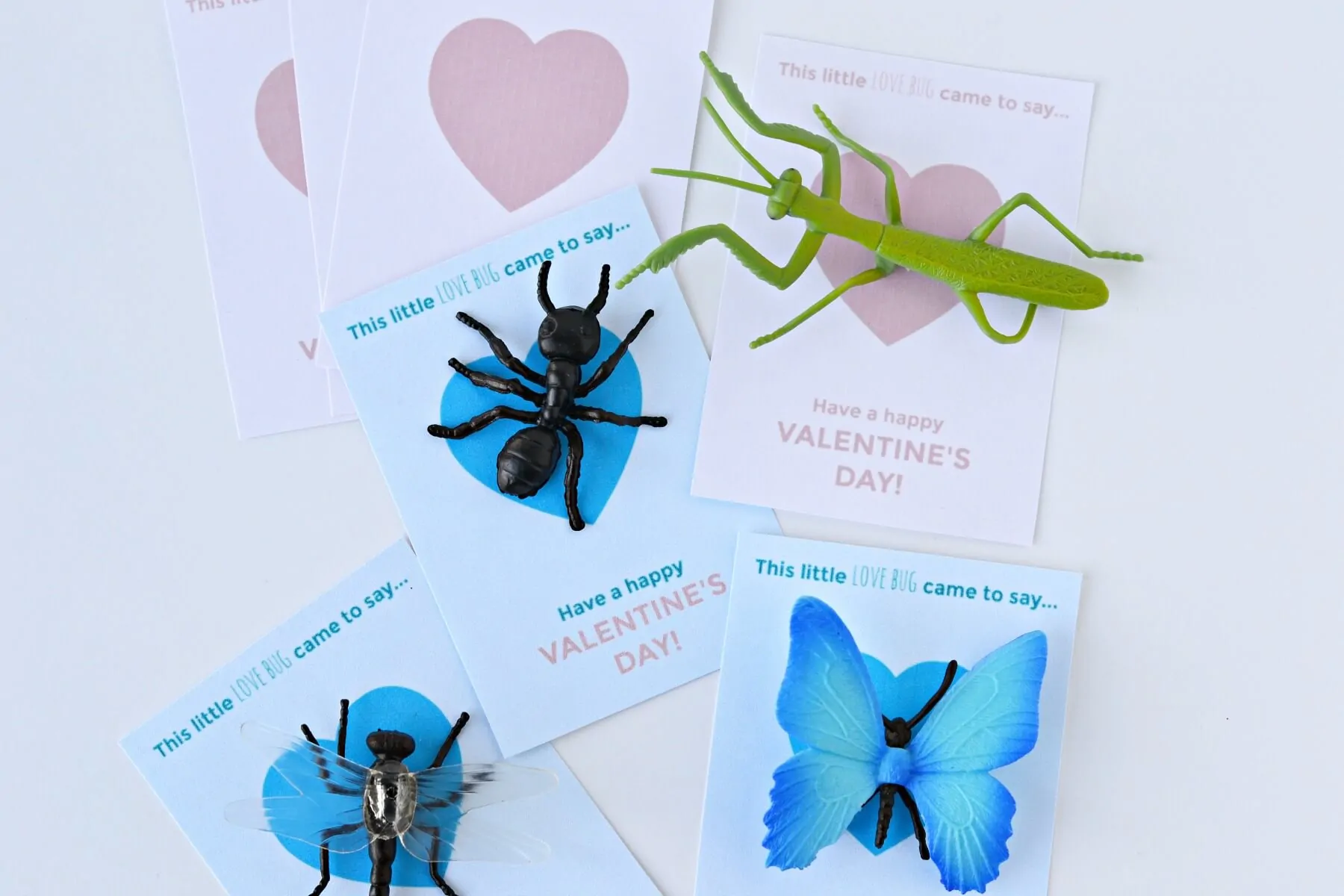 That's it! And you have a fun and easy idea for classroom Valentines.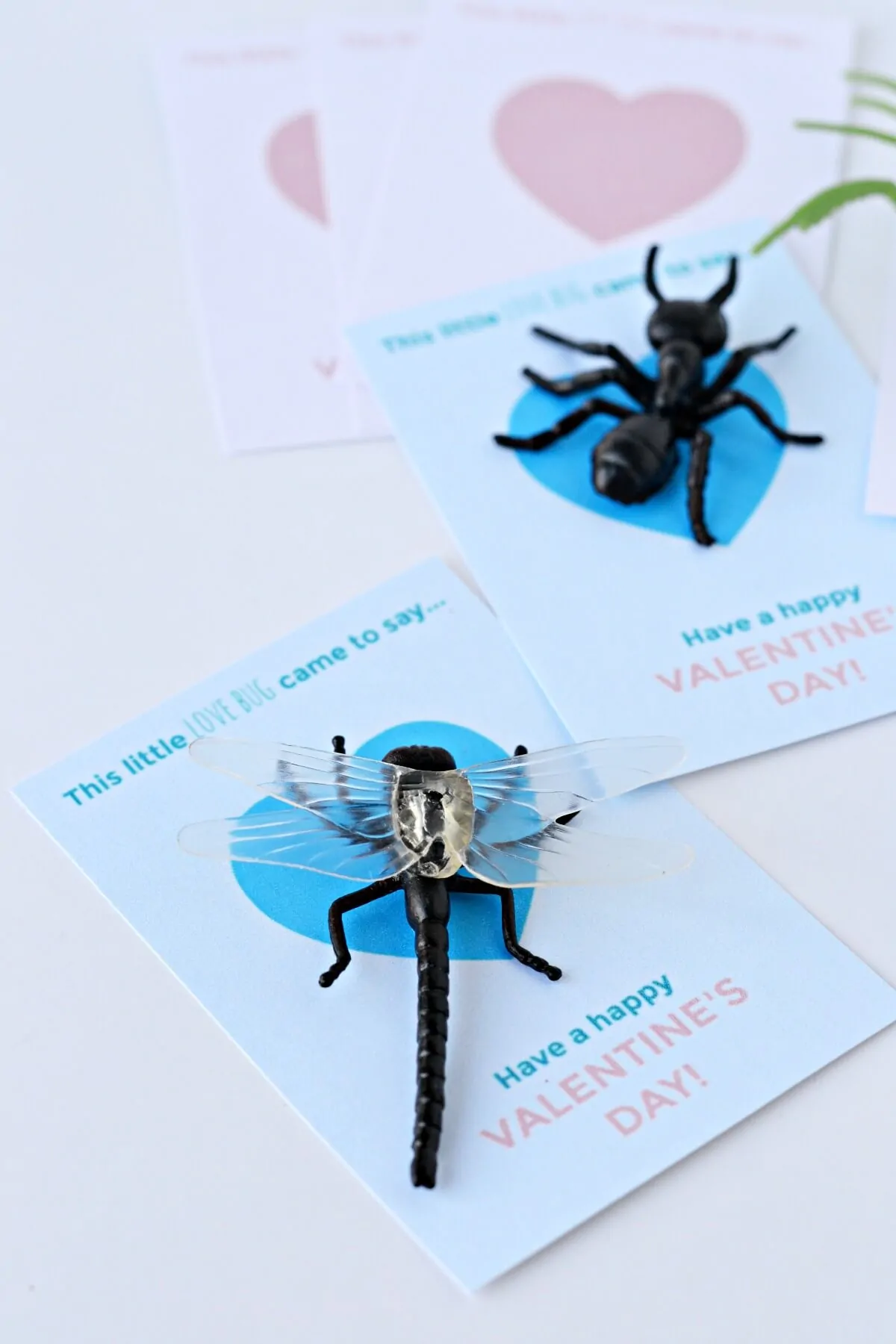 More Fun Valentines
Pin it for Later