This post may contain affiliate links. Read my disclosure policy here.
It is almost Valentine's Day, but it isn't too late for some DIY Valentine's fun. This is Janice here with some last minute Valentine's gift ideas and free printables too…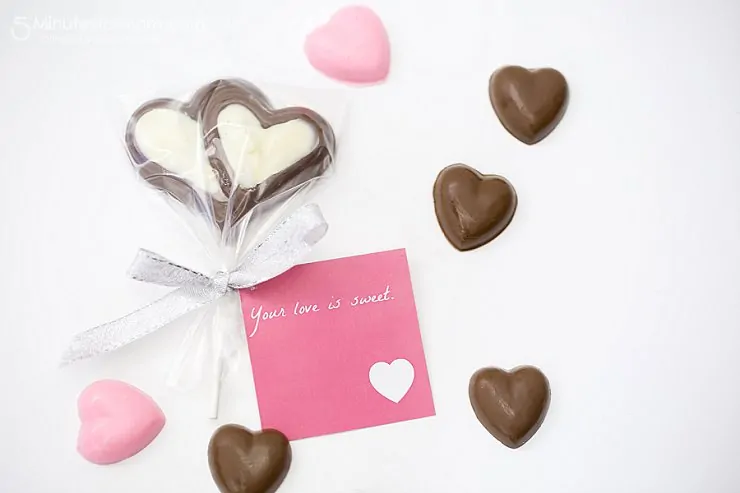 My daughter Olivia and I both love getting crafty. Whether we are baking, sewing, or crafting, we love flexing our creative minds and having some DIY fun together.
Sure, it is faster and easier, (and sometimes even cheaper,) to reach for ready made, but it is so much more fun and rewarding to do it yourself!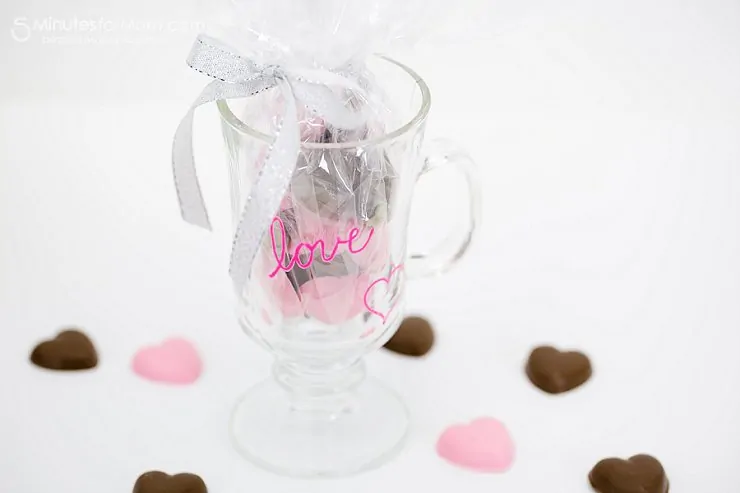 It was a busy weekend, including a cheerleading competition for Olivia, (they placed third!) and so we didn't get to the Valentine's crafts I had planned to do with her.
But this week, we snuck in some chocolate making and Valentine crafting time, (and stayed up a little past her bedtime.)
Olivia had already finished her school Valentine cards, so we decided to spend some time on a few special Valentine's gifts…
Chocolate Molds
First, we made some chocolate molds.
Since we were in a hurry, this time we didn't make our chocolate ourselves. We used melting chocolate wafers in white chocolate, dark chocolate, and milk chocolate. We also used some pink gel coloring to make some pretty pink chocolate.
Melting and making chocolate molds is so fast and easy, but adds such a personal touch and extra fun to Valentine's giving.
Using melting wafers is extra easy as they are designed to melt evenly and quickly. When I use real chocolate, I always use a double boiler so I can be more precise with my heating.
But melting wafers are easy to melt in the microwave as long as you don't melt for too long and you check often.
Stop the microwave when just the bottom wafers are beginning to melt, and then stir to melt the rest. If you do need to return to the microwave, only heat for about ten seconds at a time, stirring to melt the remaining wafers.
Then you can use an icing bag, or just a plastic bag and cut off the corner, to fill chocolate molds, tapping gently to settle chocolate and remove any air bubbles.
Pen Painted Mugs
At Christmas time, Olivia and I made some Sharpie Mugs. They turned out wonderfully. (You can check out our post on Sharpie Mugs and remember that the key to successful Sharpie Mugs is using the Oil Based Sharpie Pens.)
This time, I decided to test out these Painters pens that I bought at Walmart. They are acrylic paint, but the packages says that they can be used on a variety of surfaces, including glass.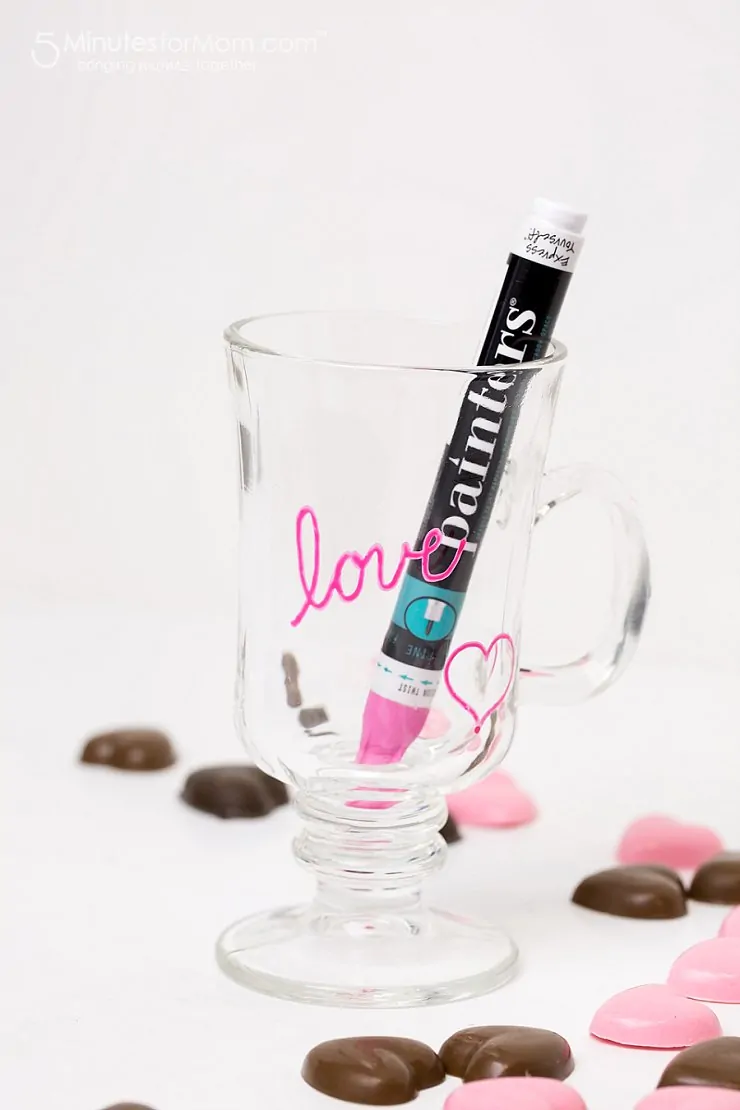 I love using paint pens because they are so quick and easy.
On the mug I made, I simply wrote the word "love" and drew a heart.
Olivia drew hearts, stars, and signed her name on her mug. It was beautiful. (Unfortunately, she had to give hers away right after we finished them and I didn't get to take a picture of hers. So my far less creative artwork is all I got to photograph.)
I heat set mine with a hairdryer, (cause I was in a hurry,) and set Olivia's in the oven at 200*. To prevent cracking, put crafts in the oven BEFORE you warm up the oven and let them cool completely before you remove them.
Then I simply cut large squares of plain cellophane, wrapped up some of our chocolates and tied with a ribbon.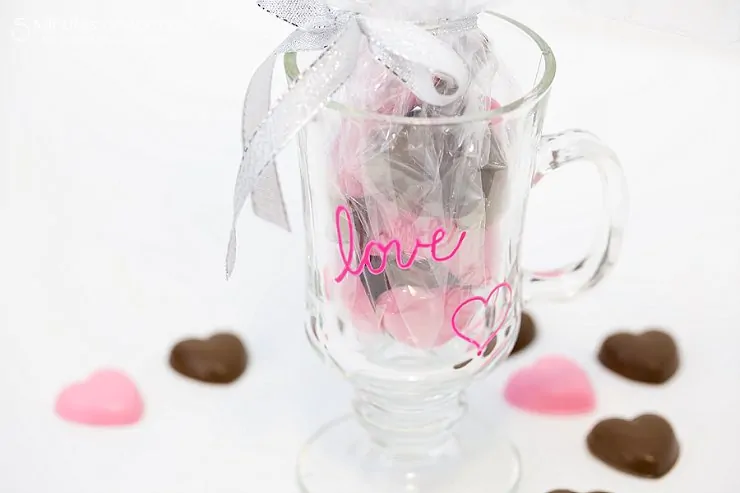 Free Printables
Next up, I made some simple printables to add to our chocolate lollipop molds we made.
I made two versions: "You are Sweet" and "Your Love is Sweet"
Click on the image and then right click to save image.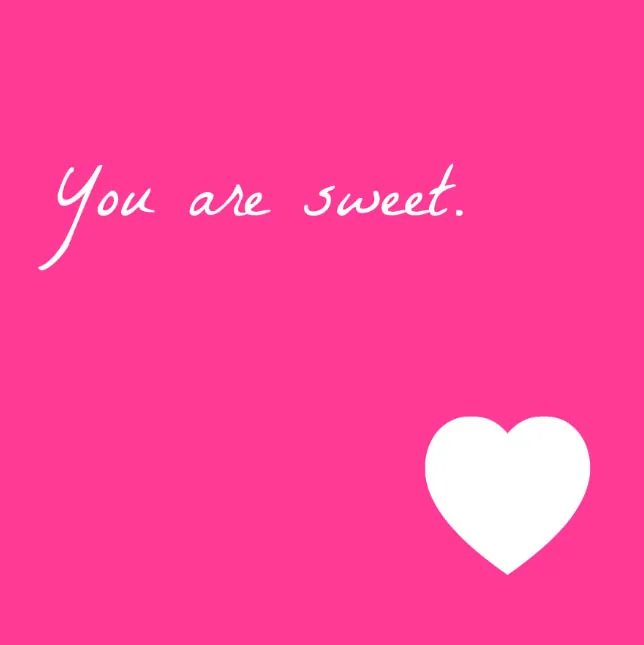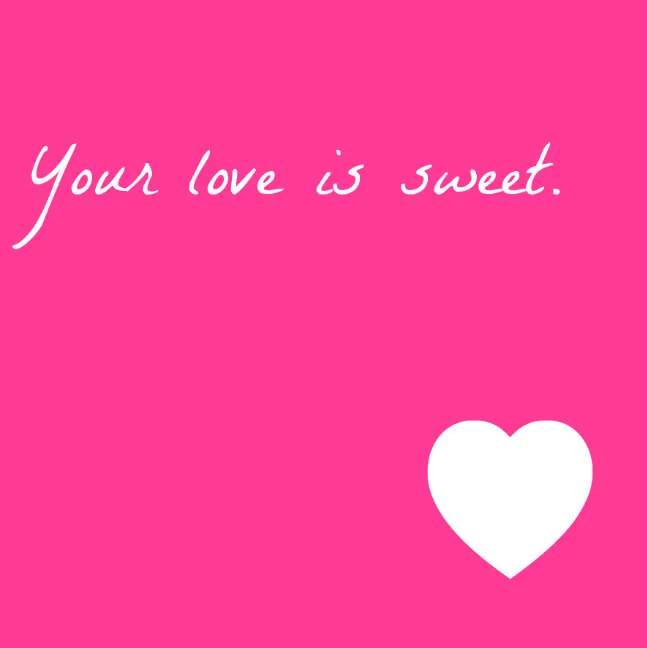 You can download both of them for free and print on your computer.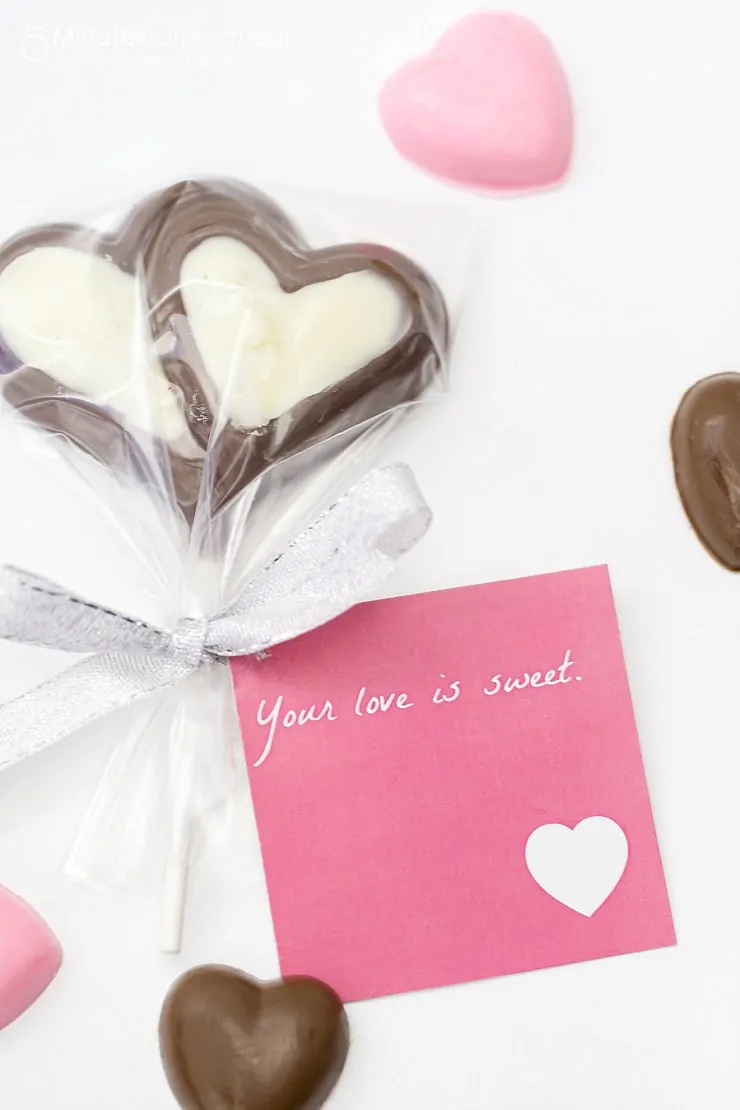 We hope you have a wonderful – and sweet – Valentine's Day with your family and friends. And for more FREE Valentine's Printables, check out our recent post, FREE Printable Valentine's Day Cards for Kids.
Pin for Later…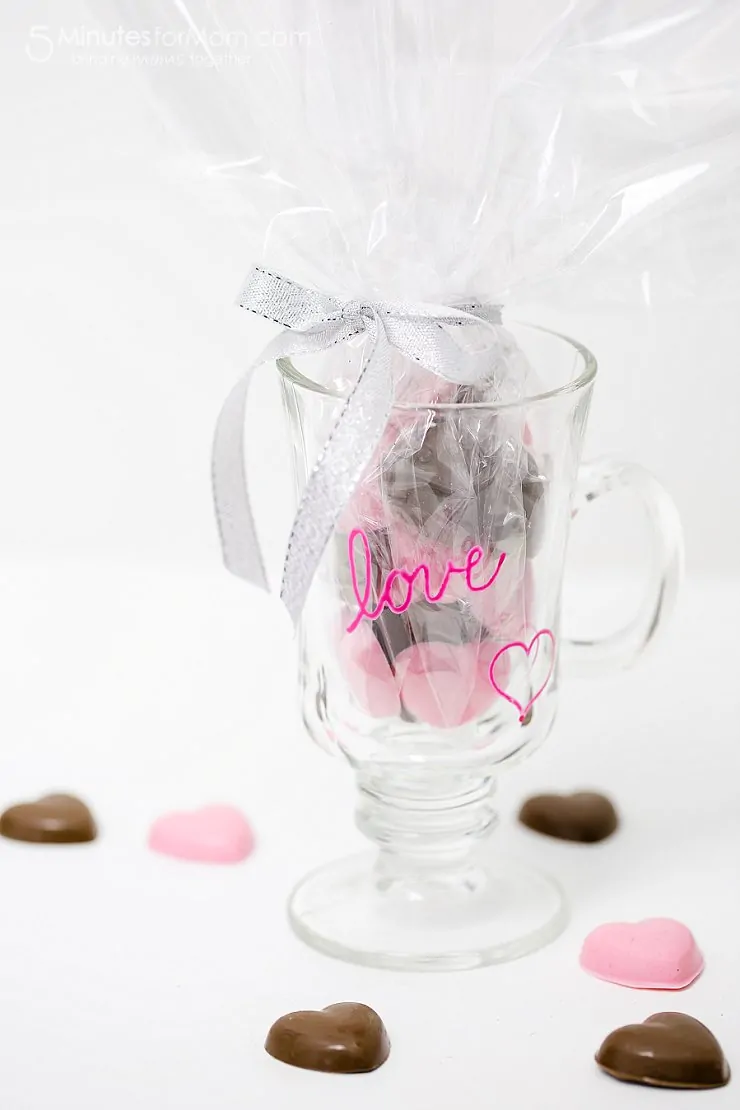 Written and photographed by Janice Croze, co-founder of 5 Minutes for Mom