This post may contain affiliate links. Read my disclosure policy here.
A mother's life is the definition of busy. Whether we have babies, toddlers, teenagers or anything in between, our lives are dominated by the tasks and worries of mothering.
It can feel impossible to get everything done — much less enjoy each day. So I'm taking inspiration from one of our favorite local brands, Happy Planet, to share some ideas for how we moms can try to squeeze more goodness into each day.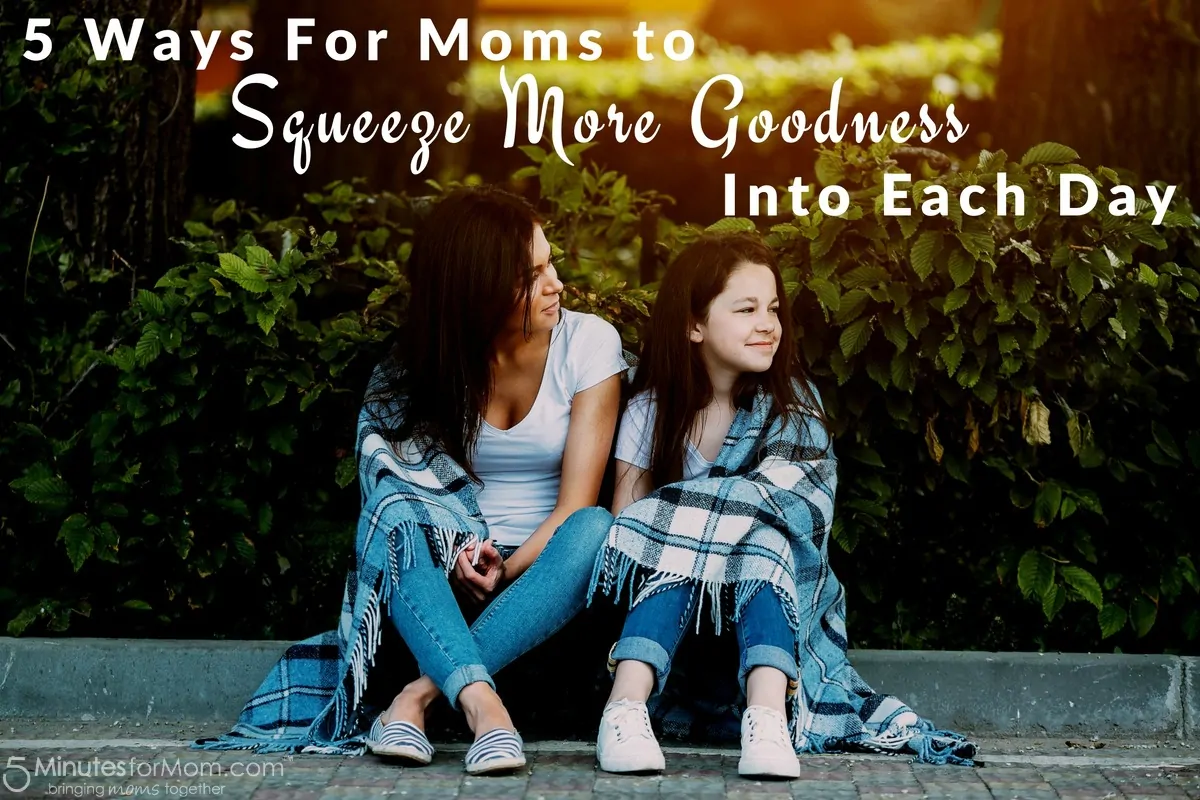 My number one battle every day is with the clock. It's relentless. And I constantly have to remind myself to slow my mind and savour the moments. My children are growing far too fast. They're in grade 4 and 6 now and I desperately wish I could rewind and snuggle them as babies again.
But fighting time is foolish because we'll never win.
Instead we need to strive to add more love, laughter, kindness, adventure and healthy choices into our daily routines.

So here are 5 ways to try to squeeze more of that goodness into your day…
Each and every day remind your children how much you love them.

When our children are small, as parents, we are constantly showing our love and affection. But as they get older, you may find yourself giving less hugs and kisses and doing more disciplining than doting.

While it's natural to hug your teenager less than your toddler, you want to remind yourself to keep that connection strong by taking moments throughout the day and week to talk and most importantly listen.

Both you and your child need to feel that bond is strong.

I remind myself that my most important job as a mother is to love my children and ensure they feel that love.

They'll remember feeling loved more than any other lesson you can teach them.


Laugh with your children, your friends and even a good old movie.

Adults don't laugh enough. We need to learn from our kids to be silly sometimes and just laugh.

Playing with our kids — even if it's simply a good natured pillow fight — is the best way to relax together, connect and make memories of happiness.

But as an adult, you also need to laugh with your friends and enjoy quality entertainment that engages your mind and makes you laugh on different levels.


Find ways to show kindness to your children, your spouse, your friends and random strangers.

It's phenomenal how good you can feel by doing a random act of kindness for a stranger.

But, what's even more important is to remember to show kindness to your family members when it doesn't seem obvious to do so.

Personally, I value empathy as one of the most important character qualities. And to teach our children empathy, we must show them kindness. The two are closely related and reflect each other.

Talk to your children about empathy and kindness and then try to find ways each day to demonstrate kindness.


Life should be an adventure not just a routine.

As parents, we rely on routines. And that's okay. Routines are so helpful to create positive rhythms and good habits in our children's lives.

But we need to remember to seek adventure both large and small — as a family and as individuals.

Finding small adventures with your children may be as simple as a nature walk where you discover life around you. It may also mean planning a camping trip or a vacation to an exciting destination.

And as mothers, we have to remember to continue our own personal adventures. That may mean taking the next step in furthering your photography skills or taking up running to tackle a marathon. Adventures can take many forms… you just need to step forward and look for opportunities.


Give yourself and your children the gift of healthy choices every day.

You love your children and sacrifice everything for them. But the sacrifice that you must not make is your health.

I am guilty. I know. I'm continually at the bottom of my own priority list and I hardly ever make it to the gym.

We need to remind ourselves that each healthy choice we make is a gift to our children. When we choose to feed them healthy food and help them stay physically active, that is a gift to them. And it is also a gift when we feed ourselves healthy food and take the time to exercise.

It's not easy. But thankfully there are food companies like Happy Planet that are helping us make healthy eating easier. Keep reading to find out what I mean…

Happy Planet's new Daily Squeeze Fruit + Veg Juices
We've shared before about our love for Happy Planet especially their soups and nut smoothies. They are a local company started here in our hometown of Vancouver, BC, Canada.
Yes, as Canadians, we're usually jealous of the larger variety of products available in the US, but Happy Planet is a treat that we have here in Canada.
And now Happy Planet has just launched Daily Squeeze — a new line of fresh, all-natural fruit + vegetable juices that make it easy to squeeze both delicious taste and nourishment into your daily routine.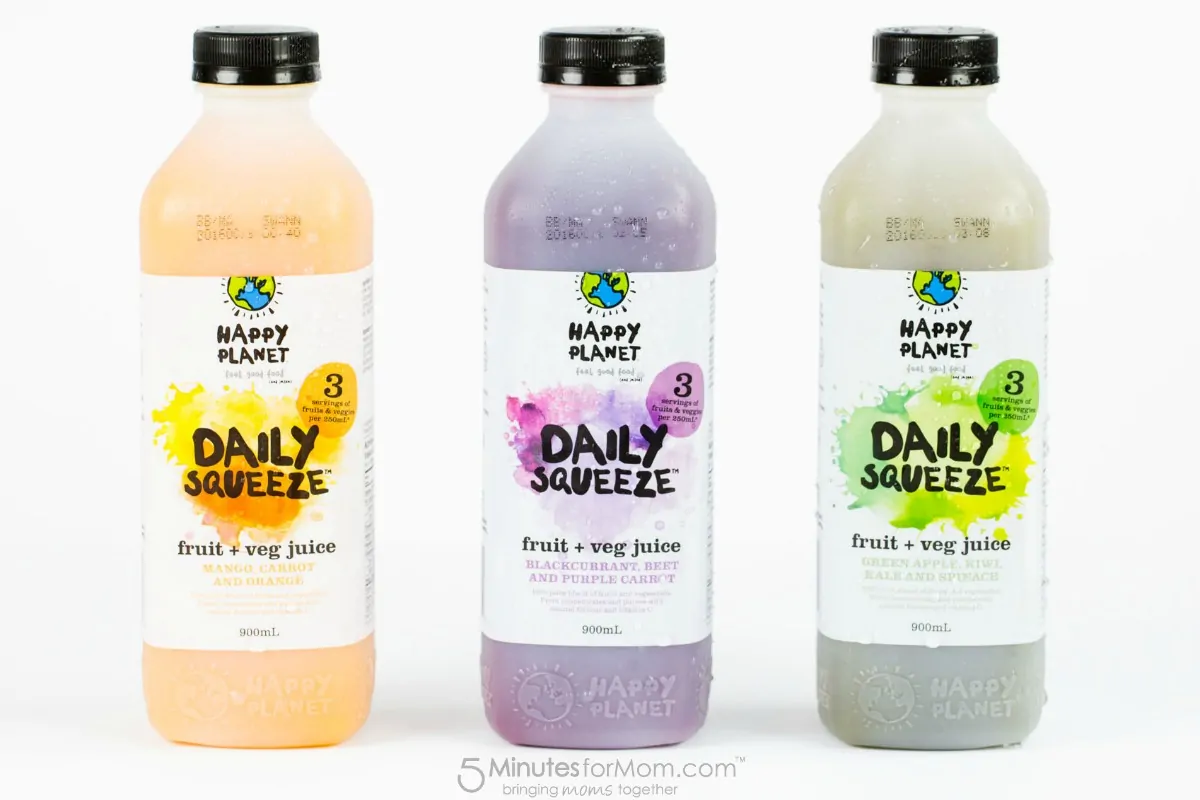 Including a glass of 100% fruit and vegetable juice, like Daily Squeeze by Happy Planet, as part of a healthy breakfast not only provides nutrients but is also a convenient and doable way to get 2-3 more servings of fruits and vegetables for every member of the family."
Diana Steele, Bsc (Diet), RD and President, Eating for Energy.
We love how they provide lots of fruit and vegetables with no added sugar. (3 servings of fruit and vegetables per 250mL.)
And of course they are made with only fresh, premium all natural ingredients.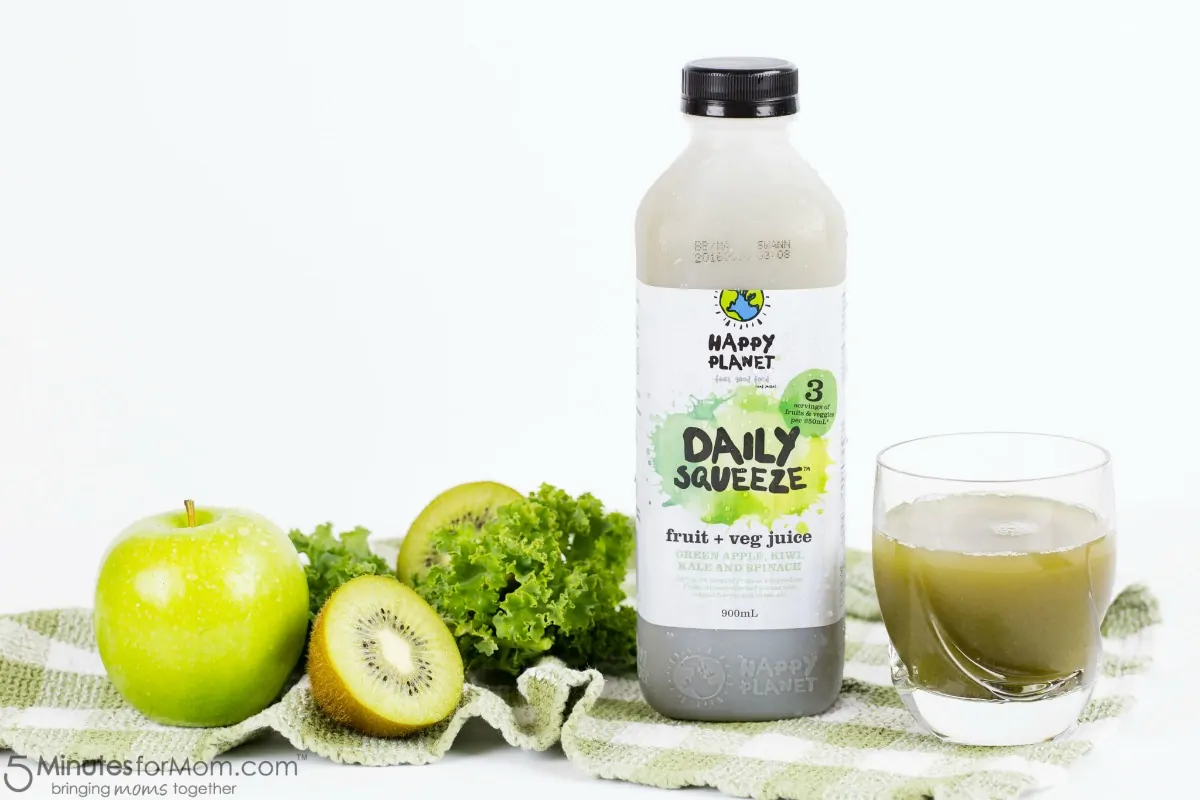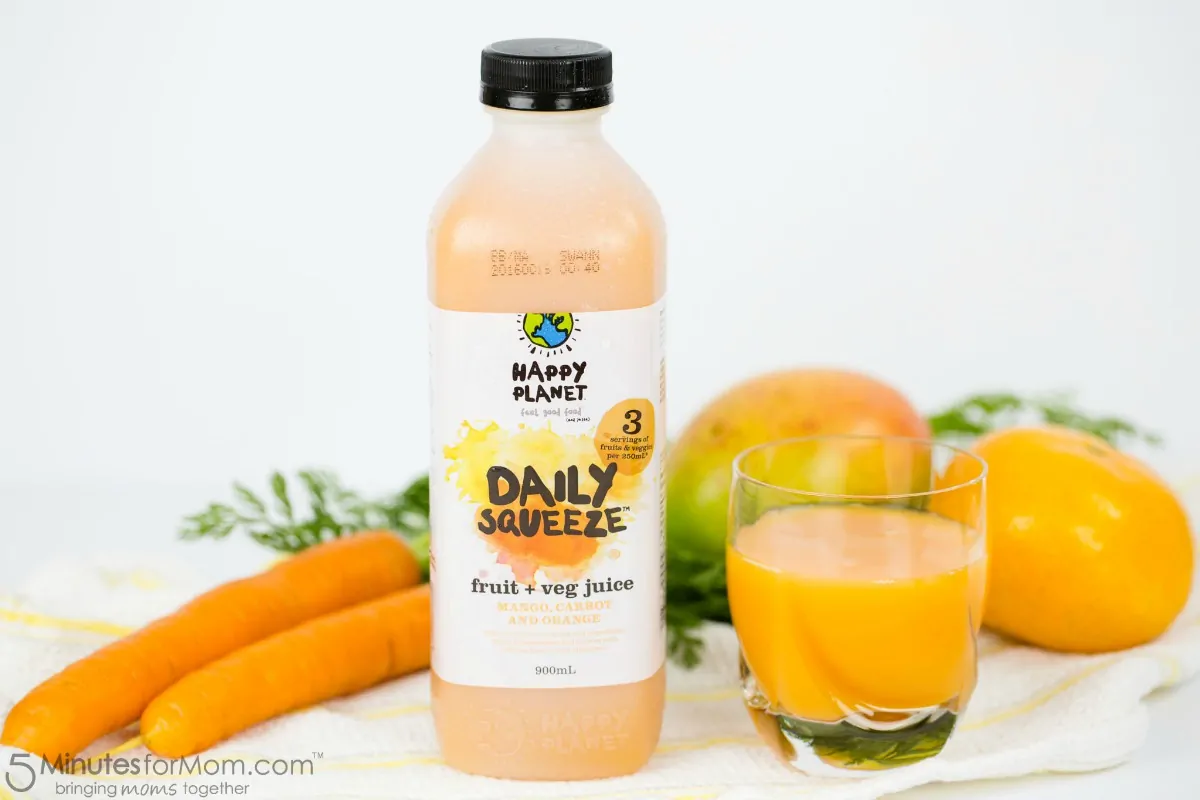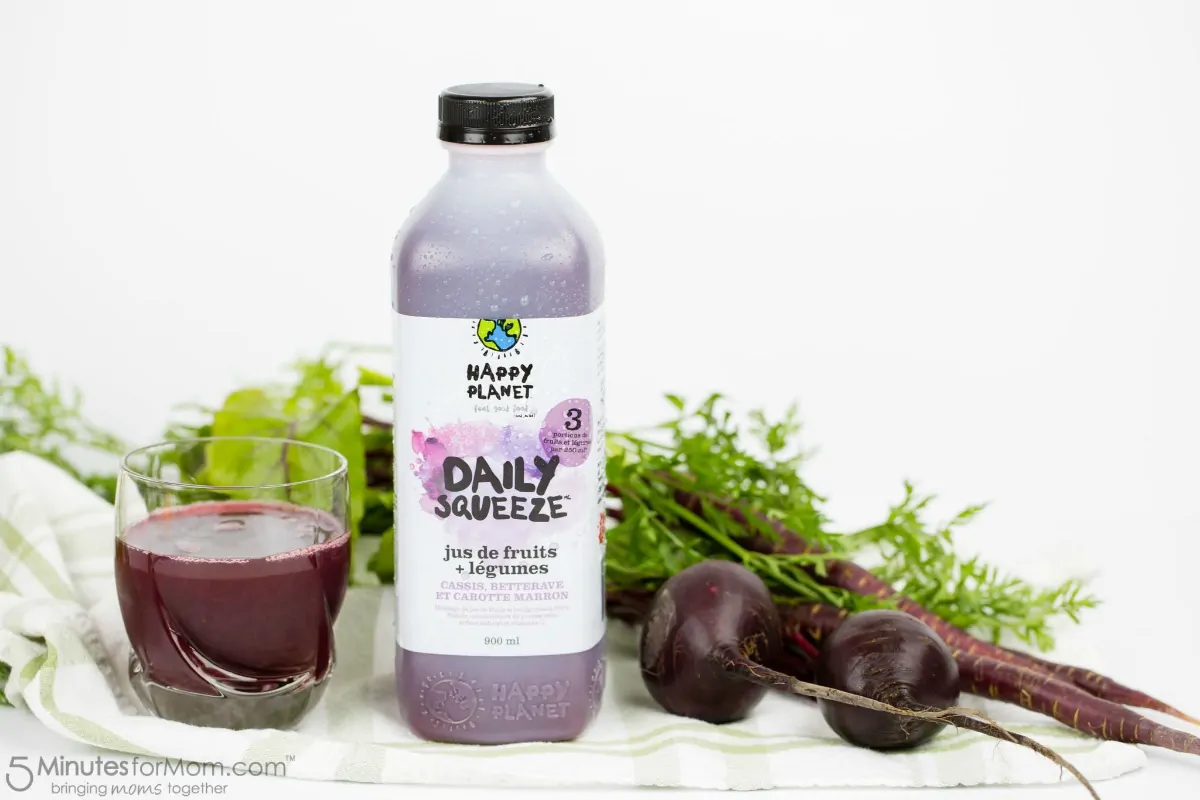 Daily Squeeze 900mL fresh juices are available in three unique flavours and can be found in grocery stores across Canada:
Green Apple, Kiwi, Kale and Spinach,
Blackcurrant, Beets and Purple Carrot,
Mango, Carrot and Orange.
Happy Planet Daily Squeeze Juices Giveaway
Okay Canadians — want to win? (Sorry to our US friends. Happy Planet is currently only available in Canada.)
Happy Planet will give one of you 2 WEEKS worth of Happy Planet's Daily Squeeze Fruit + Veg Juices
The winner will receive 14 free product vouchers redeemable at Happy Planet retailers throughout Canada.
To enter, please leave us a comment telling us one way you try to squeeze goodness into your day. Then complete your entry using the form below.
If you want to know more about Happy Planet, you can check out their website, HappyPlanet.com, and find them on Facebook, Instagram and Twitter.
And you can find Happy Planet Daily Squeeze Juices in grocery stores across Canada.
Share With Your Friends
We'd love, love, love a tweet or a pin… Thanks so much! 🙂
[Tweet "5 Ways for Moms to Squeeze More Goodness into Each Day"]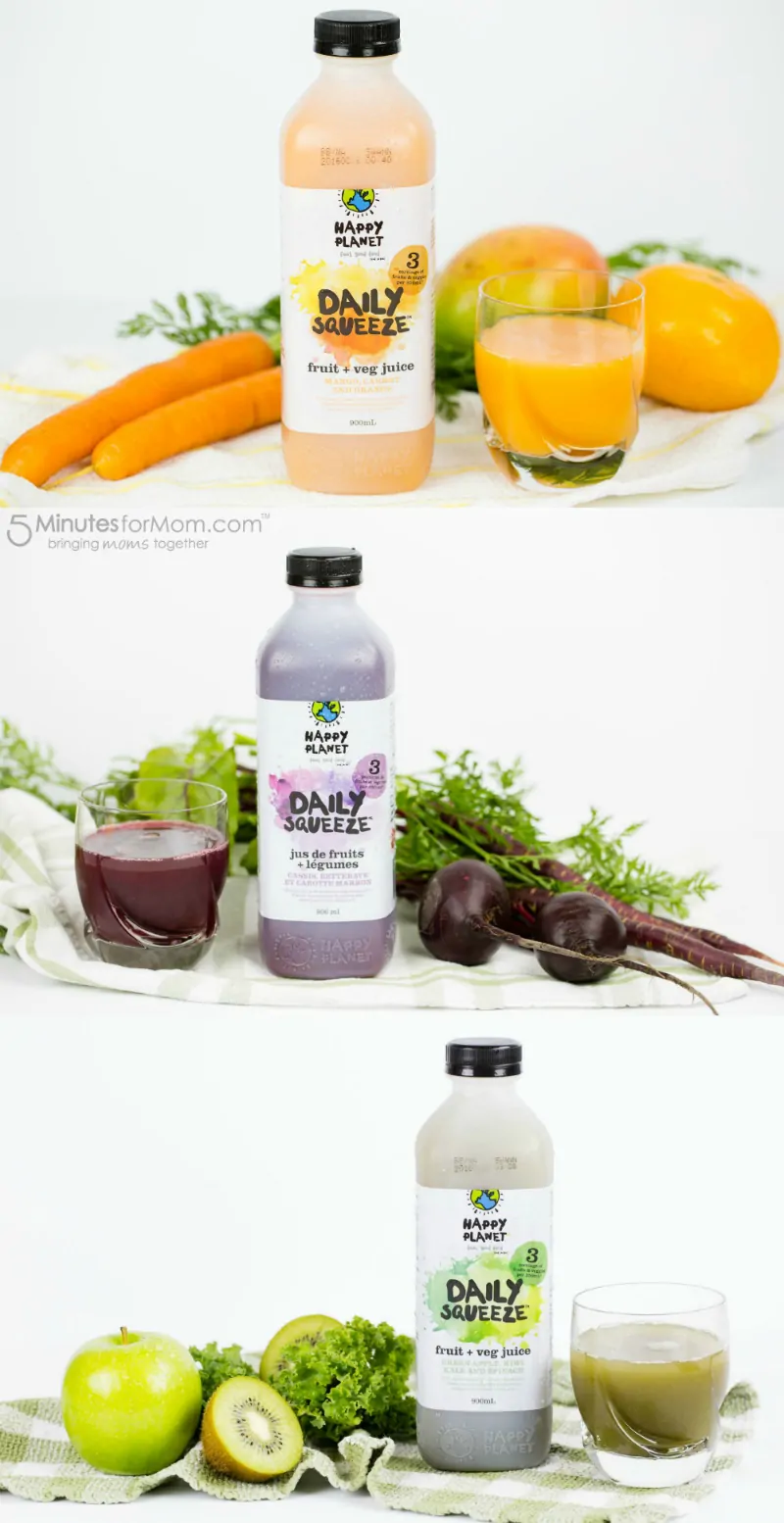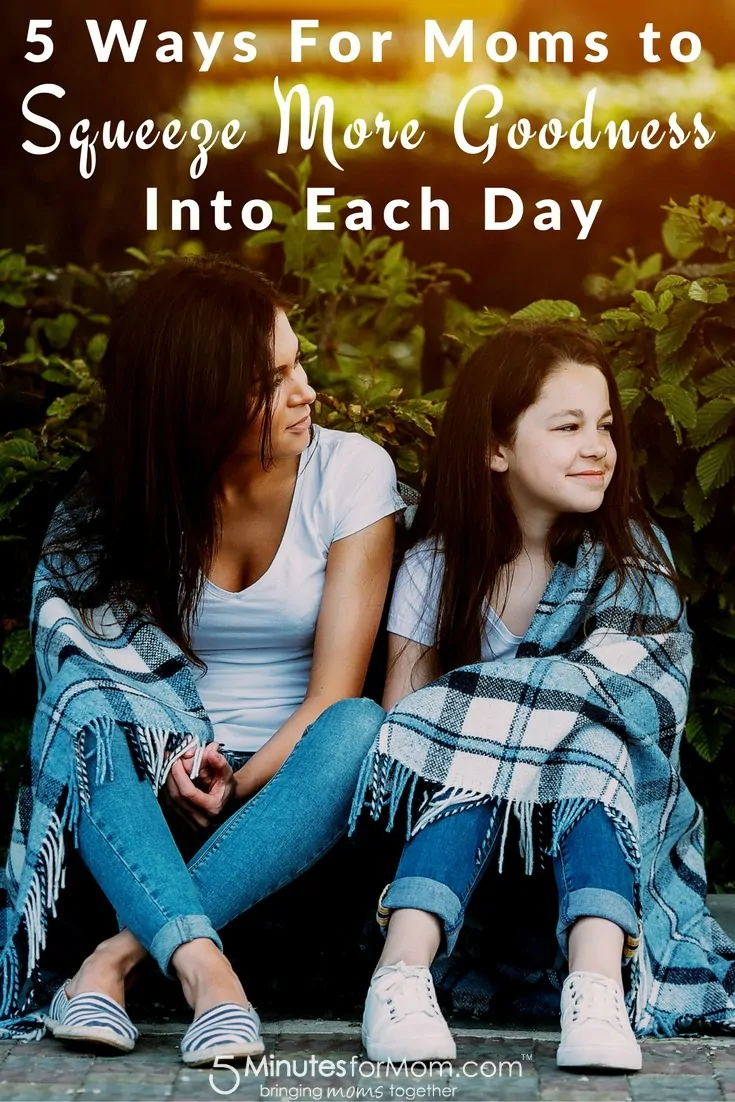 Disclosure: This post is sponsored by Happy Planet, so extra thanks for sharing.
Written by Susan Carraretto, co-founder of 5 Minutes for Mom
Talk with me: @5minutesformom and Facebook.com/5minutesformom
Pin with me at pinterest.com/5minutesformom