This post may contain affiliate links. Read my disclosure policy here.
Happy Planet knows what we moms really want — "fast" food that isn't "fast food." Yes, Happy Planet is now making us even happier with their new Grab & Go Fresh Soups… This post is sponsored by Happy Planet, so extra thanks for sharing.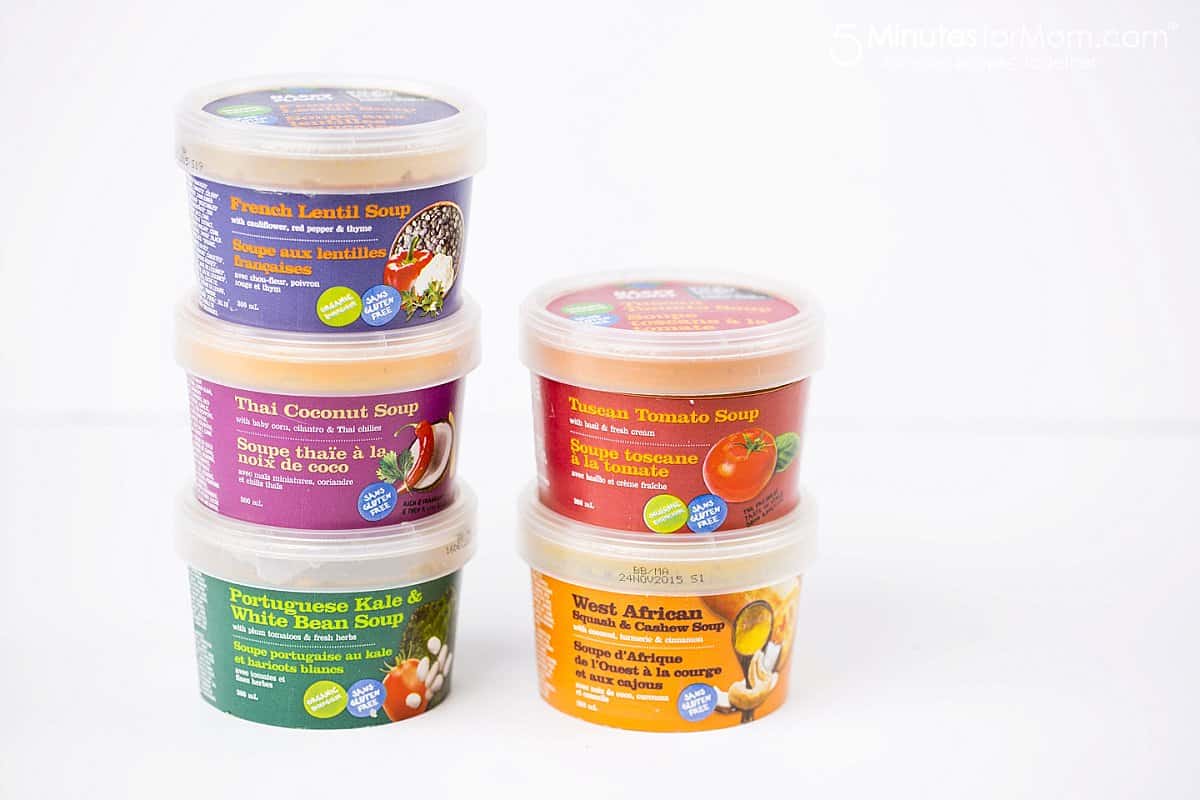 It happens sometimes. We receive an email from a company asking if we would like to try out their product and potentially write about it — and we can barely write back fast enough to tell them that we know ALL about their product and we LOVE it!
This was the case when Happy Planet asked to send us some of their soup.
We didn't have to wait to taste the soup. We jumped at the chance to gush about Happy Planet — our families are already huge fans and we buy their soup regularly.
My Teenager Can't Get Enough
I had just finished photographing the Happy Planet soups and put them back in our fridge when my son Jackson came home, hungry and looking for a food fix.
"Do you want some soup?" I asked.
"Nah," he replied in a typical teenage monotone.
And then he opened the fridge.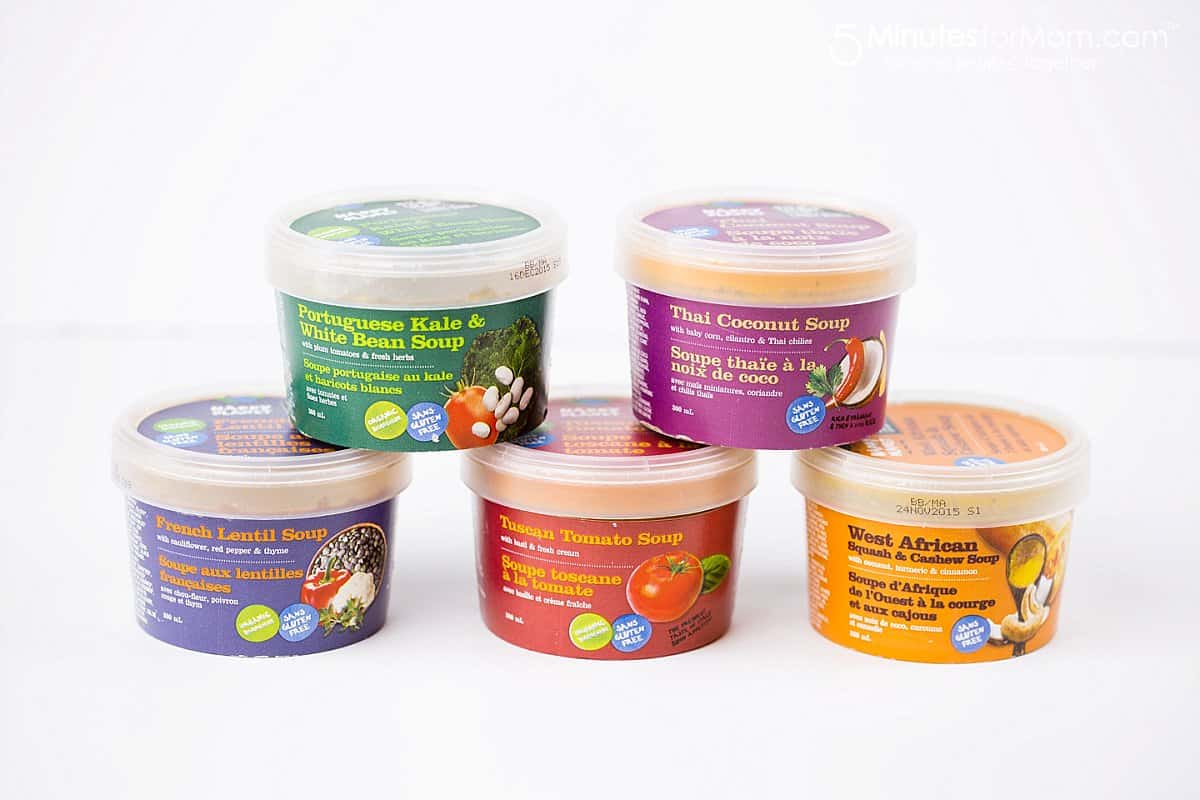 "Wait – HAPPY PLANET soup?!? Awesome! Ya, I totally want Happy Planet soup!" and he greedily studied the new flavours. He then microwaved himself a Grab & Go Portugese Kale and White Bean Soup, thus marking the first time I have ever heard my son pumped to eat a bowl full of kale.
Jackson is now working his way through all the flavours, eating a new variety each day. And I am just shocked at how easy it is to get healthy food in to him when Happy Planet is involved.
Thank You Happy Planet, I Really Do Eat on the Run
I am always in a hurry.
So, I am sincerely thrilled to have Happy Planet's Grab & Go incredible, gourmet soups in a ready to heat and eat container.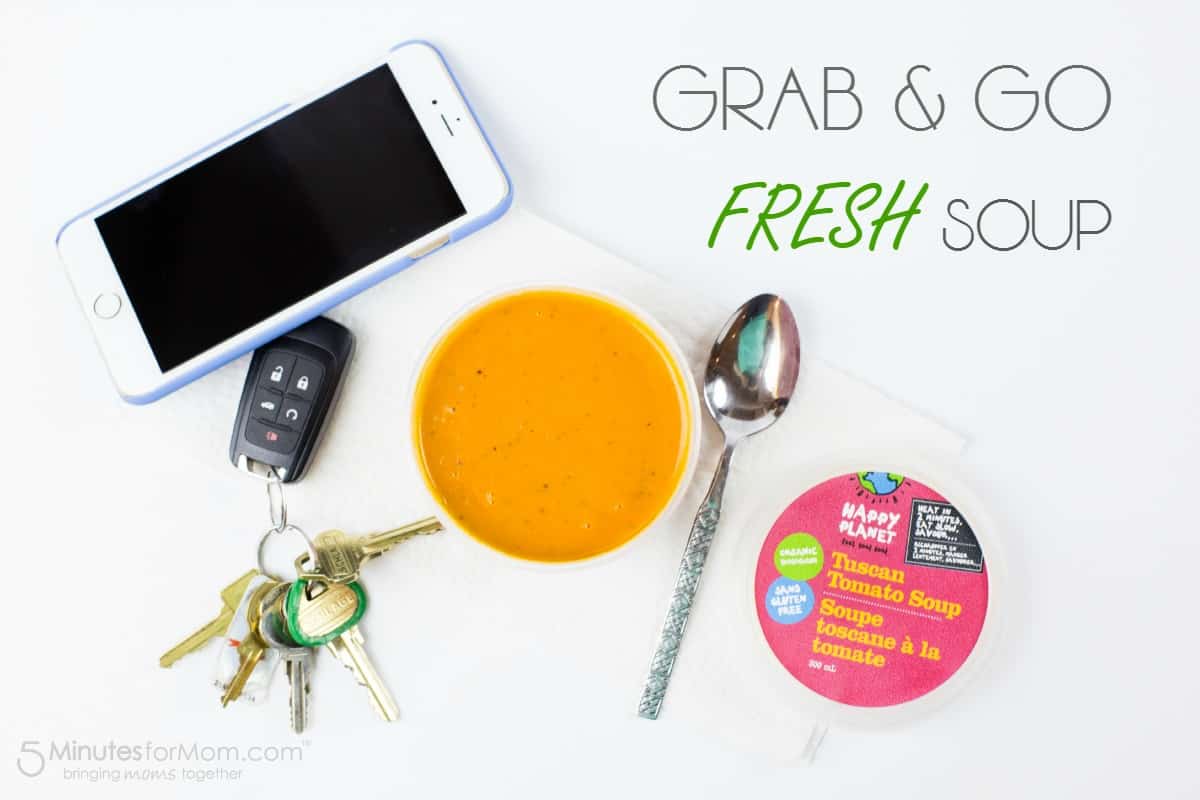 In less than two minutes, I have a super healthy meal that is gluten-free and made with premium, all natural ingredients and no preservatives.
And it tastes fabulous.
But if I haven't quite conveyed to you how incredible and FRESH these soups taste, just stop and listen to these flavours… West African Squash & Cashew, Portuguese Kale & White Bean, French Lentil, Thai Coconut and Tuscan Tomato.
Eating Happy Planet soup is like sitting down at a great restaurant and ordering a freshly prepared, gourmet soup.
Jackson's favourite so far is the Thai Coconut and I am obsessed with the Tuscan Tomato.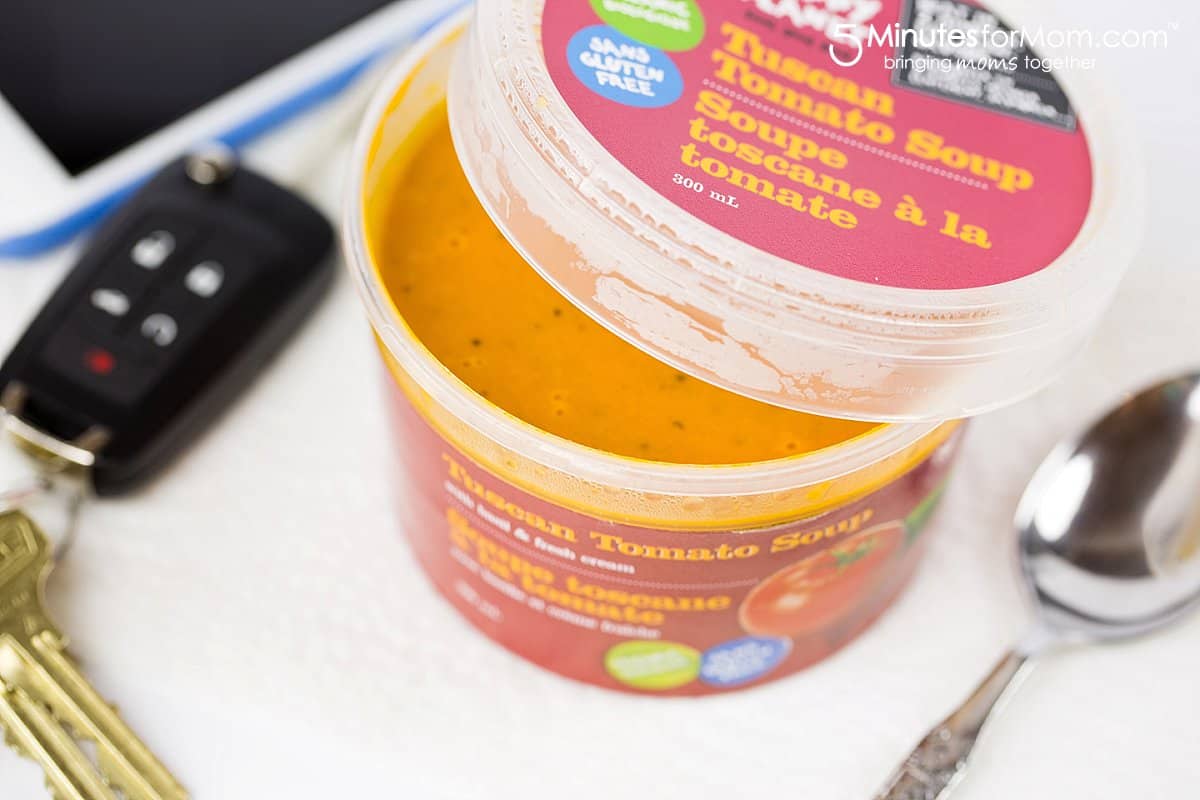 In fact, I tried to buy more Tuscan Tomato last night at the grocery store, and was more than a little devastated that they were all out.
Do You Want to Win Soup for a Month?
Okay Canadians — time to win some Happy Planet Fresh Soup…
Happy Planet will give one of you Happy Planet Fresh Grab & Go Soup for ONE MONTH.
Yes, you will be able to enjoy a gourmet lunch every day for a month. Or, if you are feeling generous, you could share some soup with your family too.
The winner will receive 30 free soup vouchers redeemable at Happy Planet retailers throughout Canada. (value = $200)
If you want to know more about Happy Planet, you can check out their website, HappyPlanet.com, and find them on Facebook, Instagram and Twitter.
And if you want to EAT some Happy Planet Fresh Soups, you can find them in the deli / fresh prepared meal section of grocery stores across Canada.
Share With Your Friends
We'd love, love, love a tweet or a pin… Thanks so much! 🙂

Disclosure: This post is sponsored, so extra thanks for sharing.
Written by Susan Carraretto, co-founder of 5 Minutes for Mom
Talk with me: @5minutesformom and Facebook.com/5minutesformom
Pin with me at pinterest.com/5minutesformom
Enter More Christmas Giveaways
We've got many more giveaways coming this month. Check out our 2015 Christmas Giveaway Event…