This post may contain affiliate links. Read my disclosure policy here.
If you didn't win during our #mSpySaferInternet Safer Internet for Kids Twitter Party, you still have another chance to win thanks to our sponsor @mspycom.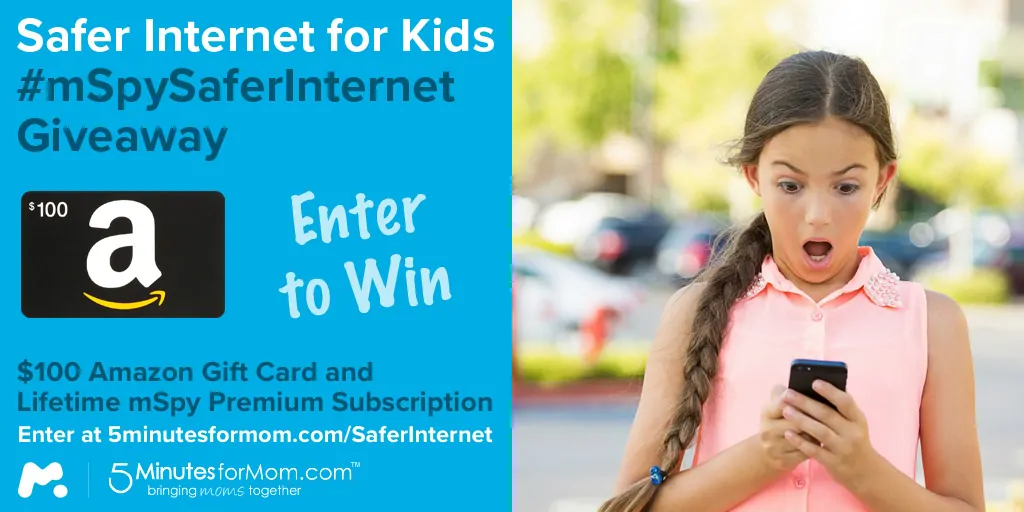 During our #mSpySaferInternet we shared valuable ideas, tips and resources and gave away lots of prizes.
But if you didn't win, you can still enter to win a $100 Amazon Gift Card and a LIFETIME mSpy Premium subscription right here. Keep reading…
Keeping Kids Safe Online
The challenge of keeping our kids safe while they're using the Internet can feel overwhelming and impossible.
You might feel like throwing your hands in the air and declaring defeat. In fact, I think many parents give up trying to supervise their kids online activities because it seems impossible.
We're the first generation to have this huge parenting challenge. So we need to embrace new tools and learn new strategies to help protect our children.
As I explained in my earlier post, I think there are two critical ways we can reduce the risks our kids will face online.
[Tweet "The two things you, as a parent, must do to keep your kids safe online… #mSpySaferInternet"]
1. Communicate
We've always known talking and listening to our kids is crucial. But as kids turn into tweens and teens, that can be easier said than done.
Parents need to ask the right questions and truly listen to what kids say and what they don't say. Watching and understanding their behaviour and body language becomes extremely important in the tween and teen years.
Stay aware and discuss what your kids are watching and reading online and which sites and apps they are using.
2. Monitor
The fact is you can't rely only on what your kids tell you they're seeing online.
They need you there with them. They need you to see what's going on so that you can use your experience and judgement to alert them when danger lurks.
Monitoring their online activity helps keep them safe.
I recommend you talk to your kids about online safety and explain why you're putting monitoring software on their devices.
If you pay for their phone and computer, you can say that the terms of their use include monitoring software.
There is no privacy online.
Your kids will likely say you are invading their privacy. But you can tell them, you're not invading their privacy because their is no real privacy for digital data.
[Tweet "Warn your kids nothing they type or photograph or video is ever truly private. #mSpySaferInternet"]
Any email, text message, photo or video can (and likely will) get passed on to someone other than who they intended to see it.
You are the least of their worries. If they feel something is embarrassing for you to see, then the risk of someone else seeing it should be just as — if not more — embarrassing.
Kids need to understand that the same way employees have their emails and web history tracked while they are on their employer's computers, their use will be tracked while they're on your computers.
Remind them that you are trying to keep them safe.
mSpy Monitoring Software
mSpy is an international company that provides advanced and reliable monitoring software that parents can use to help keep their children safe online.
We reviewed mSpy last summer and were impressed by their service.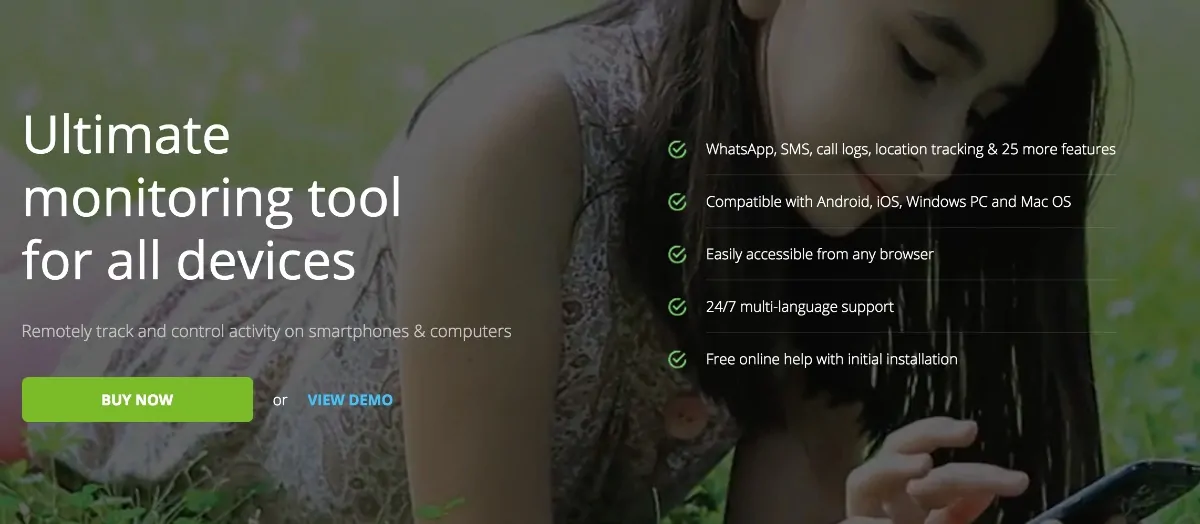 And it's easy to use. mSpy has a simple control panel that you can access from any web browser.
Safer Internet for Kids Twitter Party #mSpySaferInternet
We're proud to team up with mSpy for a Twitter Chat discussing how parents can help kids stay safer on the Internet.
Since we also want to help support and promote Safer Internet Day — an international education and awareness-raising effort spanning more than 100 countries around the globe — we've scheduled the Twitter Party on February 9th, at 8 pm Eastern.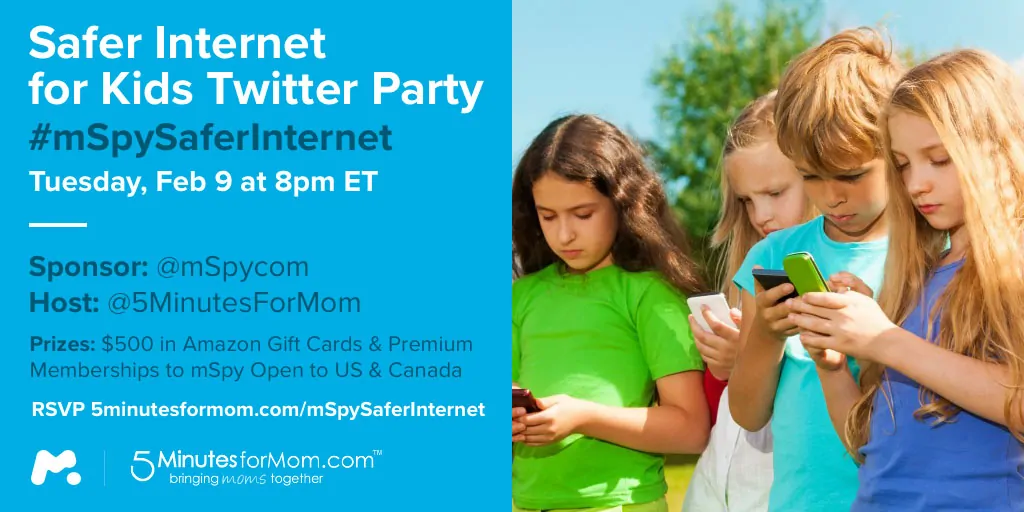 Date: Tuesday, Feb 9
Time: 8 pm Eastern / 7 pm Central / 5 pm Pacific
Hashtag: #mSpySaferInternet
Party hosts to follow:
@5minutesformom
Sponsor to follow:
@mspycom
Panelists to follow:
@MommyBlogExpert
@TidbitsOfExperi
@TurningClockBac
Prizes:
Prizing is open to both US and Canada.
Before, during and after the Twitter Party, we'll be giving away $500 worth of Amazon Gift Cards plus mSpy Premium subscriptions.
BEFORE the Twitter Party…
1 Early Bird Prize Winner who RSVPs and tweets about #mSpySaferInternet will win a
$100 Amazon Gift Card and a 1 year mSpy Premium subscription.
(Estimated Total Value = $300 USD)
DURING the Twitter Party…
RSVP is not required for these prizes.
4 Winners each will win a $50 Amazon Gift Card and a 3-month mSpy Premium subscription
(Estimated Value per prize = $150 USD)
1 Grand Prize Winner will win a $100 Amazon Gift Card and a 1 year mSpy Premium subscription.
(Estimated Total Value = $300 USD)
AFTER the Twitter Party…
STAY TUNED for an extra giveaway post where 1 Winner will win a
$100 Amazon Gift Card and a LIFETIME mSpy Premium subscription.
(Estimated Total Value = Immeasurable since LIFETIME memberships aren't even for sale!)
Enter to Win
If you'd like to win a $100 Amazon Gift Card and a LIFETIME mSpy Premium subscription, leave us a comment letting us know what your biggest challenges are when trying to keep your kids safe online. We'd love to hear how old your kids are, whether or not they have smartphones and how easy or difficult it is to keep an open dialogue with them about what they're doing online.
Then complete your entry using the form below. (Open to US and Canada.)
Pin It
Thanks for spreading the word to your friends on Pinterest.


Disclosure: This post and the Twitter Party are sponsored by mSpy.
Written by Susan Carraretto, co-founder of 5 Minutes for Mom
Talk with me: @5minutesformom and Facebook.com/5minutesformom
Pin with me at http://pinterest.com/5minutesformom/