This post may contain affiliate links. Read my disclosure policy here.
Susan here with a confession and a solution. By the way, this post is sponsored so extra thanks to you for reading, sharing and supporting our site and in turn our families.

Do you like budgeting?
I'll be honest…
Probably the last task I'd choose to do — even after washing toilets — is "create a budget".
But, have I got news for you…
I just tested out the absolute easiest — seriously so simple — online budgeting tool EVER!!!
If you're like me and you get overwhelmed with the terrifying task of making a budget, you don't need to hide any longer. I'll show you how to make a budget in about 5 minutes.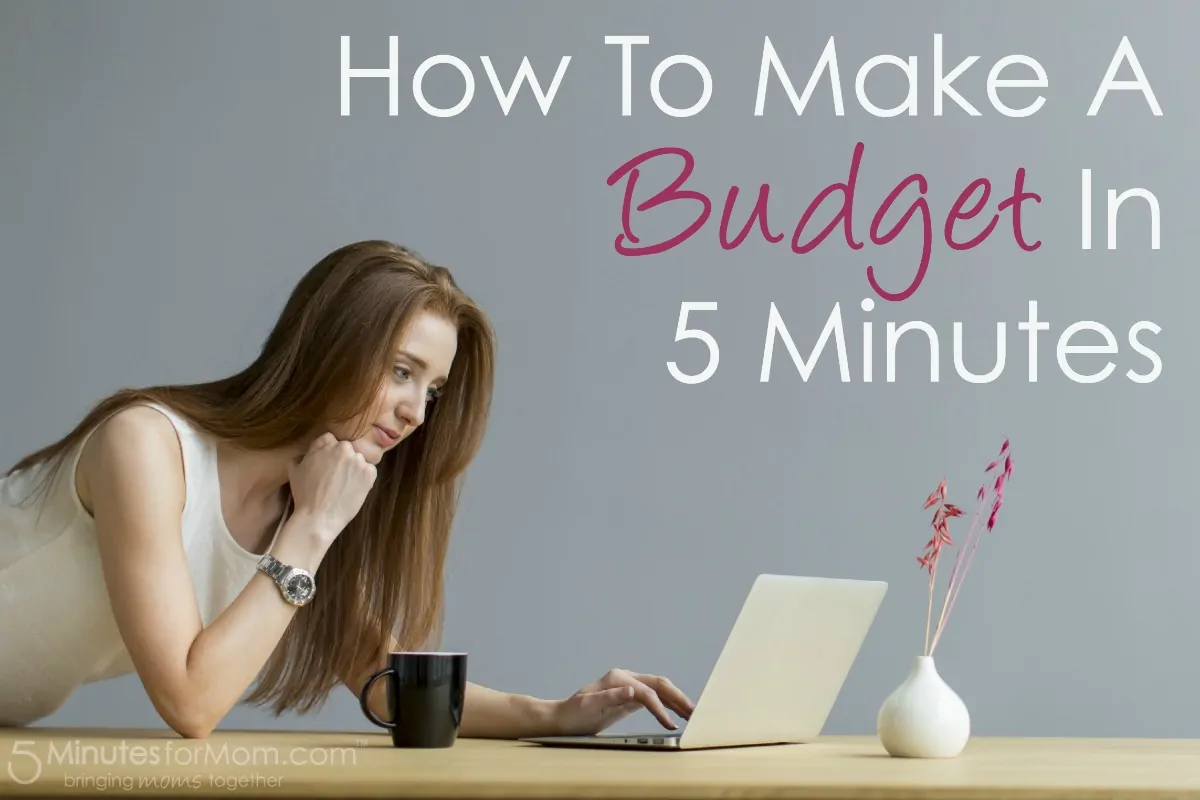 So, of course you've heard of Dave Ramsey… and chances are high you know how he continually helps families get out of debt and manage their money.
We've talked about Dave Ramsey here at 5 Minutes for Mom before.
Well, if you haven't yet heard of his new EveryDollar online budgeting tool, you are going to love me for telling you about it.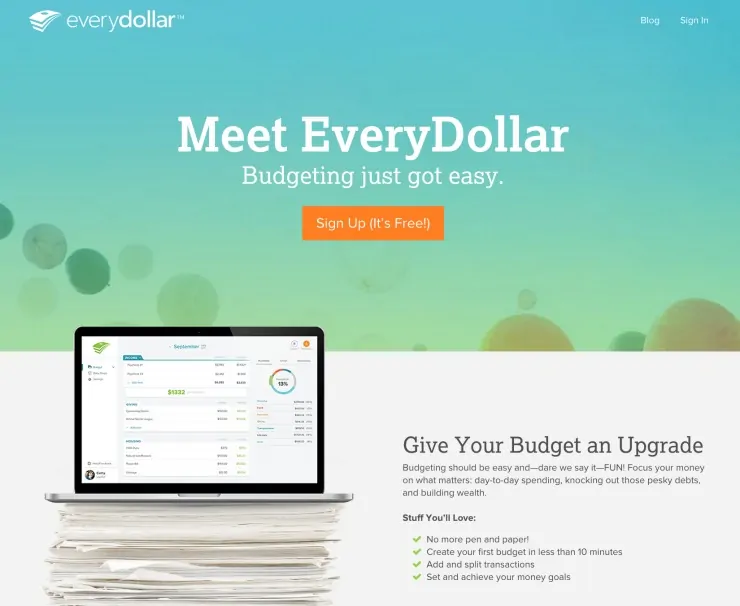 It is crazy easy to use – and it syncs with your phone.
The basic version is free and the Plus version that syncs your bank account so that transactions are automatically recorded is $99/year.
I'll show you how it works…
You sign up for EveryDollar by going to EveryDollar.com to create a budget and then you can manage it from either the website or mobile through the App Store (Android app is coming soon). EveryDollar is available in Canada, but only the free version.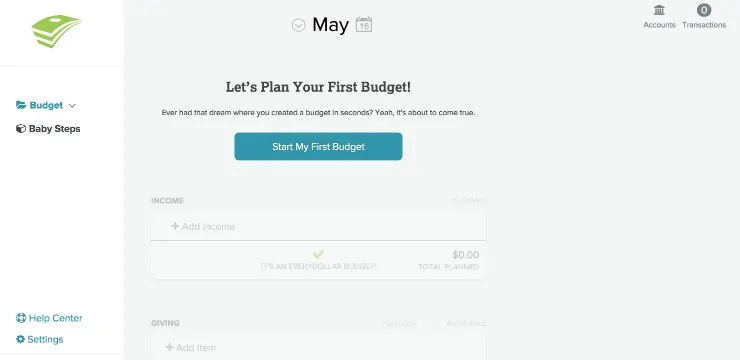 I set up a sample budget (sorry, I'm not one of those bloggers who reveals their financials… that's just a little too private for me.)
It only took me a few minutes to sign up for an account, create the sample budget and start adding transactions.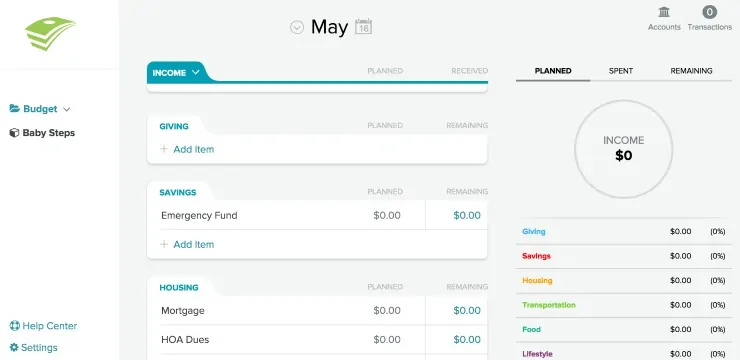 When you start to create your budget, the website already has common items preloaded and you simply edit the dollar values. You can easily add and delete items.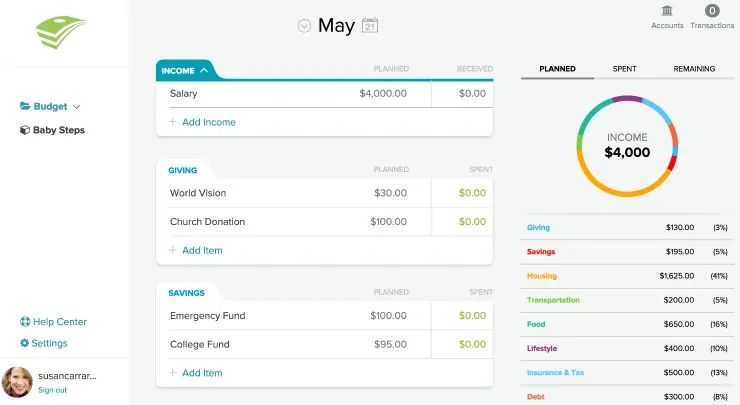 In my sample budget, I just put in a few entries. Obviously it would take longer if you're figuring out your actual numbers and trying to decide how much you should allocate to each category.
But my advice is… if you're not currently following a budget, don't worry too much about getting the numbers perfect in your first attempt at setting up your budget.
Just take action and get started and then revise as you figure out your spending habits.
For budget-fearing folks like me, the hardest step is the first one. So tell yourself you only have to spend 5 minutes creating your budget. Set your timer for 5 minutes and then simply start adding numbers for all the entries you know of.
After your timer goes off at 5 minutes, celebrate your success of starting a budget.
If you're having fun — which I bet you will because the tool makes it so easy that it's almost fun — then keep going and allocate each dollar to a line item. Once the budget is completely balanced with every dollar having a name and a purpose, you'll have an EveryDollar budget!
For me, I anticipate one of my challenges going forward will be getting mad at myself for having made "mistakes" in my budget. But it's a learning process and this tool will make it so much easier. Just be kind to yourself along the way.
Tracking Expenses
It's super easy to track your expenses as you go… either on the website or on the mobile app. You can even split the transaction across more than one budget category.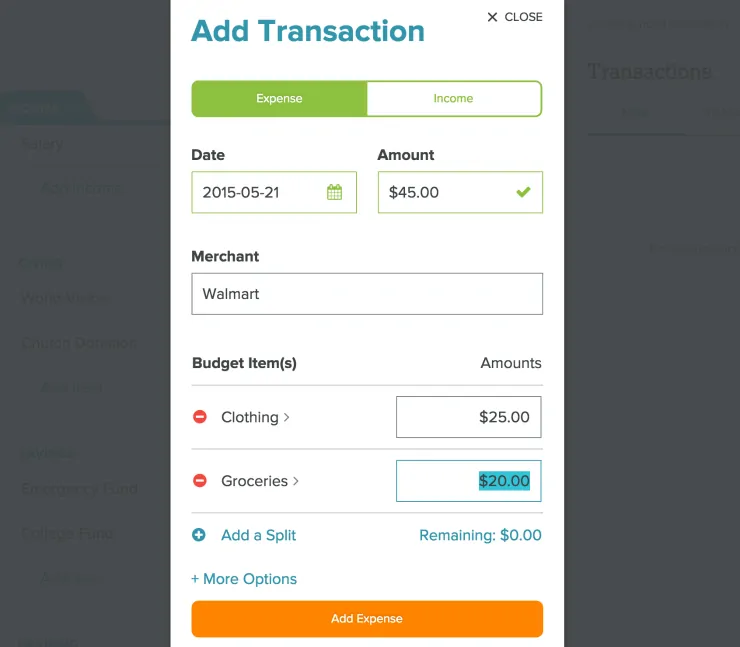 On The Go
The integration with my iPhone is a hugely important feature for me.
It's syncs and you can keep up with transactions and watch your budget on the go.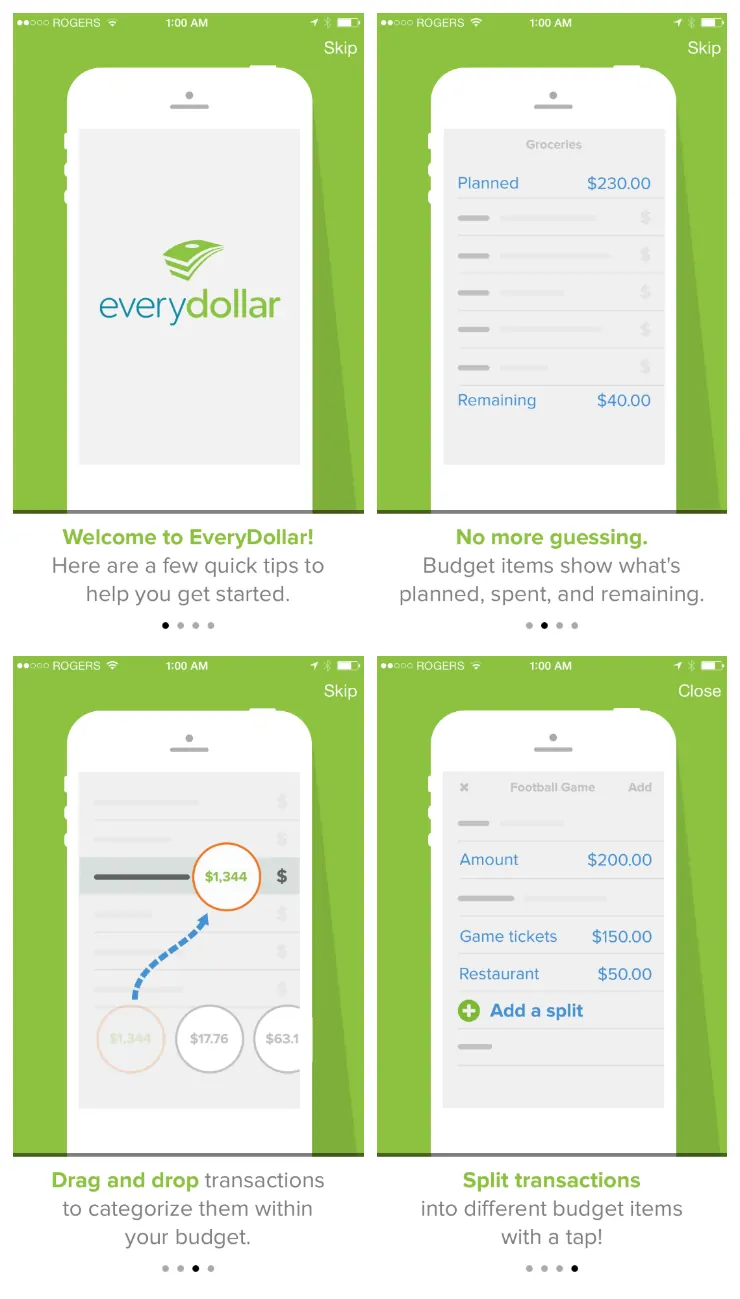 Baby Steps
Using a tool like this is so powerful because it has built in to it helpful habits and strategies such as Dave Ramsey's Baby Steps.
The Baby Steps

The Baby Steps will take you from where you are to where you want to be. You can do it—just follow the steps! We'll track your progress as you take control of every dollar.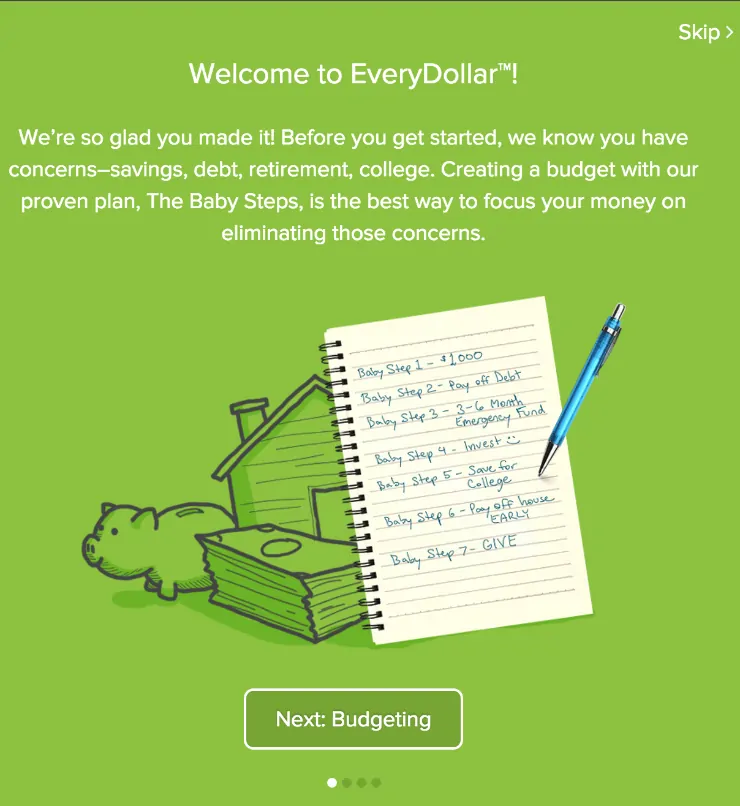 See EveryDollar In Action
Can you relate to the folks in this video?
Happy Budgeting
Whether you're a seasoned budget-maker or a seasoned excuse-maker (like me), I think you're going to love EveryDollar.
Give it a try and let me know if it helps you make (and stay on) a budget.
Follow on Twitter @EveryDollar, @DaveRamsey and on Facebook at facebook.com/daveramsey
Share With Your Friends
Your friends will love you for sharing this post with them… (and we will too.) 🙂
[Tweet "How To Make A Budget In 5 Minutes and Make @EveryDollar Work For You"]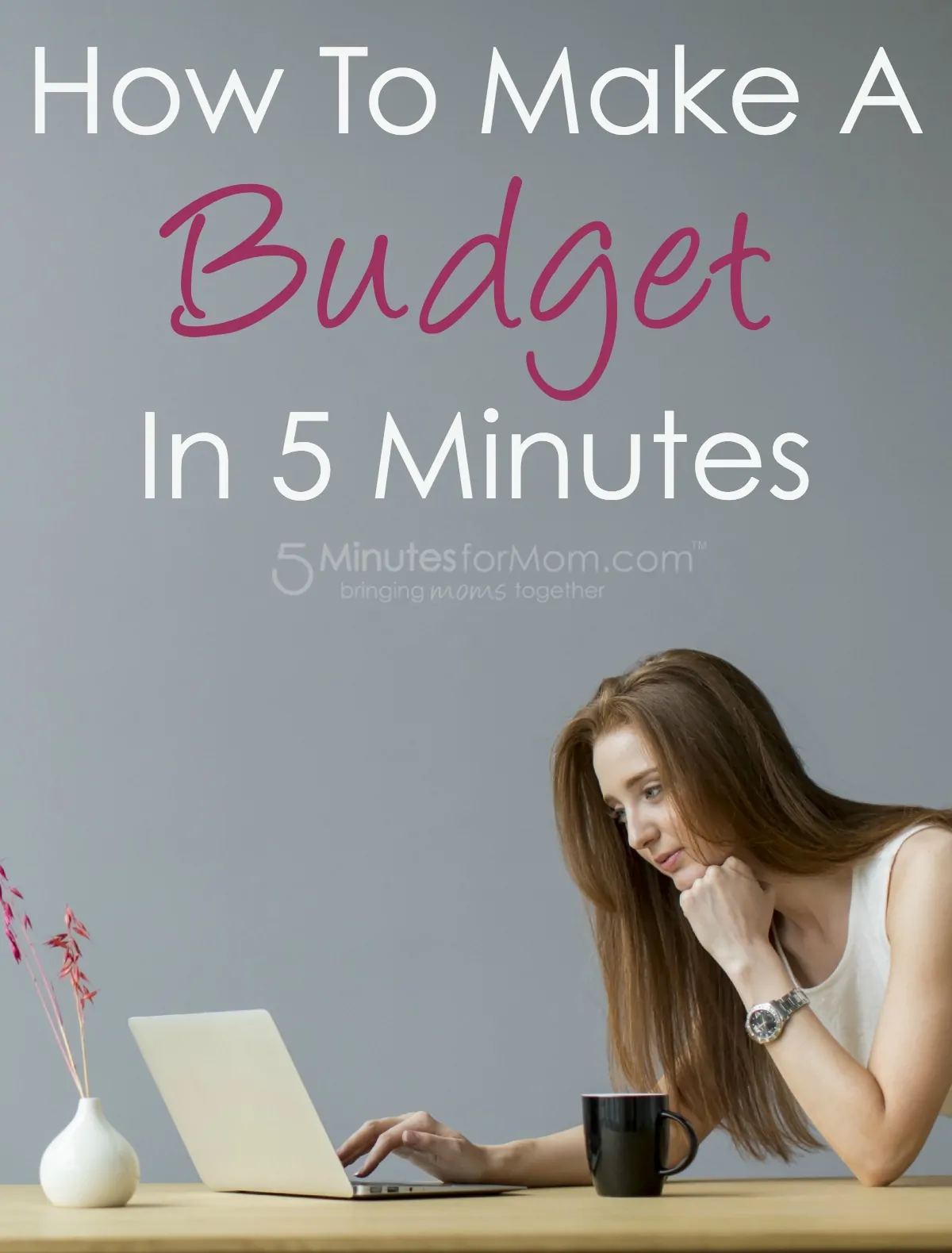 Thanks to EveryDollar for sponsoring this post and supporting bloggers.
Written by Susan Carraretto, co-founder of 5 Minutes for Mom
Talk with me: @5minutesformom and Facebook.com/5minutesformom
Pin with me at pinterest.com/5minutesformom