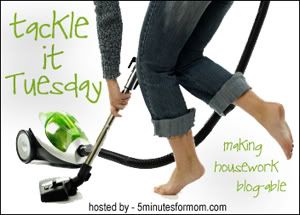 Today's tackle is brought to you by my toddler, Sophia.
As I've mentioned during my blogging stint over at How I Clean Now, my biggest motivation to become a more organized and tidy homemaker is to become a better example for my daughters.
Little children have an instinct to clean. They may not want to pick up their toys when they're supposed to, but hand them a cloth or a broom and they'll usually want to imitate you and try to clean.
Sophia and Julia love to walk around the house with cloths and clean everything they can reach. Sophia also seems to enjoy picking up and putting things away. (She'll often dump them back out, and do the job again just for fun.)
The girls are still really enjoying their organized playroom, and weeks later, most of the toys are still in their proper places.
Here's a photo of Sophia 'cleaning her own kitchen'.
What about your children? Do they like to clean?
So what did you tackle this week or were you like me and left the tackling to your tots?
Would you like to post as a guest tackler? Submit your guest tackles to be featured here at 5M4M. You can write Susan at tackleittuesday at gmail dot com. Remember, we are here to promote your site!
Each week on Tuesday, we are posting before and after pictures of a project or trouble area that we tackled this week.

Find out more about Tackle It Tuesday here.
The project can be little or big – whatever you want.

Basically, Tackle It Tuesday is about giving ourselves incentive, deadlines and satisfaction in getting our household tasks done.

(It doesn't even have to be housework… just whatever is on your To Do list.)
If you tackled a project this week, just add a comment and add your link below.
Happy tackling ladies…