This post may contain affiliate links. Read my disclosure policy here.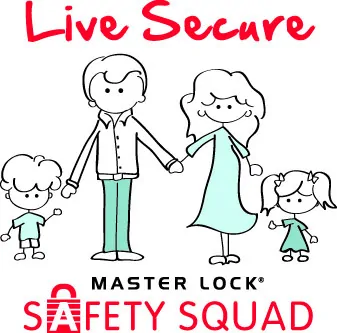 I'm a member of Master Lock's Live Secure Safety Squad and have been compensated for my time in writing this post.
It's almost time for getting kids back to school. Depending on where you live, you might be deep in back-to-school preparations, or you might even have another month of summer.
Here in BC, Canada, our kids don't go back to school until September! But it seems most of my American friends have their kids well into their school routines in early August.
I think the Back-to-School season can be a little stressful for both parents and kids… at least it is for me.
One thing that's a little too important to me is that I get good "First Day of School" photos. It's kinda funny how now with blogging and social media, photos of kids' first day of school each year have become such a big deal. I'm pretty sure as a child, I never once had a photo taken of me on my first day of school… in any year!
Since it has become so important for me to get a good shot of my girls headed off to school, I try to plan ahead what type of shot I'm going to take and if they're going to hold signs up saying what grade they're going into.
Here are a couple of last year's shots of my girls with Janice's kids…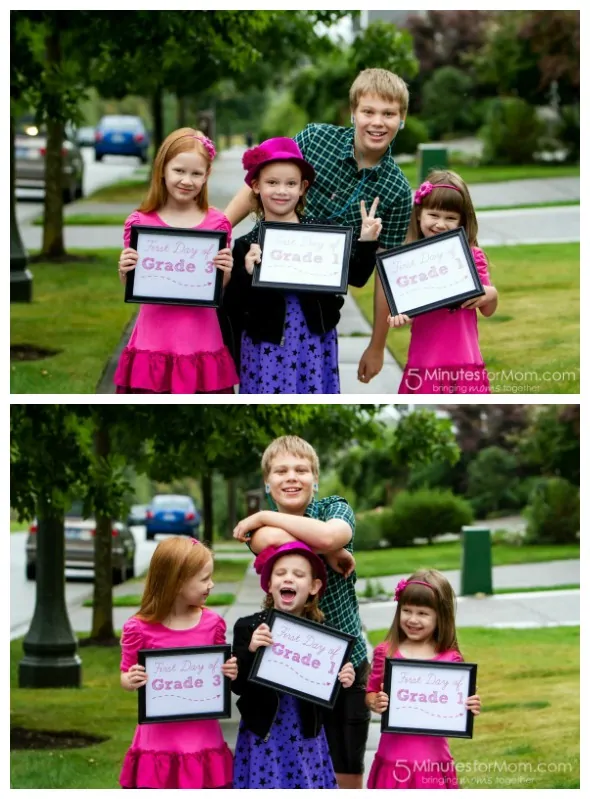 I made those signs the kids are holding at about midnight the night before. I aim to be more prepared this year.
Keeping Kids and Their Belongings Safe at School
When we send our kids off to a new school – especially in the transition to middle school, junior high or high school – it can be a little scary for both kids and parents.
We want to make sure our kids are safe and that their belongings such as laptops and smart phones don't get stolen.
I think it's important to set up guidelines and rules with our children to help keep them safe and to revaluate and adjust as they get older. Working together with your kids to establish the rules will help. For instance, you may establish rules for where your child is allowed to play after school and that would change as he/she ages.
Rules for using technology and bringing tech devices to school should also be discussed. For instance, at a certain age it may become necessary for your child to bring a laptop, tablet or smart phone to school. You will then want to discuss how that technology will be used and where it will be securely stored.
You want to teach your child that while sharing in general is a nice thing to do, he/she should NEVER share her smartphone, tablet or laptop with other kids. It's not because you don't want them to be nice to their friends, but because once someone is logged on to their device, they have access to their private information, WIFI access and other secure information and their email as well as other social accounts.
One of their friends could do something like a "prank" and send out an inappropriate message or do something much worse.
So any tech devices should be used only by your child and when not used, safely locked in his/her locker.
And you'll want to get your child a good lock to secure his/her school locker.
Set-Your-Own Combination Padlocks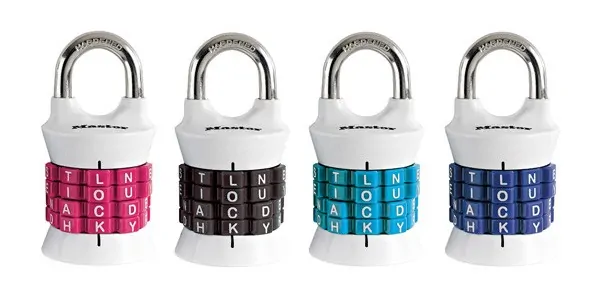 MasterLock Set-Your-Own Combination Locks No. 1535DWD are an affordable, simple way to give you peace of mind that your child's belongings are safe at school.
Product Features:
Create personalized combinations using memorable words
Easy to set & reset with a coin on bottom of lock
1-1/2″ (40mm) wide metal body for superior strength
Dial grip points for accurate dialing
Slim footprint & ergonomic design for ease of use
Hardened steel shackle for extra cut resistance
Each package contains one lock
Keep the Safety Discussion Going
Remind your child to never tell the locker combination to any friends. If a friend does find out the combination, simply change to a new combination.
Communicating with your kids about physical and digital safety is a continual process.
Check out my earlier post and video about Teaching Kids Security in the Digital Age.
Master Lock Photo Hunt Challenge
Now through September 7th, visit www.MasterLockPhotoHunt.com for the chance to win great prizes. Participants will be shown two similar back-to-school images.  Simply find and click on the five differences in the photos before time runs out.  Finding all differences will unlock the next photo board with the potential to earn up to two sweepstakes entries for each play.
In addition, by sharing the Master Lock Photo Hunt Challenge on Twitter, entrants are able to earn an additional entry per day. One lucky grand prize winner will win a Samsung Smart Media Center Package that includes a 60" HD 1080p Smart LED HDTV. There are 65 total chances to win, which includes 1 grand prize, 8 weekly prizes, and 56 daily instant win prizes. Additional prize information and official rules can be found on www.MasterLockPhotoHunt.com
Master Lock Twitter Party Back to School Twitter Party
The Master Lock Twitter Party will take place on August 5th and will be hosted by Resourceful Mommy. Participants will have the chance to win both Master Lock and other back-to-school prizes.
More Back-To-School Posts
The rest of the #LSSS crew are blogging about back-to-school as well. Find their posts at:
For More About Keeping Your Family Secure
Find more resources and ideas on our Safety Tips – Protecting All You Love Pinterest Board.
Written by Susan Carraretto, co-founder of 5 Minutes for Mom
Talk with me: @5minutesformom and Facebook.com/5minutesformom
Pin with me at http://pinterest.com/5minutesformom/