This post may contain affiliate links. Read my disclosure policy here.
Summertime is moving time for many families. Moving into a new home, especially with kids in tow can be a difficult task. As a mom of 5, I know kids respond in different ways to upheavals such as moving. But you might as well teach them now that life is about constant readjustment.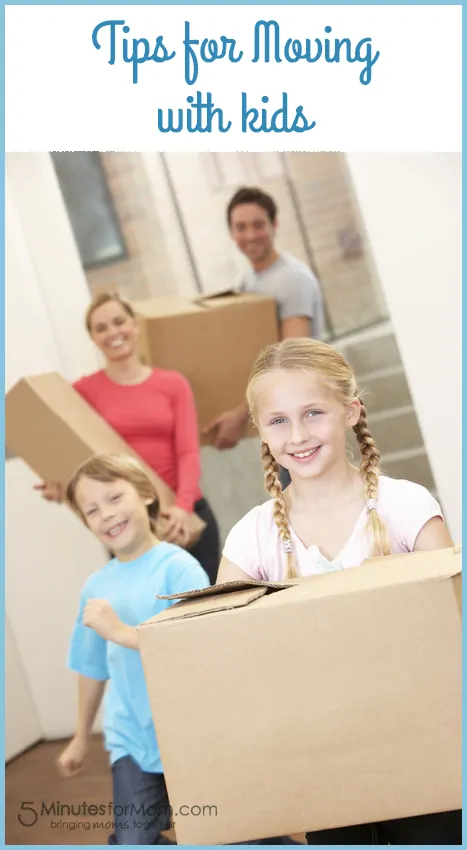 It may be scary to leave a comfortable home, friends, and school for the unknown, but it can also instill a sense of adventure. We've moved 6 times and I've always found the more I get the kids involved, the easier moving is for all of us.
1. Most Important Tip: Hint, Hint, HIRE HELP! Removalist companies step in during any point in the process, as Grace Removals Groups did with us when I thought we could go it alone. I was mistaken. We were literally in over our heads in boxes. Removalist companies train their people in the fine art of packing properly. We, on the other hand, did not pack properly, which explains the large boxes full of books that simply couldn't be budged.
2. First Day Box: Of course, I don't mean to say the kids shouldn't pack at all. A first day box should be packed by the kids but loaded last or close to last so it's among the first items off the truck. This helps to make things less stressful on move-in day. Things to include are special items needed to make the kid's new rooms feel like theirs again. Stuffed animals, artwork, games, bedding, & favorite books are good ideas. I once painted my kid's names in neon so the first day boxes would be easily spotted.
3. Donations: If the kids have a tremendous amount of stuff accumulated over several years, don't even try to take it all. Instead, have you kids sort through what can be donated, sold, or tossed. The less junk taken with you, the easier any move will be.
FUN TIP: FOr every 30-40 items eliminated, kids can earn an ice cream or movie night coupon to be used in your new location.
4. Good-bye letter and party: Create good-bye stationery and have the kids send notes to their best friends and teachers. The stationery can double as invitations to a going-away party. The party doesn't have to be extravagant, a pizza night or back yard hot dog roast is simple and easy. Friends can stop by, hang out a bit, and pose for photos while going over memories of fun times together.
5. Read and craft about moving: Little ones oten need more discussion than you have time for when it comes to moving. They need reassurance while watching their ramiliar surroundings disappear into boxes and the back of a giant truck. a paper chain countdown to moving day is a good way to help young ones understand. Start a few weeks before the move reading books about moving at bedtime.
Book Suggestions: A Kiss Goodbye by Audrey Penn
Alexander, Who is NOT (Do You Hear Me? I MEANT IT!) Going to Move? by Judith Viorst are good choices.
6. The most important thing: Moving can cause some trauma in a child's life but overall, if the adults handle it with appropriate excitement and patience, the kids will be just fine.
I've also included free printables to label your children's clothing boxes! Boy & Girls Clothes sized newborn through 5.  Just right click and hit "save as"
More Tips and Printables to Help You Move
5 Steps to Stress-Free Moving — Moving Tips and Checklists
Find more ideas for getting organized on our Organizing Pinterest Board
Written by Michelle Rise. Michelle is a mother of 5 kiddos, Disney lover, and world traveler. Michelle's passion for princess castles and Mickey ears tends to win when it comes to vacationing with her family. With many family trips consisting of trekking through Disney parks, Michelle has become an expert. When she's not singing along to "Let It Go", Michelle is hiking through Rainbow Mountain with her husband Ben, and the family dog. Chat with her on Twitter: @Rise7Up.