This post may contain affiliate links. Read my disclosure policy here.
Jenny Nanninga is here to share her thoughts on why being a mom is so important. This is the third post in a series inspired and sponsored by the new memoir from Lisa-Jo Baker, Surprised by Motherhood: Everything I Never Expected about Being a Mom. You can read the first post here – The Joy of Parenting Teens, & the second post here – When Motherhood Sneaks Up on You.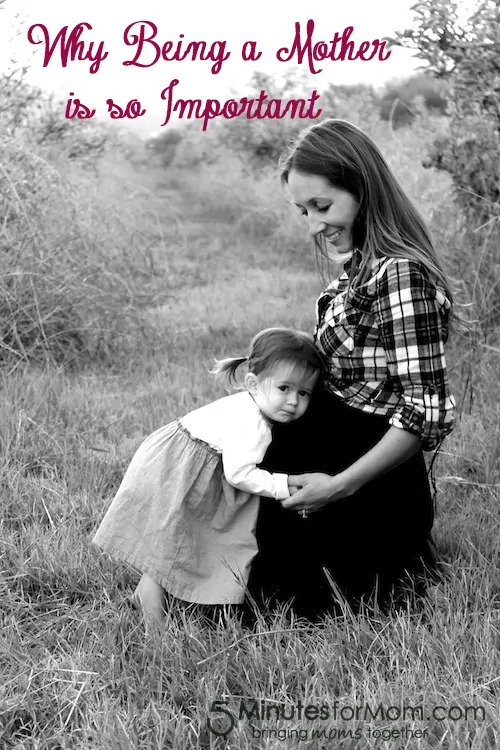 When you consider the various careers available to the population today, what strikes you as "important"? Do doctors cross your mind? After all, they save people's lives.  Lawyers, who protect justice? Politicians? Conservationists? Teachers? Who, in our society is doing the important work?
Did you ever consider, that perhaps, you are?
Dictionary.com defines motherhood three ways:
1.the state of being a mother; maternity. 2.the qualities or spirit of a mother. 3.mothers collectively.
While the first point adheres to the biological or realistic aspects of motherhood, point two whispers something deeper and less tangible. The "spirit of a mother". It is this spirit that makes motherhood so desperately important.
"Do you work?" people may ask.
"I'm a stay-at-home, mom." You might reply.
Why is this the route of the conversation?  Why don't we simply say, yes? Even if we do work outside the home, why are we
expected to answer with the job that brings home a paycheck.  Why is that the only acceptable answer?
"Why, yes, I work," We should say, "Harder than I ever thought I could."
Mothers are important, but motherhood is even more important. The "state of being a mother" might be what outsiders see, but it is the "spirit of a mother" that truly defines motherhood.  That constant state of giving of self, or simply being present for your children.  That is motherhood.
Each runny nose we wipe. Each booboo we kiss. When we explain for the 5 billionth time why sharing is important.  Each tantrum we endure.It's important.  Deeply, vitally, world-changingly important.
We are the shapers of thoughts, characteristics, and knowledge.  We impact society for generations to come.
As my oldest daughter approaches the age of two, I am constantly reminded, humbled and terrified by the importance of motherhood.  When she scrunches her eyebrows up, pulls back her toy and declares emphatically, "No, it's mine!", I see it. This tiny moment of time is important.  What I say to her now, how I deal with this conflict, whether or not I correct her, how I correct her; All of it is so very important. How I react to this moment will have a lasting impact on my daughter, those around her, her personality, her selflessness as an adult, her children; the list goes on.  It is a daunting task. A worthwhile task.
Motherhood is so important because it is life-giving.  We give life by growing a child in our womb.  We give life by welcoming the orphan home. We give life by loving the lonely and forgotten children around the world.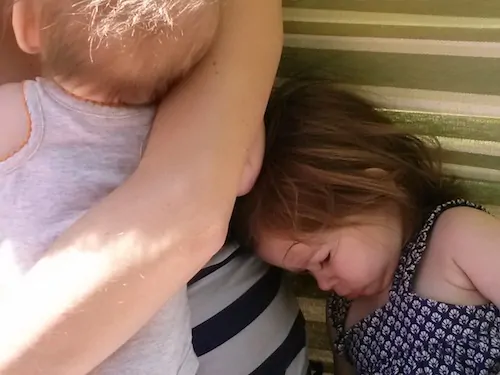 This life-giving is life-changing. Not only for the children who enter the sphere of our motherhood, but for us. We do not merely create better people, we become better people. We are challenged and changed.
Society might not see the immediate value of dish-washing, chore-chart making, potty-training, park-going mothers, but society feels it.  Society is impacted by your motherhood.  The world is impacted.
You, mother.  You, right now in the trenches of diapers and tantrums and homework and slobbery kisses; you are doing the important work.
This post is inspired by Lisa-Jo Baker's upcoming memoir, Surprised by Motherhood. Read more about the author and stay tuned for more of our personal posts about motherhood as well.
About the Book:
A lawyer with a well-stamped passport and a passion for human rights, Lisa-Jo Baker never wanted to be a mom. And then she had kids. Having lost her own mother to cancer as a teenager, Lisa-Jo felt lost on her journey to womanhood and wholly unprepared to raise children.
Surprised by Motherhood is Lisa-Jo's story of becoming and being a mom, and in the process, discovering that all the "what to expect" and "how to" books in the world can never truly prepare you for the sheer exhilaration, joy, and terrifying love that accompanies motherhood.
Set partly in South Africa and partly in the US (with a slight detour to Ukraine along the way), Surprised by Motherhood is a poignant memoir of one woman's dawning realization that being a mom isn't about being perfect—it's about being present.
About the Author: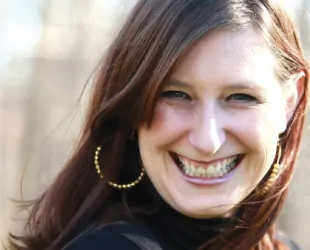 Lisa-Jo Baker and her husband have three kids who color their lives, complicate their frequent travel, and are the reason she believes motherhood should come with a superhero cape. A child of South Africa, Lisa-Jo grew up on karoo dust, purple jacaranda trees, and the stories of Zululand. While she came to the States for college and a law degree, she stayed for the boy from Michigan who became her husband. They make their home under the cherry blossoms just outside Washington, DC, returning to the Southern Hemisphere whenever the craving for biltong and family gets too bad. Lisa-Jo is the social media manager for DaySpring, the Christian subsidiary of Hallmark, and the community manager for their website (in)courage. Lisa-Jo has blogged for Compassion International from Guatemala, is a contributor to HuffPost Parents, and shares her everyday life lived in between countries and kids at LisaJoBaker.com. She welcomes you to connect with her. Twitter: @lisajobaker; Facebook: www.facebook.com/lisajobaker; Blog: www.lisajobaker.com
Hi! I'm Jenny!
I blog at www.thesweetstuff.blogspot.com all about my home, family (husband and sweet baby girl), being a mom, crafting, cooking, my faith in God, and more.
I love the outdoors, living in a small town on the Central Coast and being a mom!