This post may contain affiliate links. Read my disclosure policy here.
Want more readers on your blog? Join us at the 8th Annual Ultimate Blog Party April 4 through April 11 and meet new blogging friends.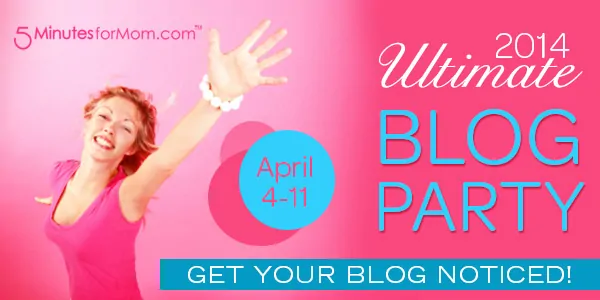 The Ultimate Blog Party is brought to you in part by…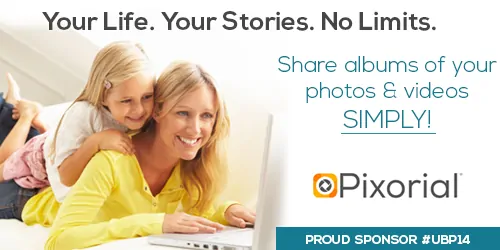 What Is The Ultimate Blog Party?
The Ultimate Blog Party is an annual blogging event, hosted here at 5 Minutes for Mom, where several hundred bloggers join together in a huge week-long, blog-hopping, commenting and tweeting extravaganza to meet others, grow their networks, have fun and win prizes!
The official party lasts one week – this year April 4th through 11th. But the action starts now and continues throughout the event and afterward. Within that one week we will essentially generate a jam-packed directory of awesome, active bloggers across several different categories.
You can take a look at last year's party post here.
Step 1 – RSVP Now
You don't want to miss anything. Sign up to receive important reminders and prize information before and during the party…
Step 2 – Tell Your Friends
Invite your blog readers to the party… you don't want to leave them out of the fun.
Get a #UBP14 banner or badge image to use in a blog post and/or your sidebar to tell your friends that you'll be joining the Ultimate Blog Party.
Also, tweet it out!
[Tweet "RSVP Now! The Ultimate Blog Party 2014 will be Apr 4-11. Pls follow sponsor @Pixorial #UBP14"]
Step 3 – Consider Donating a Prize
Each year the Ultimate Blog Party generates a HUGE Prize Pool. Door prizes are always fun to have at a party and thanks to bloggers and brands, we've given away thousands of dollars worth of prizes over the last seven years.
Everyone is able to donate a prize if they want the extra promotion… but it is certainly NOT required.
Whether you are a small business, large business, a work at home mom with a product or services you would like to promote or a blogger who wants extra promotion you can donate a prize. It is totally free to submit your prize and is a great way to gain new customers to your blog or website.
You can get more information on submitting a prize here.
Step 4 – Help Us Thank Our Sponsor
Putting together this event each year takes a crazy huge amount of time. We're so thankful to have a fabulous title sponsor helping us make this event possible.
Pixorial is a simple but powerful photo and video solution for making, editing and sharing your family memories.
Easy Universal Import – Seamlessly transfer all your photos and videos from your computer, devices, other sites and social networks.
Powerful Smart Albums – Ensure that the media that matters to you is safely stored in a private cloud that you can access from anywhere.
Flexible Share Anywhere – Take the complexity out of sharing your collections and go beyond the limits of traditional posting.
We've shared our excitement about Pixorial in two earlier posts…
Since we've been loving their website so much, we invited them to be our title sponsor and we're going to be incorporating their photo and video sharing capabilities within the party. For instance, we're hosting our UBP Banner and Badge images in a shared, public folder at Pixorial. We have some other fun stuff with Pixorial planned… you'll find out more soon.
You can download the UBP banners and badges here…
Please help us thank Pixorial for recognizing the power of the blogosphere and helping support us all. Please check out their site and tweet them a thank you…
[Tweet "Love to see companies like @Pixorial supporting #bloggers! We'll see u at the #UBP14 #SocialMedia"]
Get a Pixorial Account for FREE
Anyone can sign up for a Free 7 GB account at any time. For a limited time, just visit
THIS LINK and enter the promo code "FiveM4M" to get a complimentary Pro30 account (includes personal music uploads) for a year.
A Little More Explanation about the UBP…
The Ultimate Blog Party is just that — the ultimate place to party and meet new friends, (but no babysitters, airplanes, or tickets necessary.)
Yes — it really is quite simple. Just before the party starts on April 4th, write a "party post" and publish it on your blog, sharing a bit of what you and your site are all about. Once the "linky lists" for the various blog categories open on April 4th, you then add the URL of that "party post" to the applicable linky list so that others can find you and "meet" you and your blog.
Return the favor by blog-hopping through the linky lists, leaving comments and making friends as you go.
We will also have a Google Hangout on Monday, April 7th and a Twitter Party on Tuesday April 8th as part of the week long event.
If you are new to the UBP, or you have any questions, you'll find more answers in this earlier post Ultimate Blog Party 2012 – Tips & Tricks.
Get Ready to Party and Meet New Friends
We cannot wait to party with all of you all in April. The Ultimate Blog Party is definitely one of our favorite blog hops and look forward to it all year long — so get ready for some ultimate fun, ultimate laughs, and ultimate friendships that will last a lifetime.
Get your #UBP14 Blog Badges Here.
And in case you aren't on our email list yet — make sure you sign up now. Our list is the first to find out about future events, special promotions, and new blogging opportunities — around the web and even here at 5 Minutes for Mom.
We share exclusive gifts, content, and offers to our 5 Minutes for Mom email list and we have a few fabulous new email-only offers coming up very soon, including a new FREE report: 21 Sixty Second Tricks to Make Your Images POP! by 5 Minutes for Mom co-founder and professional photographer, Janice Croze. You do NOT want to miss out!
Remember to RSVP
You don't want to miss anything. Sign up to receive important reminders and prize information before and during the party…