This post may contain affiliate links. Read my disclosure policy here.
This post has been sponsored by Royal Canin. All opinions listed are our own.
Over the course of the last month, my mother-in-law and I have been trying out the Royal Canin wet and dry food for aging and mature cats. He is her big baby and as a pet owner, we always want to do the best we can at taking care of our fur babies. Here are 6 ways to care for your aging cat.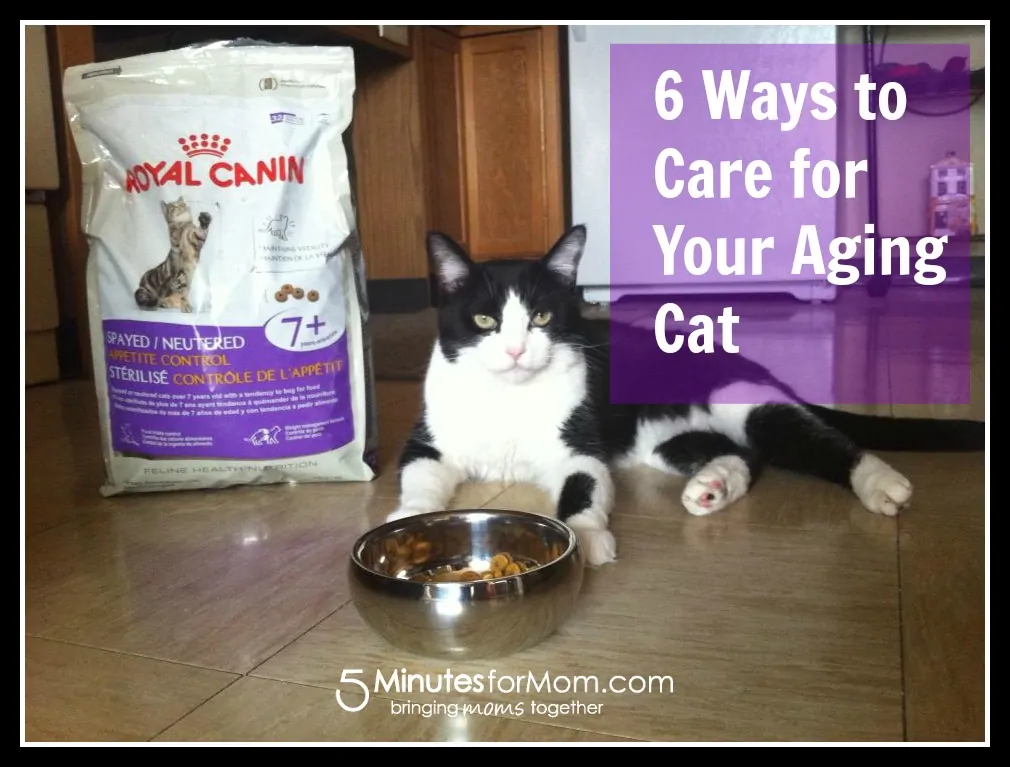 Nutrition
The first and foremost most important thing when you have an aging cat is his diet. Boots has been on the Royal Canin food now for about 3  — almost 4 weeks and his diet is totally different. My mother in law says that he is doing so much better and all of his upset stomach issues have resided.
Aging cats are less active and have a slower metabolism; so fewer calories are required. But high quality, easy to digest protein becomes more important than ever, to help maintain overall body condition. That is where the Royal Canin wet and dry food for aging and mature cats come in.
Keeping Your Cat Active
Most older cats slow down a lot when they age, so obesity and joint pain take over their sweet little bodies. It is good practice to try to play with your cat a little during the day to promote active play.
Vet Visits
Making sure your cat is up to date on all his or her shots is important with age. Their immune systems get weaker the older they get, so be sure to keep up with yearly vaccinations and periodic health check ups.
Same Schedule
Cats are creatures of habit and do not like to have their schedules or routines messed with, so be sure to keep their daily routines the same.
Grooming
Some cats will let you groom them. My daughter's kitten LOVES bathtime, so she keeps her very clean. If your aging cat will let you groom them, this will help stimulate stiff joints and muscles — which is a prominent issue in older cats.
Lots of TLC
Cats are finicky when it comes to love, but I have noticed older and aging cats do love to be loved on. Giving lots of TLC will make sure that your cat spends the rest of his life feeling loved and adored.
About Royal Canin for aging and mature cats
Older cats may develop teeth and gum sensitivities that make chewing kibble difficult or even painful, resulting in a decreased appetite or the appearance of being a "fussy eater". Royal Canin has created a unique, patented dual texture kibble to address potential sensitivities and decreased appetites. The crunchy outer shell and soft cream filling are easy to chew and help stimulate the appetite of an aging cat. This new innovation will help ensure your aging cat is receiving the essential nutrients that will maintain her health for years to come.
What about you? What is your favorite way to care for your aging kitty?