This post may contain affiliate links. Read my disclosure policy here.
I'm Julia and I'm four and a half.
My little sister Sophia told you yesterday lots about our Nonna and how much fun she is. And she is right. We both love Nonna very much. We love playing with her and we love eating her yummy pasta.
But Sophia didn't tell you much about our Nonno… so I will.
We both love Nonno. He's not like any other grown-up I've ever met before!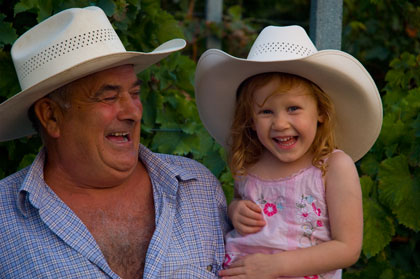 Nonno is a farmer and he has a huge garden and chickens and goats. But Mommy says that Nonno wasn't always a farmer, he used to be something called a "heavy duty mechanic" way up north in Canada. He worked in a gold mine in Yellowknife for 35 years! And even in the super cold weather up north, Nonno would never get sick. He never missed a single day of work in all those 35 years.
At the gold mine, Nonno fixed all the big machines that the miners used to dig gold out of the ground.
There's NOTHING my Nonno can't fix. He has so many tools in his garage, that I can't even count that high. He fixes up old tractors and he even made his own barbeque – instead of buying one from the store.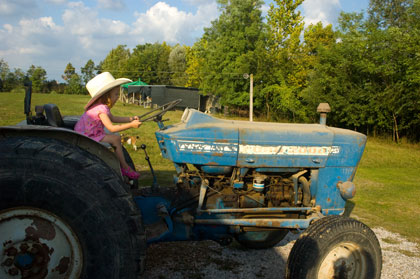 Late at night when I'm supposed to be sleeping, I overhear Nonno tell stories of the old days in Yellowknife. He would go ice fishing and hunting and live in the bush for weeks. Bears would come to his cabin, but he was never scared. He had tricks to send them away.
I heard my Nonno say he's never been scared even once in his life. It's hard to imagine… I'm only 4 and a half, and I've already been scared plenty of times. But if you met my Nonno, you'd believe it. He's not like anyone else. Nothing scares him. He can make anything, do anything and fix anything — except a computer — for that you need to talk to my Daddy.
But Nonno isn't just good at all that fix-it stuff… he's really good at playing with Sophia and me. He's so funny… he's teases us lots and makes us laugh like crazy.
I really wish my Nonni could live with me in Canada. I told my Mommy they could sleep on our couch, but she said that wouldn't work very well. I'm going to be sad when I leave here. I really love my Nonni.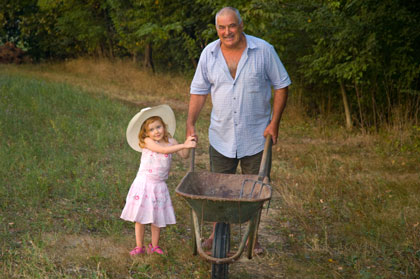 Written by Julia (with help from my Mom)