This post may contain affiliate links. Read my disclosure policy here.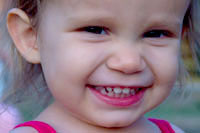 I'm not yet 2 years old, but I've come to Italy to meet my Nonna, Nonno and my Aunties and Uncles.
I'm Sophia and if you read this blog often, you've likely seen my picture before. My mommy loves to put up pictures of me and my sister Julia.
Here you can see me playing with my Nonna.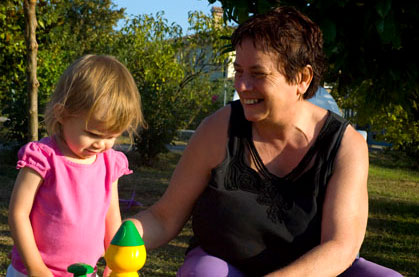 I love my Nonna! And no it isn't just because she gives me cookies to eat at breakfast time. I love her because she is so much fun. I didn't even waste time being shy with my Nonna. I started playing with her the very first day. Mommy tells me we only have 3 weeks here, so I know not to waste a moment of precious Nonna play time.
Yes, as I mentioned, I do love that Nonna gives me cookies to eat even before I have my morning eggs… but she makes me lots of other yummy food too. Every day she makes me and Julia our favorite pasta for dinner and we eat it a couple of hours before the grown ups have their dinner. Grownups here eat dinner right at my bedtime, so Nonna makes our pasta early.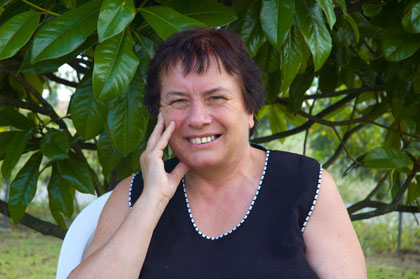 I've overheard my Mommy talking about my Nonna… turns out she left her family in Italy when she was only 20 and went to live in Yellowknife… that's way high north in Canada! She married my Nonno and had my Daddy a year later. Then she had my Auntie Marilyn, my Auntie Lisa and then a few years later my Uncle Brian.
It's really, really cold in Yellowknife and I think I'm happy my Nonni moved back to Italy so that we get to visit here instead of Yellowknife.
My sister Julia told me how much fun I was going to have with my Nonni, and she sure was right. Julia got to meet our Nonni when she was only 5 months old. They came to Canada to see her! And then she came to Italy when she was my age to see them again. I was sorta here then too… I was in my Mommy's belly.
I know that Nonna would come to Canada to see me all the time if she could… but Mommy says it's a long hard trip for Nonna. So we young ones have to do the traveling now. I don't mind. I slept through most of the plane rides anyway. And I love it here in Italy!
Julia and I both love the swing here. Sometimes we have a hard time sharing it because it's just so much fun. I love having such a huge yard where I can play and run around. And I really love digging in the garden. I think I'll have a garden of my own when I'm a grown up and cook lots of pasta just like my Nonna.