This post may contain affiliate links. Read my disclosure policy here.
For many parents it's tough to find the right balance between getting the day to day tasks done and maintaining their physical and mental wellness. During the summer months many families are adjusting to new routines. If you have multiple children you might notice that there is more squabbling than usual. They too are adjusting to being around each other more.
In order to bring some balance back into your life here are some 5 minutes for mom mini breaks.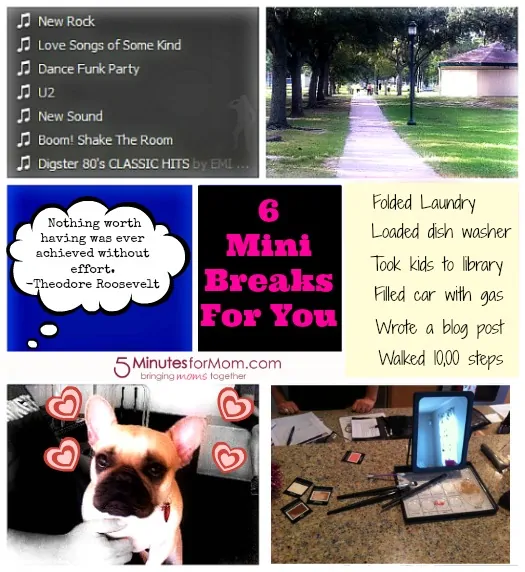 Listen to Music

Music is a very powerful tool when it comes to bringing you balance. Your mood can change in an instant depending how you relate to a particular song. My suggestion would be to make a variety of playlists for yourself. If you need five minutes of calm then play your favorites song that puts you at ease. If you need more pep in your step try a playlist that makes you want to get up and dance! Plug your head phones in and choose the playlist that is best for you at that moment. Spotify is my personal go to music site and it's free.

Get Outdoors

There are days when we spend a lot of time in our homes doing housework, cooking and blogging. If you can take five minutes to take a walk alone with no demands on you it can refresh you. If you have a had a really high stress day you could also take that time and sprint! That's right, lace up your shoes and go for it because those endorphins will kick in leaving you with more energy not less.

Feed Your Brain

Use one of your mini breaks to read. You could have a favorite scripture or quote. Choose something that inspires and motivates you to get in a good frame of mind. Maybe you are in the middle of a good book and could get through a few uninterrupted pages.

List Your Accomplishments Today

Grab a pen and paper and list out all the thing that you accomplished that day. No matter how small or trivial they might seem, write it down and reflect on your achievements. If you have been slacking off maybe you could use this time to write a to-do list instead.

Unconditional Love

If you have a pet grab your furry baby and give them attention. Spend five minutes petting your animal and take that time to express and receive unconditional love. Animals have been known to uplift our spirits.

Freshen Up

You don't have pets? Don't worry take this time to run a brush through your hair. You could brush your teeth and maybe put some lipstick on. Take five minutes to pamper yourself in some way to get that refreshed feeling.
Never underestimate what can be done in five minutes.
Do you have any mini breaks you would add to the list?
Thank you for reading, I'm Pamela M. Kramer one of the summer interns and as a multitasking mom I'm always sharing little nuggets of information to help you stay healthy and fit. Please let me know in the comment section if there are any health and fitness topics that you would like to see more information about.