This post may contain affiliate links. Read my disclosure policy here.
We're thrilled to introduce the members of our new Blogging and Social Media Training Group who will be joining us for the summer of 2013 for training webinars and mastermind group meetings. They will be guest posting and participating on our social channels.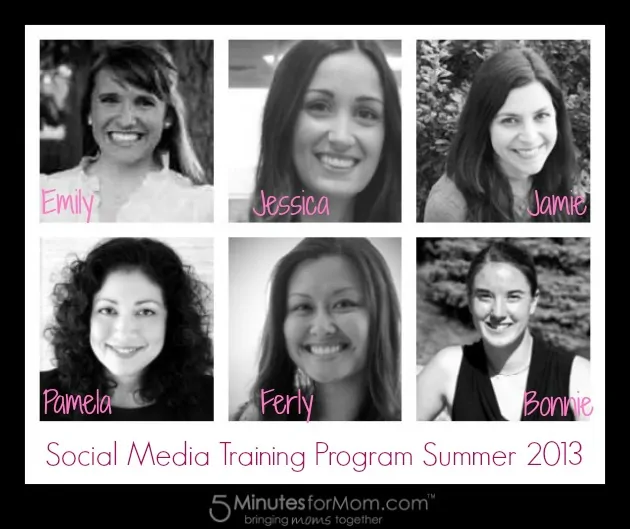 This group of six fabulous blogging women will be working closely with us advancing their blogging and social media skills here at 5 Minutes for Mom.
They are all successful bloggers and are taking this step to push their own blogs to the next level as well as build their resumes and portfolios for advancing their careers and/or consulting businesses.
You can follow them all on Twitter at @LABride, @jloveleeblog, @twohappymamas, @PamelaMKramer, @GiftsWeUse, @KoalaBearWriter
Emily Babb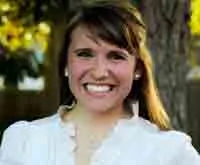 Emily, the lifestyle and food blogger behind Louisiana Bride began blogging in 2008 as a wedding blogger after she became engaged. As a result of the changes of life, she now writes about the humor in daily life as a graduate school wife and elementary school teacher. Her love of food has brought about a link-up called Meal Pinning Monday (MPM) and new recipes weekly.
She has a deep love for God, Target, traveling, nail polish, health & fitness, and her two spastic "fur-babies" Ellie and Rudy.
Jessica Lee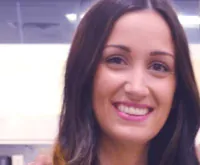 Jessica is a mother of 1 who adores fashion, style, beauty and writes about all of it at her blog Lovelee.
She has a soft spot for animals, indulges way too much in cupcakes, watches too many bad movies, loves good conversation, and believes that a woman can still remain passionate about pursuing her dreams while being a fantastic mother… you're just really tired at the end of the day!
Jamie Lieberman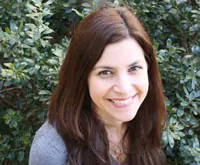 Jamie is a mom, wife, lawyer, professor and writer. These days, you can find her either writing for her website www.twohappymamas.com, playing with her son or teaching writing at Seton Hall School of Law.
She is excited to add the 5 Minutes for Mom training program to her busy schedule.
Pamela M. Kramer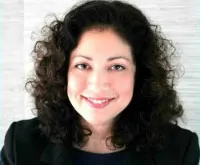 Pamela M. Kramer is the content creator and virtual publisher of A Renaissance Woman. Using honesty and humor, she gives readers an inside look at a modern, motivated, multitasking mom covering lifestyle topics in Houston, Texas.
She also consults as a researcher of interactive content for clients and provides feedback to improve a viewer's online experience.
Ferly Tangonan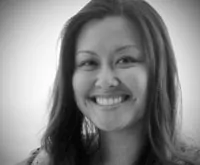 Ferly is a wife, mom and blogger on a journey to a clutter free house and life. With her passion for keeping families organized, she strives to inspire her readers to use their own gifts to grow, love and serve others.
Visit her blog Gifts We Use to explore organizing, technology, and blogging tips.
Bonnie Way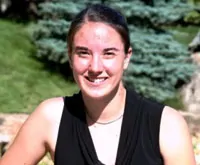 Bonnie is a freelance writer, editor and blogger at The Koala Bear Writer.
She has three daughters (ages five, three and newborn) and enjoys scrapbooking, rock climbing, hiking, baking, and reading.
Her mascot is a small, stuffed koala who has been to Niagara Falls, Mount Robson, and Uluru with her.
Our Programs to Help Moms Work at Home
This training program is one of the three ways we're helping moms work at home.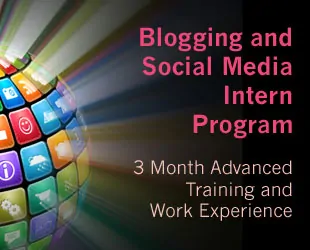 The first is our Work-At-Home and Business Building Resource Email List where we are sharing targeted quality information about working at home and building small businesses.
The second is our new #WAHMStrategy Hour – Google+ Hangouts that we're running every other Wednesday at 10 am Pacific / 1 pm Eastern. During these strategy sessions, I join fellow blogger and long-time work-at-home mom Kelli Miller and other expert guests to share tips, tactics and straight talk about working at home.
And this 3 Month Blogging and Social Media Training Program is the third part of our plan to help more moms work at home. We're so excited to get it started.
Our summer session will run through June, July and August. We'll hold a fall session running September, October and November.
You can apply for the fall session anytime and we will review applications in August.