This post may contain affiliate links. Read my disclosure policy here.

Recently we announced 3 New Ways We're Helping Moms Work At Home.
The first is our Work-At-Home and Business Building Resource Email List where we will share targeted quality information about working at home and building small businesses.
The second is our new Work At Home Moms' Strategy Hour – Google+ Hangouts that we're running every other Wednesday at 10 am Pacific / 1 pm Eastern. During these strategy sessions, we will invite expert guests to share tips, tactics and straight talk about working at home.
And we are now ready to tackle the third program, our new…
3 Month Blogging and Social Media Training Program
We are so excited to launch our blogging and social media training program.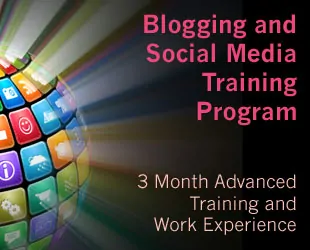 We believe this new program will create fabulous opportunities for more women to build work-at-home careers and successful businesses. Janice and I are so thankful to have this unique lifestyle where we work online and can fit our work schedules around our childrens' schedules.
Our crazy busy work-at-home lives are not for everyone, but we know there are many women who would love to share this lifestyle. We sincerely want to help change lives and give others the skills and work experience they need to either get a job in new media working for another company or push their own business to a new level.
Continually colleagues ask us for recommendations or advice on hiring blogging assistants, copywriters, editors, social media assistants, social media managers and other new media roles. The fact is these positions require very specific skills and training that can be hard to obtain.
Many bloggers have a subset of required skills or some experience in the different areas, but really do need advanced training to be able to start the job running without much extra training from an employer.
We don't claim to know everything, but we do have tons of knowledge and experience we can share through advanced training sessions, mastermind groups, blogging and social media experience that can later use to demonstrate their skills to future employers.
Application Process
Over the next couple weeks, we will accept applications to the program. We will carefully review and interview candidates and invite a small number to our team to learn with us for 3 months. We anticipate starting with 6 team members.
Upon completion of the program, we will provide references and Linked In recommendations to help participants move on to new challenges. We may also consider participants for additional paid work on one of our teams.
If you would like to be considered for this program, please review the following requirements and commitments. If you believe you should be one of the first bloggers accepted to this program with 5 Minutes for Mom, please fill out this application form here.
Applications for the Summer Session are now Closed.
Next session will start January, 2014.
Program Description
3 Month Blogging and Social Media Training Program
This unique 3 month training program will include training through webinars and mastermind meetings, and the opportunity to blog and participate in our social media channels. This training will help prepare participants for new media roles as virtual blogging assistants, blog copywriters, editors or social media managers for professional bloggers or organizations and/or further the success of their own blogs.
Program Requirements
Our intention for this program is to provide this training opportunity for our target audience who tend to be women bloggers and are often mothers.
As we interview applicants for our program, we will be looking to find those motivated individuals who will successfully take this training to the next level and either land a fabulous new job or push their own blog or business forward.
We require a 3 month commitment. We will be heavily investing in your training and unless there are unforeseeable events that require you to step down, we want to see all participants successfully complete the program.
Successful candidates should have
Experience blogging,
Good writing and editing skills,
Experience with Twitter, Facebook, Pinterest and other social media platforms,
Passion for social media,
Good technical knowledge with desire and ability to find and learn new tools quickly, and
Ability to work independently as a responsible, reliable, driven self-starter.
Commitment Required
3 Month involvement from the time the group is selected and the program begins.
At least 2 hours to train and participate in the program per day, 5 days a week.
Be able to attend virtual meetings which most likely will be scheduled at 11 am Pacific / 2 pm Eastern Mondays and Fridays.
Program Benefits – Training and Blogging/Social Media Experience
Through detailed training you will hone your skills and demonstrate your abilities through submitting a number of blog posts and participating in our social media platforms.
You must have fundamental blogging and social media knowledge, passion for new media and writing talent. Through this training program, we help you improve your abilities and prove your skills to future employers.
You will receive advanced training and gain proven experience in…
Blog Copywriting and Editing

Research topics, story ideas and write compelling blog posts.
Write attention-grabbing headlines and titles.
Research and use appropriate keywords for SEO purposes.
Read content and correct for errors in spelling, punctuation, and grammar.
Rewrite copy to make it easier for people to understand.
Evaluate submissions from writers to decide what to publish.
Edit basic HTML for formatting posts.
Plan content, create and manage an editorial calendar.


WordPress and Multi-site WordPress
Use both WordPress Visual and HTML editors.
Use plugins such as Pretty Link, Easy Recipe and others.
Create and use WordPress Templates.

Develop and Implement Social Media Strategies
Use advanced Facebook, Twitter, Google+ and Pinterest Marketing methods.
Plan and execute effective daily content for Facebook, Google+ and Twitter.
Increase fan, follower and subscriber numbers on social media sites without using any form of spam tactics.
Increase engagement, comments, replies and retweets with followers.
Build a subscriber and follower base with media and PR companies.
Spread brand awareness by commenting and engaging with like-minded profiles and users.
Monitor for mentions and reply as necessary.
Create goals for growth and supply reports using effective measurement tools.
Translate client marketing objectives into comprehensive social media strategies.
Develop and implement creative strategies.
Drive traffic to campaigns and destination sites.
Manage presence, interact with online communities and seed content.
Advise content creation teams on best practices on various platforms.
Monitor effective benchmarks for measuring the impact of social media programs and analyze, review, and report on effectiveness of campaigns.
Track & report on social media growth, activity, and influence.

Photo Editing and Designing Graphics
Ability to design and create simple and attractive graphics to use in posts or blog sidebars.
Basic photo editing skills using PicMonkey and Photoshop Elements.
Create attractive, "pin-worthy" images for blog posts.
Experience searching, finding and editing stock photos to create engaging blog posts.

Video Editing and YouTube Marketing
Ability to shoot, edit and upload videos to YouTube along with appropriate SEO descriptions and tags.
Basic knowledge of video editing and screen capture software programs.
Grow YouTube channel subscriber base.
Success in this program will prove to future employers that you have mastered all the above skills and as well you can:
Collaborate and work well as part of a virtual team.
Be trusted with passwords to social media accounts.
Self-manage and responsibly work largely on your own with minimal direction and supervision.
Execute multiple initiatives against aggressive schedules.
Maintain records of action and workflow.
Be accountable to deadlines.
Yes, It Will Be Hard Work
The previous lists of training topics and skills you will gain are extensive, so this clearly will not be easy. For us to accomplish all of this within 3 months will take dedication and hard work from us all as a team. I will be devoting a huge amount of time creating training materials and working through examples with the group.
Each participant will complete regular assignments and participate on various social channels.
Success for each member will depend on the team working together. We will learn and grow together.
And we WILL have FUN!
Applications for the Summer Session are now Closed.
Next session will start January 2014.
If you are up for this challenge, fill out the application form here.


Written by Susan Carraretto, co-founder of 5 Minutes for Mom
Talk with me: @5minutesformom and Facebook.com/5minutesformom
Pin with me at http://pinterest.com/5minutesformom/