This post may contain affiliate links. Read my disclosure policy here.
Hi there, it's Jessica here to share some quick beauty tips and a simple beauty routine for the hot summer months.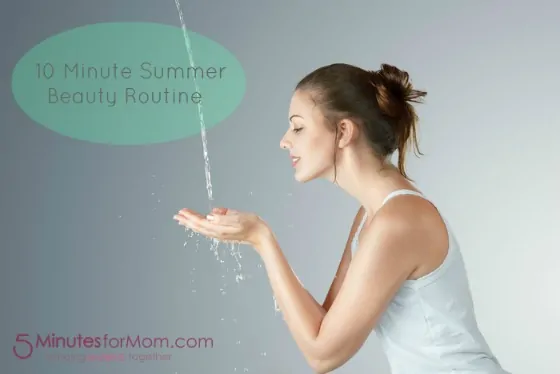 As most of us mothers know, our daily summer schedules consist of packing lunches for camp, applying sunscreen, bath time, play time, and sleep time. Honestly, we are lucky if we can even fit a shower in there somewhere! So our 'beauty' time is minimal.
This beauty routine takes no longer than 10 minutes, leaving you effortlessly gorgeous and ready to tackle the day.
Step 1:
After face is washed and moisturizer has been applied, use concealer under eyes and in any dark spots, then blend.
Step 2:
Apply BB (beauty balm) or CC (color correction) cream. These creams work as a foundation and provide coverage with added skin care benefits such as anti-oxidants, SPF, and dark spot corrector.
If you want a nice tint of color with the light feel of a simple moisturizer, Janice found a great option when she did these Beautycounter reviews.

Step 3:
Lightly dust (in clockwise rotation) a mineral makeup/powder to control any shine.
Step 4: (optional)
Apply a natural colored eyeshadow palette. Example: Ivory, Light Brown & Chocolate. This will allow your eyes to pop without looking like you overdid it just to go to the grocery store.
Step 5:
Apply mascara. It's amazing what a little mascara can do for tired mommy eyes.
Step 6:
Apply a tinted lip balm – with SPF, of course. Or if you want to be daring, apply a brighter color like soft pink or melon. A little color can go a long way!

Written by Jessica Lee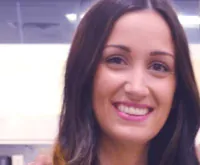 Jessica is a mother of 1 who adores fashion, style, and beauty.
She has a soft spot for animals, indulges way too much in cupcakes, watches too many bad movies, loves good conversation, and believes that a woman can still remain passionate about pursuing her dreams while being a fantastic mother… you're just really tired at the end of the day!