This post may contain affiliate links. Read my disclosure policy here.

Being a mother is learning about strengths you didn't know you had, and dealing with fears you didn't know existed. ~Linda Wooten
Jennifer here–
This year, my oldest is graduating from school and my youngest turned 15. I only have two kids and it started dawning on me the other day that I have just about 3 years left to have my children at home, and then they will be moving out starting lives of their own.
For a mom, this can be a rough period in her life. I know it will be for me. But it is also a time of joy for me as I can see the fruits of mine and my husband's labor pay off as they grow up and leave the nest. I always wonder if I have taught them enough, loved them enough, let go when I needed to so that they could grow. The life of a mother never ends — even after the kids have left the nest.
Mother's Day Giveaway 2013
It is time once again to honor all that you do with one of our favorite events here at 5 Minutes for Mom, our Mother's Day Giveaway. We have lots of great giveaways for you to enter and we cannot wait to share them all with you! You have worked hard all year long and YOU deserve to be pampered!
Our Mother's Day Giveaway 2013 event kicks off Monday, April 22nd, and will run until May 4th. We will announce our winners on Sunday morning May 6th, so that you can get your prize before Mother's Day on May 12th.

For each giveaway, our normal giveaway rules will apply. Please see our site's Terms and Conditions of Use for a complete list of our contest and giveaway rules.
To enter the giveaways in this Mother's Day event you just need to:
Enter using the Rafflecopter on the giveaway post you want to enter. Please note: You need to enter each giveaway individually, so make sure you click over to each one and leave your comment there.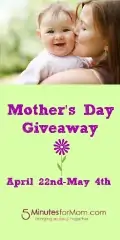 We'd truly appreciate either a link back to this post where you include a "Mother's Day 2013 Giveaway" button in a post or on your sidebar (to get the code scroll to the bottom of this post) or link to the individual giveaways you choose to enter. (Linking is not required to enter, but it helps us to continue bringing you special giveaway events like this.)
Some giveaways may be open to Canadian shipping addresses. Please check individual giveaways.
PLEASE REMEMBER: You must click over and comment on each giveaway you want to enter. We will be linking to all of the giveaways in this post, but will draw winners from the Rafflecopter of each individual post. Remember you can enter in as many of the giveaways as you want.
Mother's Day 2013 Giveaways
Mother's Day Giveaway 2013 Button Code