This post may contain affiliate links. Read my disclosure policy here.

Barbie, 5 Minutes for Faith editor, shares her insights on this delicious chocolate basket that we are giving away for the Mother's Day giveaway. Barbie received a gift basket for review, but all opinions remain her own.
Chocolate.  Some days it's my best friend. Other days, it's my worst enemy.  There is something about chocolate that is so very satisfying and comforting, yet at the same time, if I indulge too much, I could be in serious trouble.
As a chocolate lover, I was excited to have been given the opportunity to review the Chocolate Lover's Gift Basket from Lake Champlain Chocolates.  Imagine my delight when this showed up at my doorstep: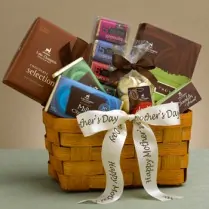 Immediately my children were swarming around me like bees.  Although I would have loved to have kept this deliciousness all to myself, I decided to share.  My children especially loved the Dark Chocolate Gold Coins.  I indulged in a truffle or two and decided I would take the rest to work and share the love.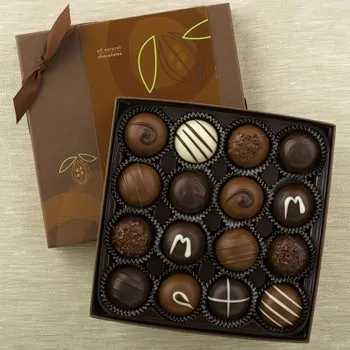 This is by far some of the best chocolate I've ever tasted.  It is smooth and not too rich.  I had to be careful because I could have easily eaten several pieces in one sitting.  One thing I love about this chocolate is that it's made from natural ingredients with no added preservatives.
The Chocolate Lover's Gift Basket would make a wonderful gift for that special mom in your life.  I am sure she will love it, just as much as I did.
Enter to win
One reader is going to get their chance to win a Chocolate Lover's Gift Basket just like the one pictured above. Use the Rafflecopter form to enter this giveaway. New to Rafflecopter? Watch this 45-second video on how to enter!
a Rafflecopter giveaway

What kind of chocolate is your favorite?