This post may contain affiliate links. Read my disclosure policy here.
In my last post, I showed you how to get a fast and fabulous look you can wear during the day. If you are lucky enough to be able to snag some extra time, then go for either of these 10 minute looks that you can wear day or night.
This post is the second in a 3-part series called Beauty in 5 – 10 – 15, meant to help busy moms find a little time for personal attention every day.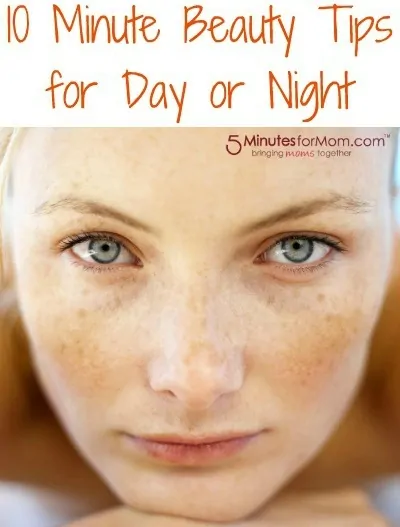 The 10 Minute Face
Step 1: Moisturize
Apply a light moisturizer all over your face, neck and decollate. If you are headed out during the day, make sure your moisturizer includes sunscreen to protect your skin.
Update: Janice found her all-time favorite moisturizer when she was doing these Beautycounter reviews. It feels so light but still packs moisturizing power.
Step 2: Foundation
A liquid or cream foundation is ideal to create a smooth, even looking skin. Apply your choice of foundation with a brush or sponge for a flawless finish or with clean fingertips for a more natural look.
Step 3: Conceal
Need a bit more help than foundation can give you? Well, you've got a few minutes to spare, so really take your time and apply concealer with a brush to trouble spots like under your eyes, around your nose and chin or anywhere else that you need a little help.
Step 5: Powder
Dust powder on your t-zone (forehead, nose and chin) only using a large fluffy powder brush. This technique will help keep that afternoon oil-slick at bay without making you look too powdery.
Step 6: Eyeliner
The eyes really do have it so make sure you take a quick moment to line the inside of your upper and lower lash line with a soft brown or black liner. No liquid liner here, we want just a bit of definition around the eye.
Step 7: Mascara
Apply a couple coats of glossy black mascara to both the top and bottom lashes. If you noticed that you have a few extra minutes, curl your lashes prior to mascara to really open them up.
Step 8: Lips
Line your lips with a nude colored liner and then fill in with a lip color that gives you just a hint of color. (Hint – use a lip brush with lipstick for a more even look).
I love that this look makes you a bit more va-va-va-voom than a 5 minute look. I suggest spending the full 10 minutes for workdays or anytime you want to look fab in a just 10 minutes.
The 10 Minute Hairstyle
Want a look that is super stylish but won't require more than 10 minutes to do? Try this side-swept chignon (fancy name, easy-to-do style) for the perfect daytime 'do.
Step 1: Side Part
Run a nickel size amount of shine serum throughout strands. Then, create a deep side part in hair with a comb. The side you part your hair on is up to you.
Step 2: The Ponytail
Pull all your hair into a low, side ponytail on the opposite side of your part. The top of the pony should be set right behind the ear. Secure it with a hair band.
Step 3: Twist It & Pin It
Twist the tail and then wrap the twisted hair around the elastic so that it creates a bun. Feel free to leave the ends out for a more casual, messy style. Pin the style in place using four to six bobby pins.
Super easy, right? You can even add a hair accessory for that added touch.
This hair and makeup routine should take about 10 minutes to complete and although it saves you substantial time, I didn't cinch on the style factor – you will look amazing!
Written by Kristle Jones, a freelance writer and blogger living with her husband and two beautiful daughters in California.