This post may contain affiliate links. Read my disclosure policy here.
Acne can be devastating and seriously depressing. If you suffered with teen acne — whether mild, moderate or severe — you know how it can destroy your self-esteem.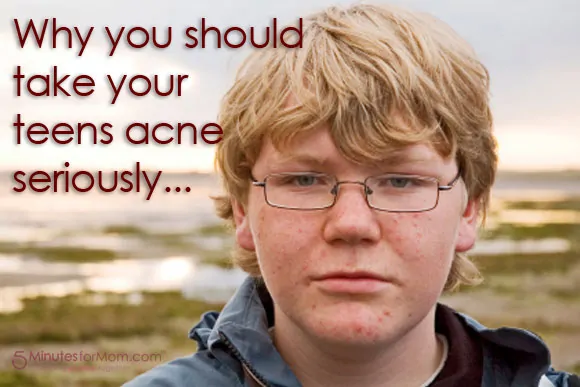 There are scientific studies proving acne can lead to mental health problems and even suicide. A British study in 1999 reported, "Acne is not a trivial disease." It leads to significant levels of social, psychological and emotional problems.
Do Parents Take It Seriously Enough?
I shared recently about my own troubles with teenage acne and adult acne. Even though I was lucky and during my teen years, my acne was mostly on my back with occasional cystic acne on my face, I still felt so depressed when I had a bad cystic pimple that I wouldn't want to go to school or go out with my friends. I was generally a secure, happy teen with good friends… but the humiliation of an acne breakout was unbearable.
When I think back to the social hierarchy in high school, there's an obvious pattern in acne severity. The most unpopular kids, not surprisingly, also had the worst acne.
I remember feeling so sad for the kids with chronic severe acne. I wondered if they went to doctors, if their parents paid attention to it and if the parents knew how their kids were being teased. I couldn't imagine how those kids survived… I sure felt like I wouldn't have been able to if my acne had been worse.
Sadly, my worries for them were valid. This Norwegian study shows…
Those with severe acne reported having suicidal thoughts more often than those with less acne. Three times as many boys and two times as many girls with severe acne reported suicidal thoughts compared to those with little or no acne, the investigators found.
What Can You Do As A Parent
I think there are some important ways parents can help…
Talk to your kids as early possible about acne and how to take care of their skin. Once kids are teenagers, it can be hard to bring up sensitive subjects and they might be embarrassed and not want to talk about it. But I think it's important to persevere and get them talking.
Buy them a quality facial cleansing set of products and teach them about the importance of the 3 basic steps of skin care: Cleansing, Toning and Moisturizing.
If their acne is severe, seek medical assistance from a qualified doctor.
Watch for signs of depression such as low attachment to friends. If you suspect your child might be depressed, seek professional help immediately.
And for all parents – whether your teen has acne or not – please talk to your kids about acne and how devastating it can be for those struggling with it. Inspire your kids to help stop the cycle of bullying acne sufferers.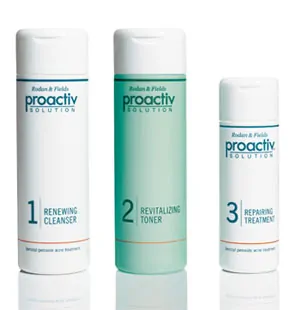 If your child has mild to moderate acne, getting them started on a skin care regime such as Proactiv will help them treat their acne and give you an opportunity to talk to them about sympathizing with schoolmates with acne. It can be a chance to have a powerful conversation about bullying and self-esteem.
What About You?
Did you have acne when you were a teenager? Was it mild, moderate or severe? How did it make you feel?
Do you have teenage children? Are they struggling with acne? How do you talk to them about it? How are you helping them treat their acne?
Disclosure: I am participating in a compensated ambassadorship program with Proactiv. This post reflects my personal experiences and opinions only and is not intended as medical advice.
We would love if you shared this post with your friends by Stumbling, Tweeting, Pinning, or Sharing on Facebook. Thanks so much! We really appreciate your support of 5 Minutes for Mom.
Written by Susan Carraretto, co-founder of 5 Minutes for Mom.
We want to get to know you better — Tweet with us: @5minutesformom, find us on Facebook: Facebook.com/5minutesformom, and join our newsletter list.