This post may contain affiliate links. Read my disclosure policy here.
Let me cut straight to the chase. My Little Red Book is an anthology featuring stories of first periods. If you are like me, that intrigues you and made you smile just thinking about it. If that grosses you out — well, come back next week because I promise the review won't feature bodily functions.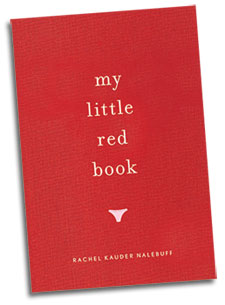 So for those of you still with me. This is a delightful book! It made me remember that time in my life quite clearly even though I don't have a clear memory of when my big day was (and it was over 25 years ago). The stories written by women around my age offered an extra shot of nostalgia (for example, the one who messed up her brand new OP swimsuit).
There are stories written by women who "started" as early as 1916 and as recently as this decade — as close as my home state and as far away as China. The essays from women of different generations and cultures and countries give a perspective so different from my own experience yet remind me of the common thread.
I wouldn't recommend handing this book over to your tween to read, because some of the essays contain language or other themes that are a bit too mature. However, I have enjoyed sharing SOME of them with my 10-year-old daughter Amanda.
One of my favorites is "Hot Dog on a String" by Ellen Devine. Yes, it's fairly explicit, but it was also funny, and I think it properly addressed the mysteries of the tampon that a young girl might have.
Amanda does NOT like to have conversations with me about these kinds of personal topics, but she did enjoy hearing the essays I read (even though she didn't want to look at me or let me look at her while I was reading).
Like most girls who are expecting their first periods or who have recently become women, she's curious, and this satisfied some of her curiosity. Instead of hearing, "Mom, I don't want to talk about it!" she actually requested that I read her another one.
This book is sure to spark conversation or memories. I recommend it. This is great book for bedside (or yes — bathroom) reading, because the essays are short (as short as a paragraph or as long as a few pages) and to-the-point. Check out the fun website for more info about the incredible 18-year-old editor of this work, and to read even more stories.
We have five copies of My Little Red Book to give away. This contest is void where prohibited and subject to our terms and conditions.
Please leave a comment if you'd like to win. The winners will be announced in next week's column.
The winners of The Laws of Harmony are

#124 Jeanine P
#5 Noreen
#121 Lily Kwan
#109 Ellie W.
#4 Carrie K.

This post was written by contributing editor Jennifer Donovan, who also blogs at Snapshot and is managing editor of 5 Minutes for Books.