This post may contain affiliate links. Read my disclosure policy here.
The Laws of Harmony by Judith Ryan Hendricks is the kind of novel that defies a simple description. It opens as a simple life drama, but quickly turns into a suspenseful mystery, but almost as quickly settles back into a novel of self-discovery.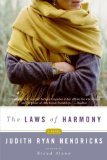 Sunny Cooper is this story. But who is she? In the year that this novel covers, she works as a dog walker, voice-over actress, baker and waitress. She lives in three different places in two different states. Is she a resentful daughter, a mourning lover, a friend, or a maverick? Is she a lone wolf or does she simply need to start over?
This novel has a number of interesting backdrops as well:
a commune in New Mexico where Sunny grew up
a beautiful island in the Pacific Northwest
a small-town bookstore
a local hang-out restaurant
and throughout, the food that Sunny loves to cook and eat
Even though all the story lines are not neatly tied up (which is not a bad thing in my mind), by the end of the novel, we have a little bit of an idea about where she's going, and as a reader I had become interested enough to care.
Do you ever wonder where authors get the ideas for the stories they write? Click over to 5 Minutes for Books for some of the inside scoop from author Judith Hendricks. You can also read 20% of the novel online at HarperCollins by using the Browse Inside feature.

Leave a comment for your chance to win one of five copies (U.S. or Canadian shipping addresses). We will announce the winners in next week's column.
This giveaway is CLOSED.
The winner of the gift package from Mother of the Year is #33 MomstheWord. If you didn't receive my notification email, please send your shipping info to 5MinutesforBooksATgmail(DOT)com.