This post may contain affiliate links. Read my disclosure policy here.
Did you know it's National Tire Safety Week (June 3 – 9)?
I'll be honest here… I'm not very interested in cars. All I really care about is that my car is safe and gets me around.
But the ironic thing is that while safety is what's most important to me about a car, I was actually forgetting about one of the most important parts of the driving safety equation.
TIRES!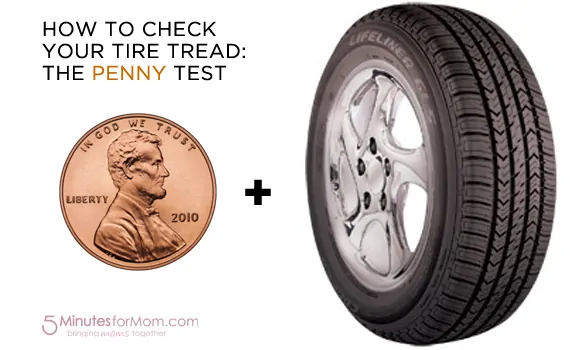 Fortunately, back in October, just before the winter weather hit, the folks at Cooper Tires asked us to test out their tires. It made me realize that I hadn't been paying enough attention to my tires.
Since Janice and I share her van for driving our kids around, we tested out the tires on the van. Here's a quick video where I demonstrate how to test the tread on your tires…
Thankfully as a work-at-home mom, I don't have to commute to work, but I really do appreciate feeling safer with these Cooper Tires while I'm driving our kids to preschool, ice-skating, softball etc.

For more tire safety information, visit Cooper Tires Facebook Page.
They have a free pdf download with simple steps to help you maintain your tires. It talks about stuff you might never think about… proper vehicle loading, inflation pressure, tire wear and more.
What About You?
When was the last time you checked the tread on YOUR tires?
Written by Susan Carraretto, co-founder of 5 Minutes for Mom.
We want to get to know you better — Tweet with us: @5minutesformom, find us on Facebook: Facebook.com/5minutesformom, or join our newsletter list.
Disclosure: We received a set of tires for this review. Opinions are all ours.