This post may contain affiliate links. Read my disclosure policy here.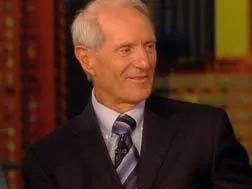 Does Dr. Sears with his attachment parenting suggestions make you feel extra guilt?
The ladies on The View are worried that Dr. Sears is making moms feel unnecessary guilt. They all say he's making them feel guilty about choices they made as mothers.
But I tend to disagree.
I don't think most moms feel extra guilt when they read about attachment parenting from Dr. Sears. My guess is that moms respond in one of the following ways…
Some ideas resonate and they follow some of the suggestions or they feel support for parenting techniques they're already using despite not having labeled them as "attachment parenting".
They disagree with the majority of the ideas and leave it at that.
They jump right in and find support for parenting in a way that feels natural to them.
But Barbara, Joy, Sherri, Whoopi and Elisabeth all responded differently and I'm wondering if you agree with them.
They feel that Dr. Sears and the suggestions in attachment parenting make most moms feel extra guilt because the techniques such as co-sleeping, extended breastfeeding and baby wearing are not workable options for many families.
What do YOU say?
Do you think the existence of those parenting techniques make moms feel guilty if they aren't able to follow them?
Did you follow any of the ideas of attachment parenting?
Would you label yourself an attachment parenting mom?
Do you feel guilt for any of your parenting decisions?
As I wrote in my response to the infamous Time article about Attachment Parenting, some of the AP ideas resonated with me once I had my first baby and I chose to use some of the tools/techniques in parenting my two girls.
I often joke around about mom-guilt and how I feel guilty for traveling or having childcare, but when I really analyze it, I don't think I actually feel guilty for my decisions as I know I'm doing what's best for my family.
As women, once a baby is growing inside us, we will forever be forced to make sacrifices as we try to impossibly balance the needs of ourselves, our children, our relationships and our work. We will naturally struggle with guilt as it is impossible to give completely to each.
The question becomes how much guilt do we allow ourselves to feel. I think we all feel a certain amount of internal struggle and "guilt", and that we should strive to recognize that the balance we find is dynamic and changes continually as our families go through stages and that every woman's formula is different.
My philosophy is try not to compare myself, do the best I can today and let go of the guilt.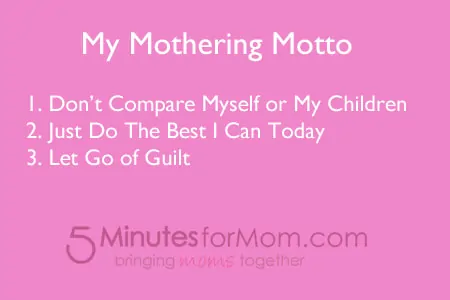 What about you? Leave a comment and tell us whether Dr. Sears and attachment parenting ideas make you feel guilty.
Written by Susan Carraretto, co-founder of
this Mom Blog, 5 Minutes for Mom.
Talk with me: @5minutesformom and Facebook.com/5minutesformom
Pin with me at http://pinterest.com/5minutesformom/