This post may contain affiliate links. Read my disclosure policy here.
I have a baby with HAIR – beautiful, long wisps of actual hair!!!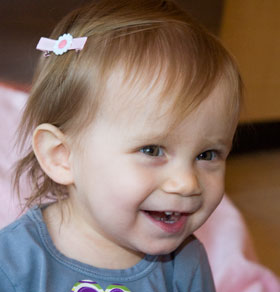 Before Sophia arrived, Janice and I were used to bald babies. Fair-skinned, little angels with just enough baby fuzz to pick out their hair color.
Jackson — white blond, like Janice and me when we were young.
Julia — red, like her paternal Grandmother and maternal Great-Grandmother.
Olivia — light brown, like her Daddy.
And then came Miss Sophia!
Little Miss Sophia entered the world with dark, almost black, hair and olive skin!
We didn't have to look hard to figure out where she came from — her Daddy is Italian and our moms' sister had similar coloring as well — but she still looked so different from any babies we were used to cuddling and calling our own.
While nursing my newest daughter, I would look down in wonder at my beautiful, dark haired, olive skinned baby.
She didn't match her sister and cousins! (One day, I can just see Julia and Olivia envying Sophia's dark skin that tans with ease. Poor Julia and Olivia are so fair, the sun will never be their friend!)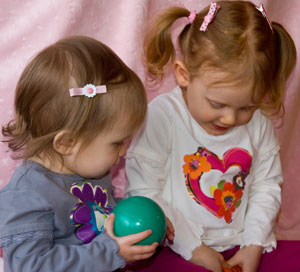 And ohhhh how much fun it is to have a baby with HAIR!
Bring on the hair bows and clips — I have something to work with this time.
So, I was thrilled to try out Little Miss Clips — hair clips that don't slip!
Because as much hair as Sophia does have, it is wispy and baby-soft.

This photo is of Sophia and big sister Julia, both wearing Little Miss Clips.
It has lightened since she was born and so now, she and Olivia actually do have similar hair colors. (Although Olivia is still pretty much as bald as the day she was born!)
With fine baby hair – and the wiggly nature of babies and toddlers – getting hair clips to stay in place is a mother's never ending battle.
I was so pleased to see that Little Miss Clips do stay right where you put them, thank you very much!

And with such sweet designs, Little Miss Clips makes having little girls to dress up all the more fun!
How does it work? Well, the base – a strong alligator clip – is wrapped in pretty ribbon, topped with a cute embellishment and the "ingredient" which makes it slip-proof is a piece of Velcro added to the underbelly. The clips are easy to put in, stay put and don't hurt when taken out. Really.
Little Miss Clips come in a wide variety of colors and styles. You can even have clips custom made. If your daughter's hair is fine and clips never seem to stay put, Little Miss Clips will come to your rescue.

For five of our readers, we have $20.00 gift certificates to Little Miss Clips. That will definitely make for a fun shopping spree.
Here's how to enter:
Please leave one comment below to enter this giveaway. You may earn additional entries for the following:
1. Subscribe to our Feed
2. Sign up for our Newsletter
3. Add our 5M4M button in your sidebar. Click here for banner codes.
4. Write a post and link back to this contest on your blog
5. Spread the word to your friends via facebook, twitter, etc.

If you are already subscribed, are on our newsletter list, and have our button in your sidebar, you qualify for these three additional entries. Go ahead and leave your additional comments below. Your comment is your entry, so if you qualify for the additional five entries, make sure you leave six comments in total.

Entries are open from Friday, January 30th thru Friday, February 13th. Our winners will be drawn randomly and we will announce the winners on Saturday, February 14th. Please make sure to check our site and your email address to see if you have won the prize. We must receive your reply within 5 business days.
Please see our site's Terms and Conditions of Use for a complete list of our Contest and Giveaway Rules. This promotion is void where prohibited.