This post may contain affiliate links. Read my disclosure policy here.
Say the name Kirk Cameron, and most of us immediately remember the wise cracking Mike Seaver of Growing Pains. His huge grin and brown leather jacket were trademarks of the hit TV sitcom that ran from 1985-1992.
But Kirk Cameron quickly grew out of his teen role and into a passionate Christian, dedicated to his family and spreading the message of hope in Christ.
In fact, what is most remarkable about Kirk is not his teen-star days as Mike Seaver, but his conviction for living a Christ-centered life.
As a happily married father to six kids – he married Growing Pains co-star Chelsea Noble in 1992 – Kirk spends his working hours on inspirational, faith-based projects like The Way of The Master, The Left Behind movies, Camp Firefly and his latest movie, FIREPROOF.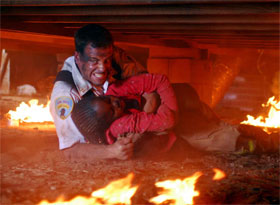 FIREPROOF, the #1 inspirational movie in America, is the latest movie from Sherwood Pictures, the creators of FACING THE GIANTS, and is available on DVD January 27th.
Dr. Gary Smalley calls Fireproof, "Amazing! Action-packed, heartwarming, and a great resource to help strengthen and affirm marriages!"
It is a compelling and beautiful film. Personally, I can't imagine anyone watching it and not being impacted by its messages.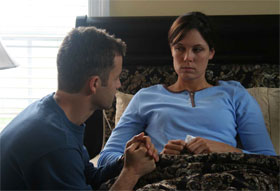 Fireproof and the book written for the movie, The Love Dare, would be the PERFECT Valentine's gift for your spouse — or for a friend who could use some encouragement in their marriage. (And couldn't we ALL use some extra encouragement?)

I recently had the chance to interview Kirk for a podcast here at 5 Minutes for Mom.
Chatting with Kirk was as casual and fun as you would imagine. He immediately caught my Canadian accent when I said, "Sorry." (Apparently we Canadians say, "sore-e" not "sorry.")

We had a great conversation about his days with Growing Pains, his involvement in Fireproof, his own marriage, and how Fireproof is transforming lives and saving marriages. (Kirk told me about a divorce lawyer who insists his clients view the movie!)

Here is a sampling of some of the questions I asked Kirk:
During your time on Growing Pains, you met and married your wife Chelsea and you went from being an atheist to a dedicated Christian. Can you tell us a bit about that time in your life? How did you find Christ?
You have promised to never kiss another woman. How do you manage that as an actor?
How does it feel to be a part of a movie that is literally saving marriages and transforming lives?
How did your involvement in Fireproof affect your own marriage?
Fireproof is a wonderful ministry tool and resource. What can people do to help spread the word about Fireproof?

Click on the player at the bottom of this post to hear my interview with Kirk Cameron.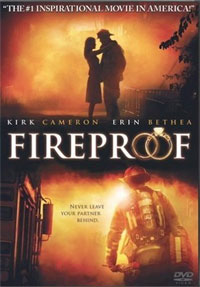 We are also giving away 3 DVD copies of Fireproof.
To enter to win a copy, simply leave a comment here at this post.

If you already subscribe to our newsletter and/or our RSS feed and/or have our button on your site, you qualify for additional entries. Also, if you tweet or spread the word via facebook, your blog, etc., just leave additional comments letting us know and you will have additional entries. (Your comments are your entries.)
Entries are open until Friday February 13th, 2009. The winner will be announced on Saturday February 14th, 2009. This giveaway is open to US addresses.
Please see our site's Terms and Conditions of Use for a complete list of our Contest and Giveaway Rules. This promotion is void where prohibited.
Fireproof will be in stores January 27, 2009.
To learn more about Fireproof, see a trailer or order a DVD for yourself or your church, visit www.fireproofthemovie.com or the official site for FIREPROOF: http://www.sonypictures.com/fireproof/.
You can also purchase Fireproof on DVD from Amazon.com.
And don't forget to click on the podcast below to hear my interview with Kirk Cameron!
Written by 5 Minutes for Mom Co-Founder Janice Croze
Have you subscribed to our 5 Minutes for Mom RSS Feed and our
Giveaways RSS Feed?
Are you on Twitter? Follow us and let's tweet.
[display_podcast]