This post may contain affiliate links. Read my disclosure policy here.

Wiggly, fussy, ready to go — neither babies nor parents like to struggle with snaps during diaper changes. And if you have ever zipped your baby's soft skin in a zipper, you will never zip quite as fast again.
Yes, when it comes to baby sleepers, there is some room for invention.
So, trust a mom to come up with a bright idea!
How about closing up that sleeper with Velcro®? Now, that is some idea!!!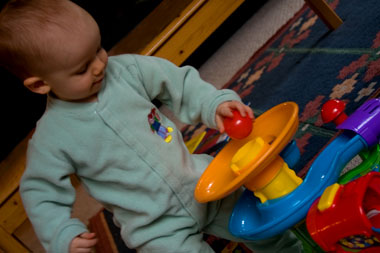 Mom-designed Stuk On U pajamas are patent-pending baby sleep-n-playwear that open and close with soft Velcro®.
Olivia tried out the super soft fleece The Clown StukOnYou jammies.
Comfy, tagless and quick — these are some smart jammies. If you want an alternative to snaps and zippers, now you can make the switch to Velcro® with Stuk On U.
For our Christmas Giveaway, Stuk On U is giving away one sleeper, retail value $14.99 – $19.99, to one lucky reader.
Stuk On U is also generously donating a sleeper to our Under the Tree Program.
Here's how you can win:
See our Christmas Giveaway 2008 post to read more about
participating in our Christmas Giveaway

Either link back to this post and include a Christmas Giveaway 2008 button in that post or on your sidebar, or link to the individual giveaways you choose to enter. We have a ton of different buttons and styles for you to choose from. Click here to get the button codes. (If you post and include the button, either in your post or on your sidebar, and link back here, you are good for all the giveaways. No more linking required.)
Please leave one comment below to enter this giveaway. You may earn additional entries for the following:
1. Subscribe to our Feed
2. Sign up for our Newsletter
If you are already subscribed and are on our newsletter list, you qualify for these two additional entries. Go ahead and leave your additional comments below.
As always, non bloggers are welcome to participate! We understand you can't link – but please spread the word to your friends via facebook, twitter, etc.
Entries are open from Tuesday, November 25th through Friday, November 28th at 12pm EST.
Our winner will be drawn randomly and we will announce the winner Monday, December 1st. Please make sure to check our site and your email address to see if you have won a prize. We must receive your reply within 5 business days. (If you want your prize to arrive in time — the sooner we hear from you, the better!)
This contest is open to US shipping addresses. Due to legal restrictions, this promotion is not available in Arizona.

Please see our site's Terms and Conditions of Use for a complete list of our Contest and Giveaway Rules.