This post may contain affiliate links. Read my disclosure policy here.

Stuffed animals are loved by all children, but when they come with a little something extra, it makes them even more worthwhile.
RUSS has put a lot of fun into their SeaPals and Shining Stars animals, no wonder their tag line is Make Someone Happy with RUSS.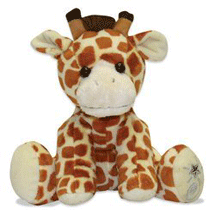 Identified by the Star registry logo on its paw, The Shining Stars come with a sealed hangtag containing a secret code allowing you to log on to www.shiningstars.com, register and name a real star with the International Star Registry.

You can then print a certificate and star chart, showing the exact coordinates of your star.

This code also allows you unlimited access to the virtual shining star world where you and your child can take part in many fun activities.
This was a true treat for my daughter. She is obsessed with the night sky, longing to be an astronaut someday. So when she found out that she could have her very own star, she about flipped over backwards in sheer delight.
It was fun sitting together as a family, naming her star and then running outside that evening with daddy's telescope to try and find it. She then went to bed cuddling her new favorite friend.
The Shining Stars come in an assortment of animals. We are giving away an adorable giraffe to 3 lucky winners. Retail Value $14.99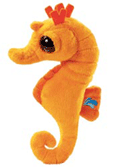 For your marine-life loving children, Russ has tons of fun packed into their SeaPals.
Each SeaPals.

Each character comes with a code that unlocks the SeaPals world at www.seapalsworld.com, where kids can play games, chat with other fish in the sea, explore reefs and shipwrecks, and learn about marine life.

The SeaPalsWorld site has been designed for ages 5-12+, to help promote education and learning. Every sea animal that exists in the SeaPalsWorld universe has been based on real-life animals. Information such as their ocean behavior, size, feeding habits and interaction with other sea animals has been based on scientific research.

And to support the preservation of marine environments, RUSS will make donations to local aquariums, helping to raise awareness about the importance of oceanic conservation.
We have one SeaPals Banner Fish, retail Value $11.00, to give away to one lucky reader.
Here's how to enter to win either a Shining Star or SeaPal, please leave your preference below.
See our Christmas Giveaway 2008 post to read more about
participating in our Christmas Giveaway

Either link back to this post and include a Christmas Giveaway 2008 button in that post or on your sidebar, or link to the individual giveaways you choose to enter. We have a ton of different buttons and styles for you to choose from. Click here to get the button codes. (If you post and include the button, either in your post or on your sidebar, and link back here, you are good for all the giveaways. No more linking required.)
Please leave one comment below to enter this giveaway. You may earn additional entries for the following:
1. Subscribe to our Feed
2. Sign up for our Newsletter
If you are already subscribed and are on our newsletter list, you qualify for these two additional entries. Go ahead and leave your additional comments below.
As always, non bloggers are welcome to participate! We understand you can't link – but please spread the word to your friends via facebook, twitter, etc.
Entries are open from Monday, November 24th through Friday, November 28th at 12pm EST.
Our winner will be drawn randomly and we will announce the winner Monday, December 1st. Please make sure to check our site and your email address to see if you have won a prize. We must receive your reply within 5 business days. (If you want your prize to arrive in time — the sooner we hear from you, the better!)
This contest is open to US shipping addresses. Due to legal restrictions, this promotion is not available in Arizona.

Please see our site's Terms and Conditions of Use for a complete list of our Contest and Giveaway Rules.
Thank you RUSS for your generous donation of 5 animals to our Under the Tree Program.