This post may contain affiliate links. Read my disclosure policy here.

We love Step2.
With their fun, functional designs, Step2 consistently makes great "Made in the USA", phalate free products that parents can count on to stand up to the toughest of kids.
But this Christmas, Step2 has outdone themselves, creating one of the hottest, award winning, toys of the holiday season – the 50's Diner.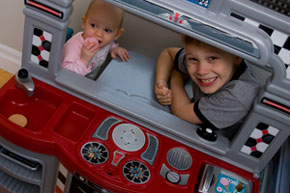 Olivia and Jackson were so lucky to get to test out this toy earlier this fall. While I thought it sounded like cool product, when we actually got the chance to test it out, I really became a fan!
What makes this toy kitchen so great?
Well, boys like to cook too. Toddlers and preschoolers of both genders love to pull out pots and pans, play with pretend food and imitate their parents in the kitchen.
Now, with the gender-neutral 50's Diner, boys can have a toy kitchen that isn't pink!
And with the seating area and cooking area, the toy has double the amount of playtime. It can even be used for an eating area for toddlers and preschoolers.
Olivia plays with her 50's Diner more than any other toy she owns. She LOVES it – both for playtime and snacktime. And of course, I love that it keeps her busy for hours!
The 50's Diner is grabbing tons of awards this year, including Toy of the Year Award, Family Fun, 2008, the Platinum Award, Oppenheim Toy Portfolio, 2008 and the Top Pick, Today's Parent Magazine, 2008, to name just a few!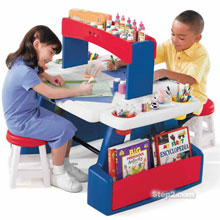 Step2 also comes through for parents with a sturdy, well equipped Creative Projects Table.
This work space is another great product that works for either boy or girl. And not only does it have tons of storage space, but this desk can transform from a personal desk to a table accommodating up to two children comfortably.
Like the 50's Diner, the Creative Projects Table is also an award winning toy, acquiring the Seal of Approval from The National Parenting Center, 2008 and the Three-Star Rating (highest award) from the Canadian Toy Testing Council, 2008.
Finally, we have the fun Puppet Theater from Step2.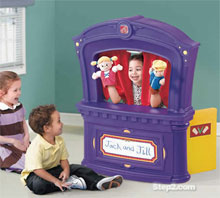 Your children can entertain themselves, each other and you, putting on shows with their very own puppet theater. If you want to encourage imagination and creativity at playtime, the Step2 Puppet Theater is an ideal Christmas gift.
Its sturdy no-tip design fits two children comfortably and the storage doors double as ticket counter and show schedule. It even features a lighted stage for dramatic charm and includes 2 hand puppets, curtains, a dry-erase marker and decorative decals.
The Step2 Puppet Theater awards include the Seal of Approval, The National Parenting Center, 2008 and the Top 10 Active Products, Dr. Toy, 2008.

So — if you'd like to win one of these great toys, let us know which one of these products your children would be love to receive on Christmas morning.

Also, thank you Step2 for your generous donation of each item to our Under the Tree Program.
Here's how to win:
See our Christmas Giveaway 2008 post to read more about
participating in our Christmas Giveaway

Either link back to this post and include a Christmas Giveaway 2008 button in that post or on your sidebar, or link to the individual giveaways you choose to enter. We have a ton of different buttons and styles for you to choose from. Click here to get the button codes. (If you post and include the button, either in your post or on your sidebar, and link back here, you are good for all the giveaways. No more linking required.)
Please leave one comment below to enter this giveaway. You may earn additional entries for the following:
1. Subscribe to our Feed
2. Sign up for our Newsletter
If you are already subscribed and are on our newsletter list, you qualify for these two additional entries. Go ahead and leave your additional comments below.
As always, non bloggers are welcome to participate! We understand you can't link – but please spread the word to your friends via facebook, twitter, etc.
Entries are open from Sunday, November 23rd through Friday, November 28th at 12pm EST.
Our winner will be drawn randomly and we will announce the winner Monday, December 1st. Please make sure to check our site and your email address to see if you have won a prize. We must receive your reply within 5 business days. (If you want your prize to arrive in time — the sooner we hear from you, the better!)
This contest is open to US and Canadian shipping addresses. Due to legal restrictions, this promotion is not available in Arizona or Quebec.

Please see our site's Terms and Conditions of Use for a complete list of our Contest and Giveaway Rules.