This post may contain affiliate links. Read my disclosure policy here.
I know that everyone does not have the all-consuming love of books that I have. I also will concede that everyone's kids do not enjoy reading as much as mine do. However, can I get everyone to agree that there are some people who are hard to buy for? Are there also some of you who save shopping for the last minute? Books are great solutions for these people. But it can be tricky to figure out the best books to give as gifts. So we're here to help you pick the perfect books for everyone on your list.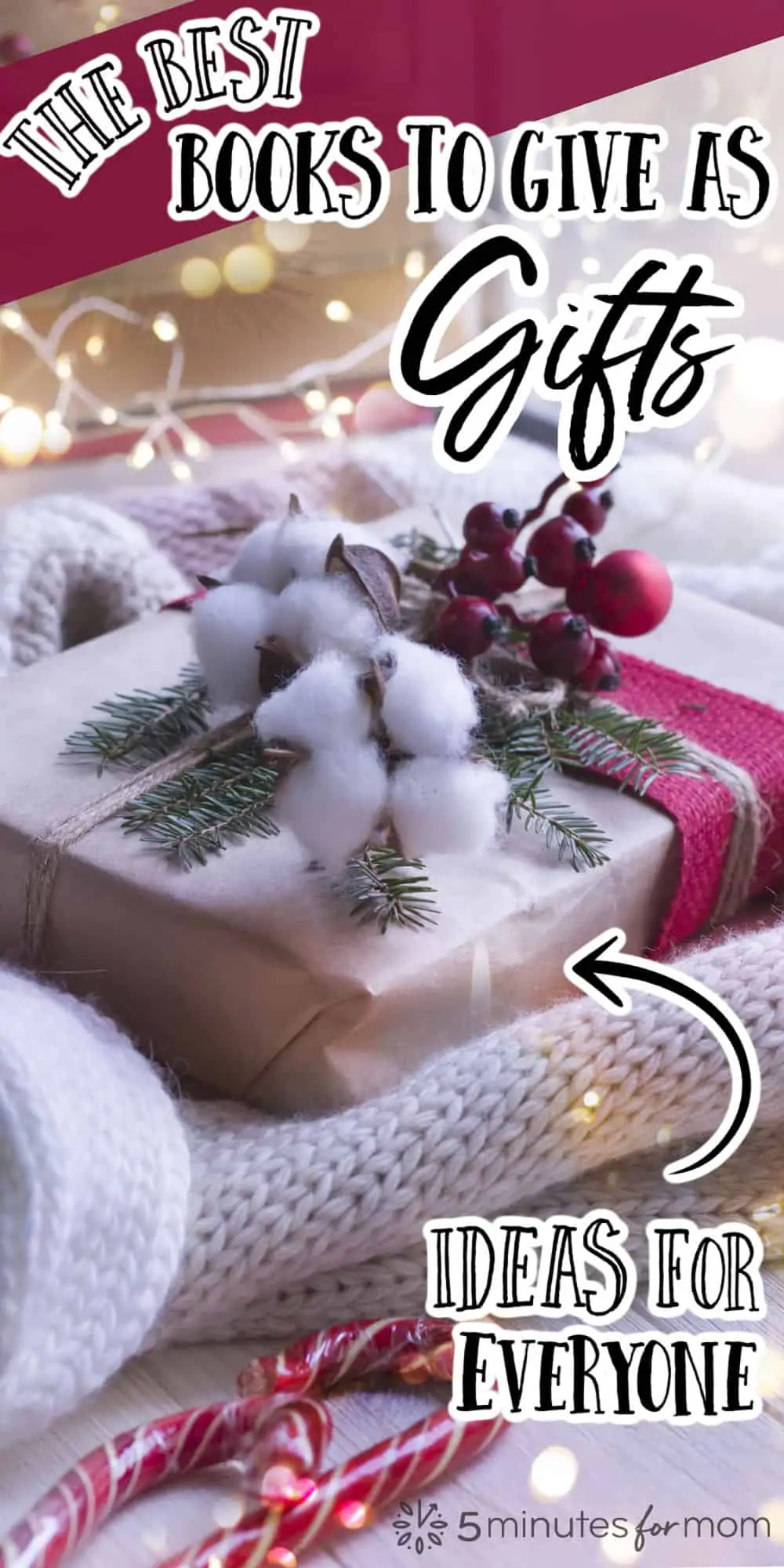 Brick-and-mortar bookstores are not as common as they once were, but I'm sure that most of you are within 10 or 20 minutes of a big bookstore. But I have to admit that I'm a sucker for online shopping.
At our sister site, 5 Minutes for Books, we even have a category for the gift ideas. When we review something that we think would make a particularly good gift, we mark it that way. You can browse that category, or check out some recent posts featuring book ideas for some particular groups:
Teenage boys may be among the hardest to shop for. Nancy and Elizabeth (actually her 16-year-old son) have reviewed some great YA Books for Boys.
If you're looking for a gift for kids ages 11 to 13, check out our books for middle school girls and books for middle school boys.
These book series are wonderful to read aloud with your kids and make great gifts.
Men in general are tough for me. But think about what they like — sports? fishing? woodworking? travel? There's a book for that.
Try one of these audiobook suggestions. If you have someone on your list who drives a lot (or rides public transportation) books for their smartphone are a great idea. They can also be a bit more exciting than a "normal book" or more accessible to a reluctant reader. A favorite series, like Rick Riordan's Kane Chronicles on audio is a special treat.
And of course a booklover would be sure to enjoy a book under the tree. Check out our 5 Star Reads list for recommendations for kids and adults.
Written by 5 Minutes for Books managing editor and 5 Minutes for Mom contributor Jennifer Donovan, who is hoping to find some books under the tree and is giving quite a few as well.