This post may contain affiliate links. Read my disclosure policy here.
Did you know that more children are born on October 5 than any other day during the year?
Postpartum Depression Awareness
On this day when so many babies are born and so many women become mothers, we wanted to take a moment to address an important issue – Postpartum Depression.
Bringing a new baby into the world is a joyous occasion, but for many new moms it is also a time of fear, anxiety, and tears. Susan and I have both talked about our experiences with postpartum depression.
You've heard our PPD stories. Today, our managing editor, Lolli, shares her story with PPD.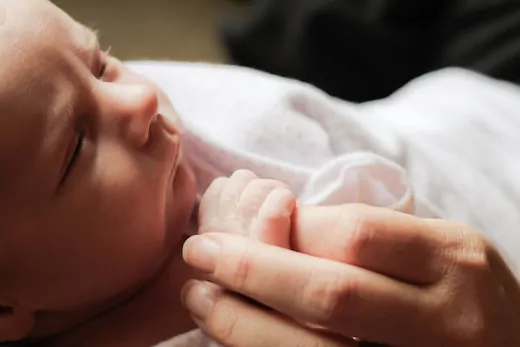 Lolli's PPD story

Pregnancy was never easy on my body. With a heart condition and a bad back, pregnancy hurt. But I endured it 5 times because I wanted my children so badly.

After my first two babies were born, I went through the typical aches, struggles, and questions of being a new mom. But I got through the newborn stages and headed in to parenting toddlers. When I got pregnant with my 3rd, I figured that I was an old pro. This time it would be easier.

Instead, after my son was born I struggled to feel like myself again. He was a strong, healthy baby. He nursed well and slept decent hours. I adored him, as I adored my two older daughters. But something was different.

My body refused to recover. I had mastitis 3 times, I developed sinus infections and even a few ear infections. Where I had been tired with my first two babies, this time I was exhausted. I struggled every morning to find the desire to get out of bed.

A year went by with little change. My baby boy grew, and yet I felt stuck. I didn't enjoy being a mother anymore. In fact, I didn't find enjoyment in much of anything during that time. I rarely smiled or laughed. I was on survival mode, going through the motions of being a mom. My heart wasn't in it.

My biggest problem, though, was that I didn't recognize that anything was wrong. I didn't know what to look for, and I didn't know that what I was experiencing was something that could be helped.

I didn't seek help during that first year because I was so consumed in my depression to recognize that I was depressed. Luckily, a wise friend noticed how I was coping and asked the right questions. I was able to get help, but even in the midst of getting help and getting better, I mourned the loss of a full year of my son's life that I could have enjoyed.

I went in to my next two pregnancies much more aware of the signs of postpartum depression, and for the first time in my life I sought medical advice and help for my ongoing problems with anxiety, which only heightened after my year with PPD.

I always thought that PPD was something that first time moms experienced. Since my year with postpartum depression after the birth of my 3rd child, I have cautioned friends that it can happen to anyone, new moms or seasoned. Don't hesitate to seek help. It DOES get better. And it's better to start on the road to recovery sooner rather than later.

~Lolli
Strong Start Day – You can help
Today our good friends at Postpartum Progress are conducting a major fundraising campaign to raise awareness and support for Postpartum Progress so that they can execute exciting new projects, including:
developing a compelling national awareness campaign for postpartum depression
creating & distributing new and improved patient education materials for distribution by hospitals (the kind new moms won't throw away!!)
translating our "plain mama English" information and support into Spanish and other languages
Only 15% of all women with perinatal mood and anxiety disorders ever receive professional treatment. This means that each year hundreds of thousands more women and their children may suffer from the negative effects of untreated PPD for the rest of their lives. They may not even know that they have Postpartum Depression because it's not a one-size-fits-all illness.
To those of you who have had postpartum depression, and especially those of you who are in it's grasps right now, I promise that it does get better. But no woman should have to go through PPD alone. Get help. Give help.
Help Postpartum Progress create stronger families, one mom at a time.

Written by Janice Croze.
Janice Croze and her identical twin, Susan Carraretto, are the bloggers behind 5 Minutes for Mom. Both Janice and Susan struggle with depression and anxiety, but they prove that life can be lived successfully and fabulously even while battling mental illness.
You can talk with the twins on Twitter at @5minutesformom and on their Facebook Page.
Photo by Lolli. Please do not copy.