This post may contain affiliate links. Read my disclosure policy here.
It is nine years later and I am making a birthday cake, at 12:33 am, with my kids asleep upstairs.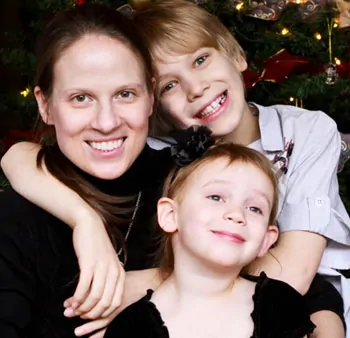 I am a work at home mom. I love my children. I have a full, wonderful life. I even get on airplanes and fly thousands of miles away from my family, sleeping in hotels all alone.
This may seem pretty unremarkable to you. But nine years ago tonight, as my first baby entered the world, I entered the abyss of post postpartum depression and anxiety.
The terror…
Fear and sadness crashed in on my new love. I adored my son. I was completely attached to him. But I was terrified. Terrified of loving so much, of hurting too much, and most of all, of losing my mind.
And in that place, I truly believed my life was over, that I would never feel in control, or safe, or powerful again.
In the hospital, during my first sleepless night as my husband snored in the fold out bed and my son dreamed in the bassinette next to me, the anxiety became unbearable. I felt like a child who needed to run screaming from her nightmare and run to the safety of her mother's bed.
But I was the mother. I was the mother. I couldn't be the mother. I couldn't do this.
I remembered seeing a WWJD bracelet on my nurse's wrist. I remembered she was kind. I got out of bed, wrapped myself in a robe, and snuck out of my hospital room to find her.
As I sat at the nurses station, my constant tears still streaming, my kleenex ripped and twisted, I listened to her talk to me and watched the other nurses casually chatter. They were all mothers. They had children at home. But they were here, working. They had lives. They smiled and laughed.
HOW?!? I honestly couldn't comprehend it. I sincerely couldn't imagine ever being able to function and live a normal life again. I was sure I would be chained to my fears and tied to my child forever. I would never sleep or eat. I would be sick and in this excruciating pain forever.
It wasn't forever…
Fortunately, when my son was six days old, the doctor at the maternity clinic recognized my condition. (My OB GYN had ignored my growing depression, anxiety, and sleep disorder throughout my pregnancy and after I delivered.)
I got on medication and began the very slow journey to recovery.
I still struggle with depression and anxiety. I am still on medication. But I am ok. I am alive and thriving. And I am oh so grateful to be here.
Why I am writing this post…
Every year, on the eve of my son's birthday, I remember — like a day of observance. I look at where I was, how far I have come, and how grateful I am.
And I think of how I want to tell every woman who is in that desperate, lonely place that there is hope. I survived. And they will too.
Time passes. Babies learn to feed, and sleep, and even laugh. And new mothers do too.
I wasn't one of the lucky ones who leaves mental health issues and medication in the past, packed up with the out-grown onesies and old baby bottles.
No, I still struggle. I still need medication.
BUT, thanks to that medication and to getting medical help, I am ok. I can mother my children and live my life. And I can even be happy, and smile, and enjoy life.
If you are there — if you are desperate and certain you won't make it out the tailspin of depression and anxiety — please know that it gets better. You can and will survive. Get help. Talk to your doctor and your family. And seek support from people like me, who have been there too.
If you haven't found her yet, Katherine Stone has created a fantastic website called, Postpartum Progress. It is a powerful resource for women and families affected by depression and anxiety. I implore you to go and spend some time reading there. I wish she had been there nine years ago!
And of course — Happy Birthday my sweet, sweet son — I am so grateful for you and I am so grateful that I have been here with you these past nine years!!!
Written by Janice Croze, co-founder of 5 Minutes for Mom. Talk with me: @5minutesformom and Facebook.com/5minutesformom.