This post may contain affiliate links. Read my disclosure policy here.
Okay Ladies, down some truth serum and tell us… do you ever "photoshop" your photos to whiten your teeth?
Janice often clicks us a shade whiter in photos that are closeup or that will live on for a long time… stuff like profile photos. (So if you're looking too closely, you may have noticed when there is a huge batch of photos of us, like from BlogHer'11, our teeth aren't as white as in our profile shots.)
I'm too lazy to bother editing most of my photos, but since Janice is basically the one taking and publishing most of our photos at 5 Minutes For Mom, there's a good chance she'll have lightened the bags under my eyes and taken the yellow glow of my teeth down a notch.
I laugh but I don't complain too loudly.
But as I am lazy about editing my photos, I'm also lazy about actually whitening my teeth. Janice is always yelling at me to whiten my teeth, but I don't often get around to it.
Another confession… a few years ago, I spent a few hundred dollars at the dentist for custom teeth whitening trays and fancy bleach formula, but never got around to using much of it. I did use it for a while, and it probably helped somewhat, but I still have a ton of bleach left so I must not have completed the program.
So when our friends at One2One Network asked me to test out the 2 hr Crest 3D treatment, I figured I could likely force myself to follow through since it is ONLY one treatment for two hours.
The folks at One2One and Crest want to know, what life event would I whiten for in just two hours with Crest 3D White 2 Hour Express Whitestrips… and what life event would YOU want to whiten for in only a couple hours?
Since it's time for back to school photos with my girls, I thought the perfect excuse to whiten my teeth would be to save Janice some editing time when publishing photos of me with my girls on their first day of school.
I took a before shot and slapped those strips on my teeth. I used one of the four treatments that come in a box of Crest 3D White 2 Hour Express Whitestrips. (Retail value $54.99, 4 treatments, designed to use 1 every 3 months.)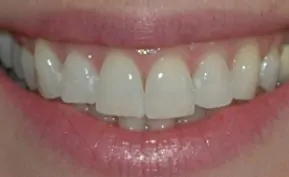 Check back in a few hours for my after shots and see if my teeth are whiter. (And if you can't wait until then and you want to start whitening your teeth right now, here's some Crest 3D White 2 Hour Express Whitestrips COUPONS!)
And obviously this time, we did NOT "photoshop" the pictures. LOL
Check back soon for my AFTER shot… and in the meantime, tell me what event is coming up that makes you want to quickly whiten your teeth?
Disclosure: I am participating in a Crest 3D White 2 Hour Express Whitestrips campaign hosted by One2One Network. While this is a sponsored post, all my confessions and opinions are 100% my own.