This post may contain affiliate links. Read my disclosure policy here.
Today we have the last edition of our Three Part Tackle Series with Jennifer Tankersley, founder of ListPlanIt.com.

Last week Jennifer helped us plan our Tackle in Part 2 of this series. Today, Jennifer shows us how to implement our tackles and to-do lists and shares a free downloadable weekly to-do list template for implementing your to-do list.

Join us and our guest tackler Jennifer… and remember to check out her first two tackles if you missed them.
Implementing your To Do List
So you have a To Do List….now what? Many people are overwhelmed by the size of their list. They quit using it before they can even find satisfaction in marking things "done".
If getting things done simply required a written To Do List, then we might all be considered organizing geniuses. Unfortunately, it takes more than that. It takes concentration, hard work, and determination to then cross off tasks. Accomplishing your To Dos can be done much more efficiently when you've taken steps to develop a system. Here are some things to consider when attempting to implement your To Do List.

Identify your optimal conditions.
We can't always have the perfect conditions when we work. However, if you have isolated the best time of day to focus and the tools generally required for the tasks at hand, then you will recognize the conditions for your greatest productivity.

Find your motivation.
What motivates you for this task? Does it help you along in your career? Will it provide a benefit to you and your family? Are you helping a friend? Decide if the motivation to accomplish this task is worthwhile. It if is not, then consider either placing it further down on the priority list or disregarding the task altogether.

Forget multi-tasking.
Studies show that multi-tasking leads to decreased concentration, distractions, errors, and inevitably, more time required to complete the task.

Determine your priorities.
What absolutely must be done, in the shortest amount of time? What tasks have deadlines? Which tasks have penalties for taking too much time to complete? Schedule these tasks for the time of day in which your productivity levels are highest.

Plot your steps to achievement.
Whether you list your tasks in a certain order or you schedule tasks throughout the day, mapping the steps needed will guide you to accomplishment.

ListPlanIt has created another exclusive page just for readers at Tackle It Tuesday.
Click here to access a downloadable page, or click on the image below.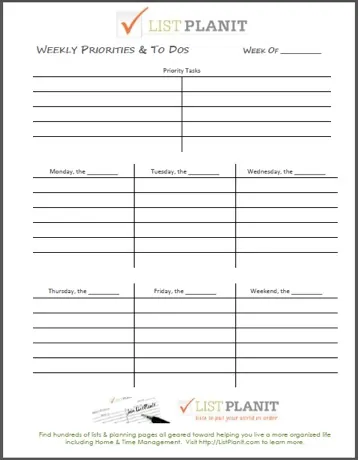 Catch up on the last 2 week's tips at Tackle It Tuesday – Looking at the Big Picture and Planning Your Tackle.
Thank you to Janice and Susan for allowing me to be a guest on 5 Minutes for Mom's Tackle It Tuesday.
Written by Jennifer Tankersley.
Jennifer is the founder of ListPlanIt.com, which has hundreds of lists and planning pages all geared toward helping you live a more organized life and write a more effective To Do List.