This post may contain affiliate links. Read my disclosure policy here.
Over the last three months, Susan and I have been sharing with you how much we LOVE Hallmark's new Recordable Storybooks — and giving you a chance to win one for your family and ten to donate to a local charity of your choice!
First, I showed you a video of Olivia squealing with delight over the book I recorded for her, All The Ways I Love You. She adores her "special book" and I love how I was able to capture her joy in this video. She is SO adorable and she LOVES her recordable storybook!
Second, Susan shot a video of her recording her girls' voices on a recordable storybook to send to their Nonna (Grandma) in Italy. Sophia and Julia loved recording their voices and their "Nona" was thrilled to receive such a treasure!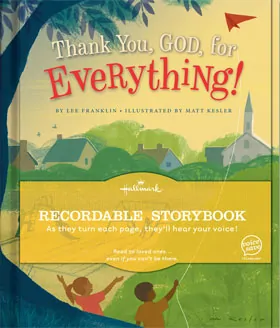 Finally, I was going to show you a video with my eight year old son creating a recordable story book. I was so excited to have him read and record the Thank You God For Everything recordable book by Hallmark.
I definitely want us all to remember his sweet can-read-all-by-himself voice.
But…
When I went to grab the book so Jackson and I could shoot the video together, I couldn't find it anywhere!
It had been sitting on the kitchen table before I left on a trip last week.
To my horror, I found out that our puppy AJ had decided HE wanted a taste of the action too!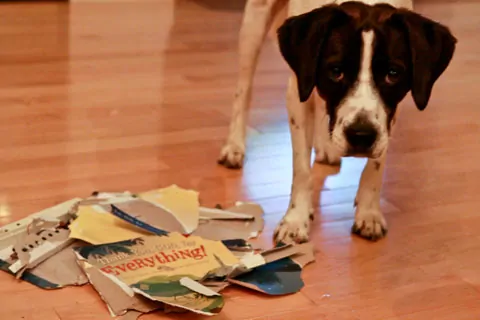 Yes — my dog ate my homework!
I was so sad because I wanted to make this video for you with Jackson, BUT I love these recordable storybooks so much I will need to buy another one! They are just so fabulous!
So, I suppose I'll forgive my puppy for his naughty-puppy-ways and head off to the store to pick up another copy of Thank You God For Everything.
Win for you AND for Charity!
If YOU want to win — we have one Hallmark Recordable Storybook to giveaway, PLUS ten more copies for a local charity of the winner's choice!
(But seriously, don't just wait to win one! I think the Hallmark Recorable Storybooks can be the perfect gift! With Hallmark's fantastic artwork, story-telling and quality — with the personal touch of adding your own voice or your children's voice, these books are brilliant!)
As these Storybooks have touched lives from coast to coast, Hallmark wants to share all the Storybooks have to offer with members of your community, particularly those who may be separated from family or in need of gifts to share with loved ones.
Hallmark is providing 10 copies of a Recordable Storybook (selected by Hallmark) to donate to a local charity of our randomly selected winner's choosing.
The selected charitable organization must be local to the winner, serving their area, (for instance, a military base, children's hospital or shelter).
Because these books record voices, people who are separated from loved ones, such as children or people in the hospital, military families, or families in crisis, would be wonderful receipients.
Enter To Win
To enter, simply leave a comment letting us know the local charity to whom you would like to donate the ten additional copies if you win.
The winner will be chosen by random.
This giveaway will close on Friday, October 15th. We will announce our winners on Saturday, October 16th. This giveaway is open to US residents and is void where prohibited. Please see our site's terms and conditions of use for more information.
We have decided to once again accept extra entries! For extra entries you can share this contest on Twitter, sign up for our newsletter, or add our feed to your reader. And don't forget to like us on Facebook and follow us on Twitter if you want to keep in touch with us and receive reminders about all of our giveaways, etc!
Written by Janice Croze, co-founder of 5 Minutes for Mom.
Please Note: Hallmark provided prizing for this giveaway along with product samples. This post is part of a sponsored campaign with Hallmark. As usual, my opinions are completely my own!