This post may contain affiliate links. Read my disclosure policy here.
Win a Hallmark Recordable Storybook PLUS ten more to giveaway to a local charity of your choice!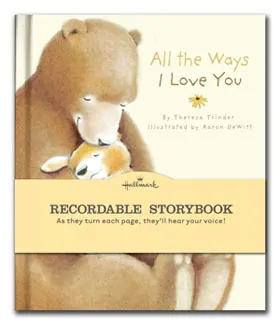 When Hallmark sent me, All The Ways I Love You, one of their Recordable Storybooks as a thank you gift at Christmas, I immediately fell in love with the concept of these incredible keepsake books.
Hallmark Recordable Storybooks feature voice-capture technology that records the reader's voice directly into the pages of the Recordable Storybook. When a page is turned, the book automatically plays the text on that page in the reader's voice.
The books are beautifully illustrated and written with the quality we expect from Hallmark, but personalizing each one with your own recording makes it a priceless gift for a loved one!
My two year old daughter ADORES her "special book." (My eight year old son loves it too, but Olivia tries to keep it all to herself!)
Watch Olivia's face light up and listen to her squeal as we read All The Ways I Love You at bedtime.
Hallmark now has ten Recordable Storybook titles available in Hallmark Gold Crown stores nationwide. Each title retails for $29.95. For more information, visit www.hallmark.com/recordablestorybooks.
Also, there's a "Share Your Story Tab" on Facebook where people can submit their own personal stories. You can see how these books have touched others and submit your own story too if you want.
I cannot recommend these books more!!! They are brilliant — each one you give will be treasured forever.
Win for you AND for Charity!
We have one Hallmark Recordable Storybook to giveaway, PLUS ten more copies for a local charity of the winner's choice!
As these Storybooks have touched lives from coast to coast, Hallmark wants to share all the Storybooks have to offer with members of your community, particularly those who may be separated from family or in need of gifts to share with loved ones.
Hallmark is providing 10 copies of a Recordable Storybook (selected by Hallmark) to donate to a local charity of our randomly selected winner's choosing.
The selected charitable organization must be local to the winner, serving their area, (for instance, a military base, children's hospital or shelter).
Because these books record voices, people who are separated from loved ones, such as children or people in the hospital, military families, or families in crisis, would be wonderful receipients.
Enter To Win
To enter, simply leave a comment letting us know the local charity to whom you would like to donate the ten additional copies if you win.
The winner will be chosen by random.
This giveaway will close on Friday, August 6th. We will announce our winners on Saturday, August 7th. This giveaway is open to US residents and is void where prohibited. Please see our site's terms and conditions of use for more information.
While in order to simplify entering for you we no longer accept extra entries, please feel free to share this contest on Facebook and Twitter, and/or sign up for our newsletter, or add our feed to your reader. And you can like us on Facebook and follow us on Twitter if you want!
Written by Janice Croze, co-founder of 5 Minutes for Mom.
Please Note: Hallmark provided prizing for this giveaway along with product samples. This post is part of a sponsored campaign with Hallmark. As usual, my opinions are completely my own!