This post may contain affiliate links. Read my disclosure policy here.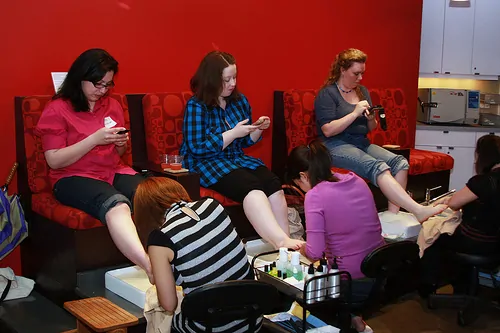 Okay, I have to hurry and press publish on this post because after watching this video I just had to book myself a pedicure!
Yes, spa-time is the best me-time I can bank.
Facials, massages, pedicures… that's the stuff we moms need.
The back-to-school prep and my backlog of work has been building my stress and I've decided to pop down the street for a treat for my feet.
While we were at BlogHer 2010, we asked five moms this question..
What's Your Favorite Way To Pamper Yourself?
What About You?
What's your favorite way to pamper yourself?
And do you treat yourself often enough?
Thanks to Our Five Moms
The awesome five women in this video are:
Erica our fabulous virtual assistant here at 5 Minutes for Mom
Dawn from Because I Said So
Angelica from Modern Familia
Amy from Mom Made That
Haley from Love Life Family and Then Some
By the way, I shot the photo above in May 2009 at a spa tweetup we had in Seattle.
Thanks to Our Sponsors

Thanks again to Kmart Design for helping us bring BlogHer 2010 home to you. We still have a ton of fun videos coming to you, so make sure you watch our feed.
… Okay, I'm running out the door… my pedicure starts in 8 minutes!

Written by 5 Minutes for Mom co-founder Susan.
You get our feed, right?