This post may contain affiliate links. Read my disclosure policy here.
Don't you just love watching your children play?
Most of the time we busy moms probably miss the chance to stop and watch our kids play. As soon as they aren't tugging at our legs or begging for another juice box, we grab the chance to get something done. But if you do take a moment to pause and watch your children as they engage their imaginations and play, I think you'll be inspired.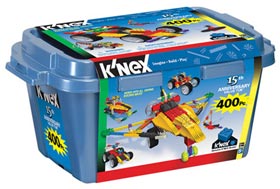 I especially love to watch kids play with toys that allow creativity and get them building or making something. Not only does it keep them busy for a long time 😉 but it builds their imaginations and fine motor skills.
And so I love K'NEX.
I was introduced to this ingenious toy by Janice's 5 year old Jackson. I stared in amazement as this boy who normally bounces off the walls quietly played for hours constructing creations all his own.
And soon my little Julia — now 2 and a half — will be old enough for Kid K'NEX. I know she is going to go wild for them.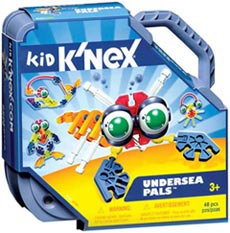 Kid K'NEX is made for 3 to 5 year olds and has easy-snap KID K'NEX rods and connectors.
Thanks to the folks at K'NEX, three of you are going to win a prize pack including a K'NEX 15th Anniversary Tub and a KID K'NEX Undersea Pals Tub.
The KID K'NEX Undersea Pals is for 3 – 5 year olds and the K'NEX 15th Anniversary Tub is for kids aged 5 and older. If you've got children in those age ranges, this is the contest for you!
If you want to be one of the lucky three, all the instructions are explained in the Christmas Giveaway 2007 post (including the code to put our Christmas Giveaway button on your site.)
But here is a quick run through:
Leave a comment on this post to be entered.
Either post a link to this contest OR post a button linking to our Christmas Giveaway post. (If you post the button and link to the Christmas Giveaway, you are qualified to enter in all the upcoming Christmas Giveaway contests. And we have many more contests to come!) Non-bloggers are welcome too – we understand you can't link – but feel free to pass the word on to your friends.
(This giveaway is open to US shipping addresses only.)