This post may contain affiliate links. Read my disclosure policy here.
I sat about a foot away from Steve Carell for about 20 minutes when I was in LA for the Despicable Me press junket. All I could think is "He's surprisingly good-looking!" But then I was reminded whenever I see him in a more leading-man role (I loved Dan in Real Life), that I always end up thinking that, as opposed to the impression I get in the roles he plays for laughs.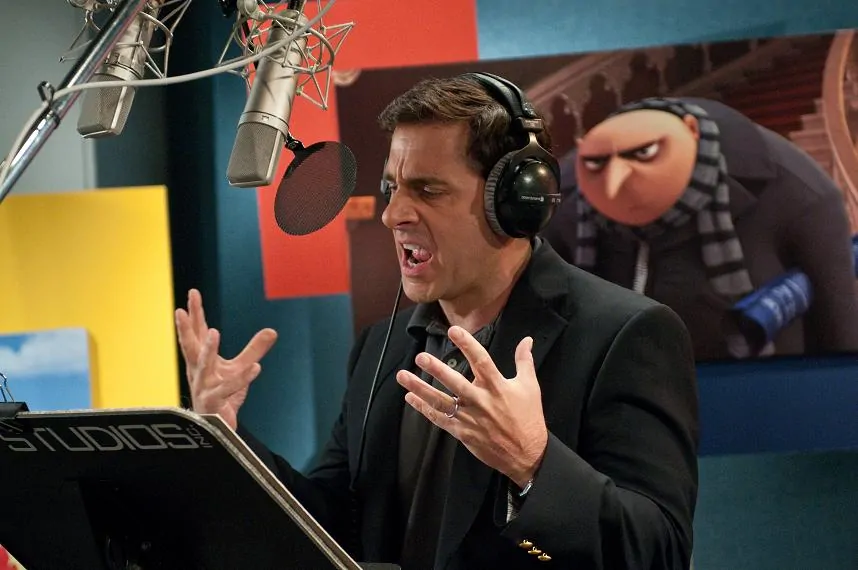 The word on the street in Hollywood is also that Steve Carell is an incredibly nice guy. The producer of Despicable Me, Chris Meledandri, said that he was interested in casting Steve Carell as this bad guy, when he's one of the nicest guys around, and warmth just oozes from his voice.
I asked Carell about the accent he used for Gru, which is hard to place geographically, and wonderfully rich and yet understated, and makes you forget that you are listening to Steve Carell.
"It was fun," he said. "We tried to strike the balance between a character who was a little sinister, but mostly fun, and potentially have an inner sweetness that we might not see initially."
Despicable Me is really a story about one man's journey to fatherhood. Gru is a super-villain who no one loves, but when he ends up adopting three orphan girls (for nefarious purposes of course) we see his heart of stone turn into a parent's fragile loving heart.
Carell describes the story this way:
The story is about becoming a parent. You introduce kids and everything changes. You can't explain that to someone who doesn't have kids. It changes everything. How you feel about yourself, and your work, and your life, and how you view the world around you. To see a super-villain go through that is really funny.

When I first saw the movie, I got all welled up at the end. When I saw it a second time with my kids, I thought, 'Nope, I'm not going to go this time. I'm not going to get teary eyed, and then I did again.
We asked him what his kids thought of the movie, and he said, "My 6-year-old son thought it was a great, but asked, 'Why didn't you play a minion?'" (as I said, the kids are going to LOVE these minions!).
Carell takes an active role in his children's lives, and is glad that most of the projects he's done have been filmed locally, allowing him to return home in time to read to them at bedtime.
We all had a great time chatting with him parent to parent, murmuring agreement when he talked about the struggles of parenting — saying things that you swore you'd never say, finding time to make dinner, trying to keep a united front with your spouse, and most importantly trying to figure out a way to freeze time.

Check out my other brand new post at 5 Minutes for Books today about another star of the film, Julie Andrews — Legend of the Screen, Literacy Advocate
Other Despicable Me posts:
Disclosure: Universal Studios paid my expenses to attend the press junket for Despicable Me, but my opinions are my own. I truly love this movie, and who wouldn't love meeting Steve Carell and Julie Andrews?