This post may contain affiliate links. Read my disclosure policy here.
My tween daughter started watching iCarly a year or two ago, and of course my son, who was a preschooler at the time, was lured in too. It's become one of our favorite shows (which is a good thing, because it seems like it's on 24 hours a day!).
When I was invited on a mom blogger press junket for the Despicable Me movie, and we found out that Miranda Cosgrove was one of the people I was going to get to meet and interview, the kids were more than willing to let Mommy leave for this particular trip!
It was nice to be able to interact with this teen who so many kids idolize, and to see that she seemed so grounded and age-appropriate. In fact, if she wasn't dressed so glamorously (with a beautiful side-sweeped hairdo, lushly lined and fringed eyes, and a short sleeveless party dress, in burgundy above), I felt as if I could have been talking to my teen babysitter!
In fact, when she sat down, and we greeted her, she actually asked about us. In a sweet voice she said, "Well how are you doing? Have you been here long?" I've actually heard celebrities mention the grueling press days before, and now I see why. The movie talent was going from interview to interview all day long, stopping in at the Mom Blogger roundtable for a 20 minute stint.
She was actually only our second interview, and since we rarely get to interview celebrities, we weren't going to be worn out regardless how long we sat there, but I loved that she was so empathetic.
Though she's only 17 years old, Miranda Cosgrove has performed in a variety of settings, from big screen to her starring role on iCarly. She's just recorded her first CD, on which she enjoyed using her writing skills. She loves to write poetry, and used some of it to co-write some of her songs.
Despicable Me is her first animated role. "I thought it would be easier," she said, referring to solo work in a sound booth, "but it was actually harder."
Here she is in the soundbooth, with pictures she used for inspiration for her to perform (she plays Margo, the biggest girl with the glasses). She said that they also played some of Gru's lines (voiced by Steve Carell) which helped her as she was doing her lines too.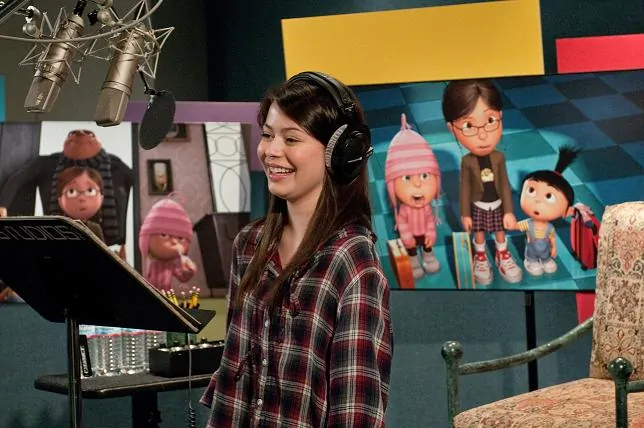 In the movie, she plays Margo, the older sister and defacto caretaker of her younger sisters. It's a more dramatic and understated role than the wacky Carly. She indicated that she would love to take on a dramatic role, perhaps "in a great independent film."
As a teen grows up, it's natural that they are going to take roles that are more appropriate for young adults than for elementary school kids, and I was curious about her future plans, and how she thought it would affect her fans.
"I've thought about that," she said. She said that she was glad that this movie would appeal to her fanbase.
She wondered how iCarly would change since they are all older teens now, but she's been pleased that they've been able to introduce romantic story lines, which is an age-appropriate thing for their characters, in a way that is still okay for the younger viewers to watch.
When most of us asked her a question we prefaced it, with "My kids love you," or something along those lines, and she usually responded with a sincere, "Aw, that's sweet. Thank you." After the interview, we took a group picture and said our goodbyes, and as she was leaving she said, "Tell your kids I said 'hi.'" That thoughtful gesture warmed my heart.
I don't know if I'll have the opportunity to meet Miranda Cosgrove again, but I know (believe me, I know) that I'll continue to "see" her several times a day, as she and Sam and Freddy join our family via the television screen.
Related posts:
Despicable Me movie review
Despicable Me loves Social Media
Disclosure: