This post may contain affiliate links. Read my disclosure policy here.
I just spent a very fun day with the folks at Universal Pictures in honor of the new Despicable Me movie. I was joined by bloggers (from L to R) Brittny/Cafe Mom, Me/5 Minutes for Mom, Linda/Blissfully Domestic, Mina/iVillage, Kristin/Role Mommy, Sonny/Babble, Crystal/SheKnows, Sara/Babycenter FameBaby, Loralee's Looney Tunes/BlogHer, Rani/Today's Mama, Yvonne/JoyUnexpected (not pictured) and lots of those adorable little minions from the movie!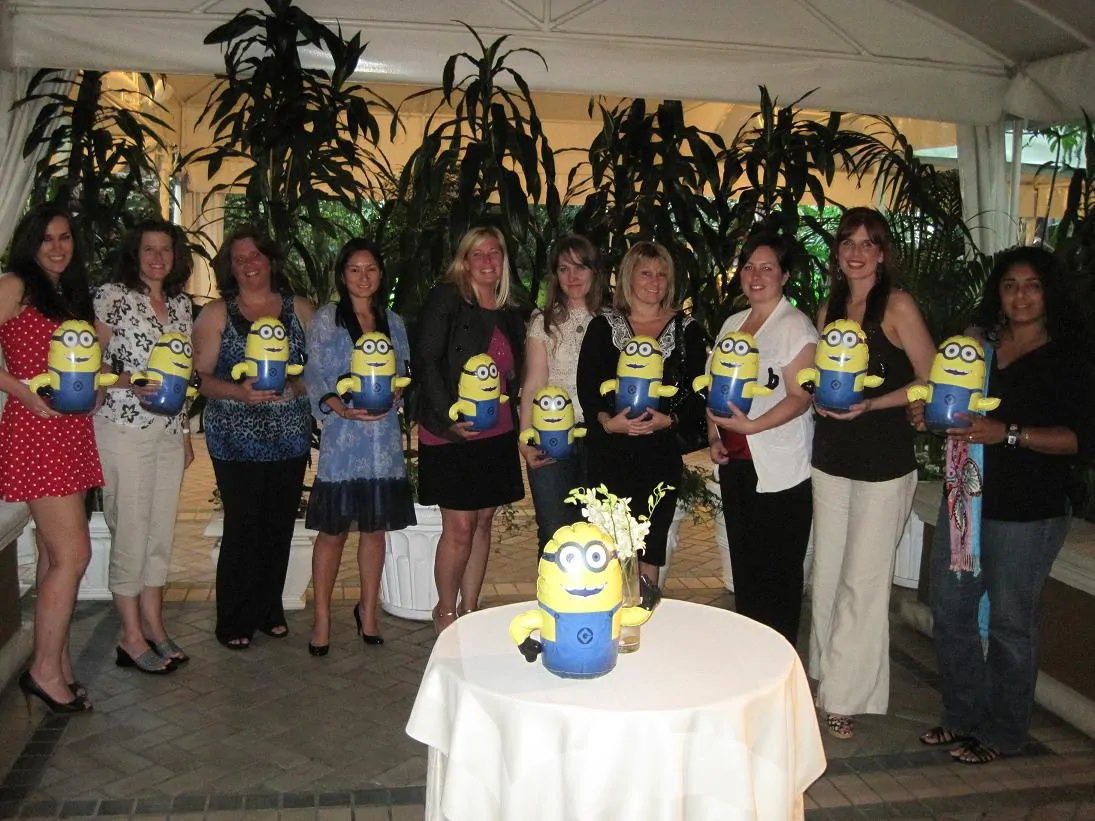 When we were doing our press junket thing, one of the producers John Cohen pulled us aside to show us some ways that the Despicable Me movie was building buzz. There's a youtube video featuring Agnes, the unicorn-loving absolutely adorable youngest orphan in the movie that a fan put together using some of the previews. When he showed it to us on Saturday, it already had hundreds of thousands of views, and when a twitter search on Despicable Me were sharing that link.
Yes, we mom bloggers got to chat with a movie producer about things like twitter trending, youtube views and Facebook fans. Even though these are all rogue fan-based adaptations, he loved seeing how people are responding to the character before the movie has even officially released! He told us that there's even an Agnes fan page on Facebook.
Of course, you can also "like" the official Despicable Me page, where you will find lots of trailer clips and some fun apps too.
On the official Despicable Me site there is even an easy link called the Social Spotlight where you can find all of the buzz. I don't know if I have just not paid attention to this use of social media, because I haven't been on the inside of a movie before it released, but it seems like they are really working the social media.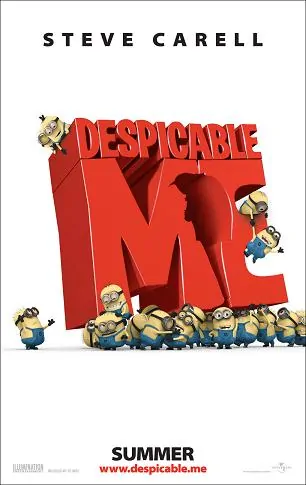 It's such a great movie, and I can see why people are having fun with it. Do you want to know how much I loved it? I think it's one of my top 5 all-time kids' movies EVER. Read my review of Despicable Me over at 5 Minutes for Books.

Stay tuned all this week for posts leading up to the movie opening day of July 9. I have interviews with Miranda Cosgrove, teen idol; Steve Carell, nice guy and a total family man; Jason Segel, who is lots of laughs, and the living legend Julie Andrews, as well as some insider information from producer and Illumination pictures CEO Chris Meledandri.
Before you go see the movie, be sure to download the app for your smartphone that will translate the Minion's jabber from the end of the 3D version of the film. Check out all the details at BestBuy Movie Mode.

So, let me know — do you enjoy following social media in regards to movies and other entertainment? Are you looking forward to seeing Despicable Me?
Disclosure: Universal Pictures paid my transportation costs for a Mom Blogger Press junket. They gave us access to the talent behind the movie, but did not tell me what to say. My (very enthusiastic and positive) opinions are all my own.