This post may contain affiliate links. Read my disclosure policy here.
Call the kids, grab a controller, and get some family fun time with an Xbox 360 Elite!

Do you have gamers in your household?
I have one gamer in the making — my eight year old son. He loves all kinds of video games! I am careful to limit his time playing video games and make sure he stays active in sports, playing the piano and hanging out with friends, etc., but I do indulge his passion for gaming too.
So, when we got the chance to test out the new Xbox 360 Elite Bundle, you can imagine the screams of joy and gratitude: "You have the BEST job Mom!!!"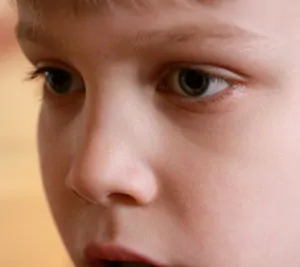 But the squeals were quickly replaced by intense concentration as Jackson got down to business putting the Xbox 360 to work. Yes, I have a committed video game tester in my home and the Xbox 360 Elite did not disappoint!
I also have Susan's husband Rob, a life long gamer, to come and set up the Xbox 360 Elite and enjoy it to the fullest along with Jackson. (Jackson and his Uncle Rob have a deep video game bond, which first started on Rob's Xbox when Jackson was just two years old. They are just so cute together!)
Now, as disinterested as I am personally in video games, the Xbox 360 Elite can seriously sway me over. The Xbox 360 Elite can provide the whole family (non-gamers too!) with entertainment — sharing pictures, social networking, streaming movies from Netflix and more!

Yes, with Xbox Live, the online gaming and entertainment service for your Xbox 360, you can do so much with your Xbox 360. Movies, Music, Twitter, Facebook, etc., — it is a whole world waiting right in your Xbox 360!
But perhaps what I appreciated most when researching and testing the Xbox 360 is the fantastic resource for parents called www.GetGameSmart.com where parents can learn how to set parental controls on the Xbox 360 and find tools like The PACT and The Pledge to help families establish healthy boundaries and rules for the technology in their homes.
Get Game Smart is packed with tips and ideas — I highly recommend checking it out.
Win It!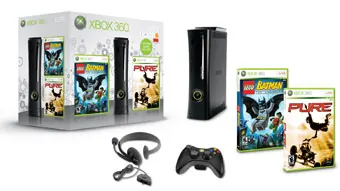 Now, did I mention we have one of these FABULOUS Xbox 360 Elite Bundles to give away?!? Oh yes we do!
The Xbox 360 Elite Bundle:
Elite console + Lego Batman and Pure
Xbox 360 120GB hard drive
Xbox 360 Wireless Controller (black)
Xbox 360 Headset (black)
Xbox 360 Composite A/V cable
$299 for the entire bundle (2 games for free)
Features including Last.fm, Twitter and Facebook
To enter please leave a comment below.
You may earn additional entries for the following:
Spread the word to your friends via your blog, twitter, etc.
**NEW** Start or Reply to any video conversation at
Say It Face To Face. Then leave a comment here with the link to your conversation or reply on Say It Face To Face.

Your video conversation or reply can be about ANY topic.
If you are already subscribed and are on our newsletter list, you qualify for those two additional entries. Go ahead and leave your additional comments below.
This giveaway is open to both US and Canadian shipping addresses and will close on Friday, February 19th. We will announce our two winners on Saturday, February 20th.
Due to legal restrictions, this promotion is void where prohibited. Please see our site's Terms and Conditions of Use for a complete list of our Contest and Giveaway Rules.
*Microsoft provided one Xbox 360 Elite Bundle for review purposes and will be providing one for prizing.
Written by Janice, co-founder of 5 Minutes for Mom
You get our feed right?
Have you checked out our stores? Pedal Cars and Retro and a A Rocking Horse to Love.