This post may contain affiliate links. Read my disclosure policy here.
Hannah Keeley's Total Mom Makeover – a life changing book you don't want to miss!
"Motherhood has a way of sneaking up on you. One day, you are rubbing cocoa butter on your expanding belly and trying to decide on colors for the curtains in the nursery. The next day, you are wearing sweatpants because you can't button your jeans, dishes are spilling out of the kitchen sink, and the kids have colored all over the walls with permanent markers. Because of the ever-growing list of responsibilities, you begin pushing your own needs further and further down on the list. Eventually, you are just trying to make it through another day without losing your car keys, your temper, or your mind.

That's no way to live. And deep inside, you know that. But you can't stop long enough to catch your breath. And even when you do have a moment, you have no idea how to begin to make it better. Well, the time is now, the place is here, and you're going to start by forgetting everything you know about motherhood."
There is no doubt about it – motherhood is wonderful… and hard! Really hard!
A mother has a million tasks to do and countless unrealistic expectations we are trying to live up to. There are meals to make, houses to clean and children to care for. Oh – and our husbands want some attention too.
With all the demands on us, our needs can often fall right out of the equation. The end result is an exhausted and overwhelmed mom, struggling to survive in the dream role of "Mother."
I know – I am one of them! Most days I am just fighting to make it through, feeling guilty, as I look around at all the moms that are doing it "so much better than I am." Many nights, I walk past the unfolded laundry, step over the scattered toys on the floor and head up to bed at the end of a very long day feeling defeated.
But Hannah Keeley wants to help moms to recharge and refocus our lives.
Who is Hannah Keeley and how can she help us?
Hannah is a work from home, homeschooling mother of seven. She is a thriving, effective, mothering machine!
But don't let that scare you off. Hannah also knows what motherhood "rock bottom" is like.
Years ago, Hannah was overweight, out of shape and out of control of her house and her life. But one day, Hannah found herself sobbing on her messy bedroom floor, surrounded by piles of unfolded laundry and she had a stunning revelation: this was not the life she wanted. But no one was coming to rescue her. She needed to turn it around. She needed to claim the life she wanted and deserved!
And she did just that. One step at a time, Hannah revolutionized her life. She became a healthy, glowing, successful, organized mom who loves her busy life.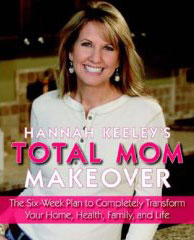 In her new book, "Hannah Keeley's Total Mom Makeover – The Six-Week Plan to Completely Transform Your Home, Health, Family, and Life," Hannah walks us through a simple, step-by-step method for reclaiming our lives, our dreams – and our sanity!
Hannah helps us to replace our negative attitudes and habits with positive ones and gets us on track to get us where we want to be as healthy, happy moms.
Each day, we read a few pages, working out our new plan and reforming our lives. It is simple, yet totally powerful and transforming.
Through her encouraging, realistic voice, Hannah pumps us up and equips us to change. You will literally feel energized as you read!
Hannah isn't trying to get us to be "perfect" and live "super-mom" lives. Actually one of her tips is to do just the opposite:
"Don't try to do everything, just the things that really matter. Achieving success in life is as much about prioritizing as it is about getting up the gumption to go after your goals. If your going to get the important things done, you've got to be able to let lesser things go."
If you aren't quite where you want to be as a mom, if you are feeling overwhelmed and alone, Total Mom Makeover can help get you refocused and moving towards a healthier lifestyle.
If you want it to, this book could change your attitude, your outlook and your life!