This post may contain affiliate links. Read my disclosure policy here.
Add a splash of color to brighten up your errands with this easy to make DIY Canvas Tote Bag With Potato Stamp Design. Our new contributor, Lisa Favre, is here again today to share this fun DIY. If you missed her first post, check out how she decorated her home office with easy DIY paper flowers.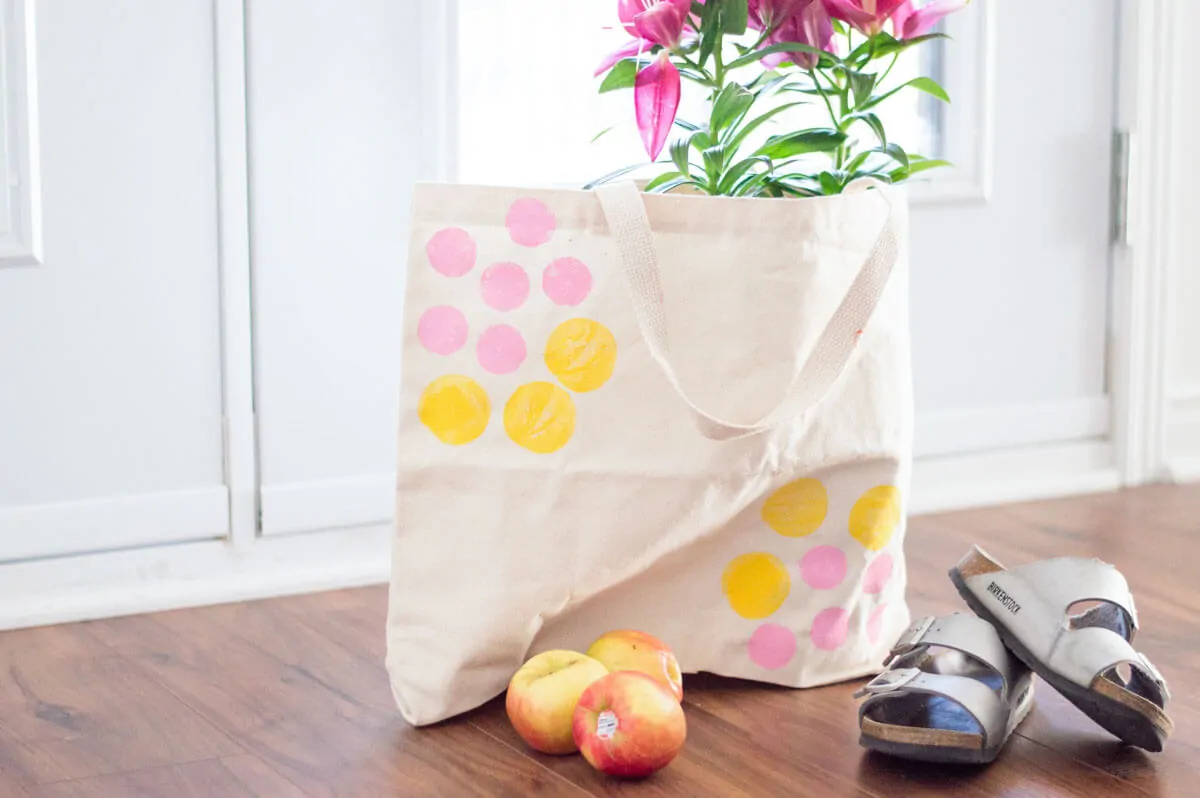 This potato stamp DIY canvas tote bag is getting me farmer's-market-ready!
Hey, everyone! Lisa here, and I am so excited to share with you my latest DIY project as I get crafty in my new abode.
In my last post, I talked about our little family's big move. We've been settling in quite well: all the furniture's assembled and I'm putting decor up one bit a time. Not to mention, my toddler son, Leo, has finally gotten the hang of our new home.
The city we moved to is incredibly charming. We're minutes away from shops, restaurants, and the most darling markets (a fish market, a butcher's shop, and a high-quality French bakery).
I'm so grateful to have found an area that is so fitting with our family's tastes and needs. As if I don't feel lucky enough, the city also boasts a "go green" movement. In hopes to be more environmentally-friendly, the city has enforced certain rules with its residents, one of them limiting the use and distribution of plastic bags.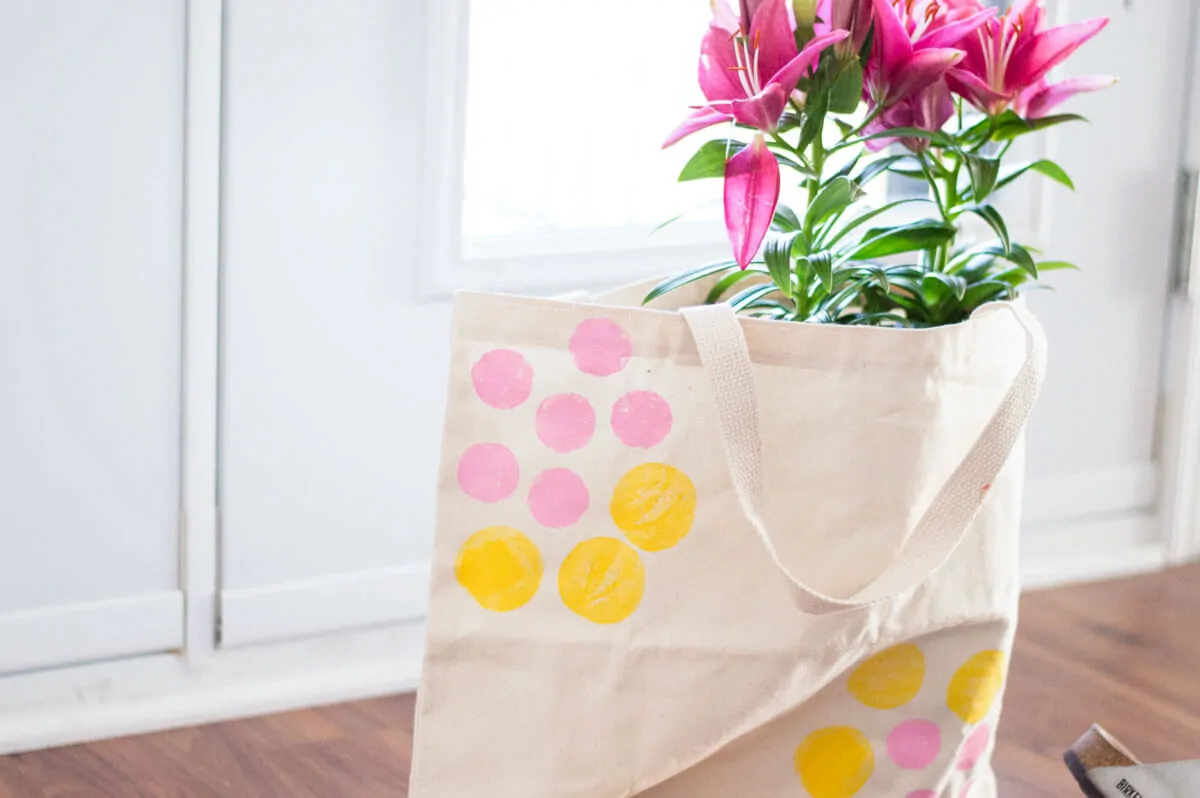 Yes, yes, and yes.
My husband and I have made it a habit to bring reusable bags whenever we run errands.
But wait… am I running errands in-style?
As if we're not busy enough, I took some personal mama-time to make a Potato Stamp DIY Canvas Tote Bag. Just because we're constantly on-the-go, doesn't mean my accessories can't be cute, right?! Step aside reusable grocery bags… this tote wants to make its appearance!
For this project, I opted for homemade potato stamps so that I'd be in control of the shapes and sizes for my tote's pattern.
DIY: How to Personalize a Canvas Tote Bag with Potato Stamps
For One Canvas Tote You'll Need: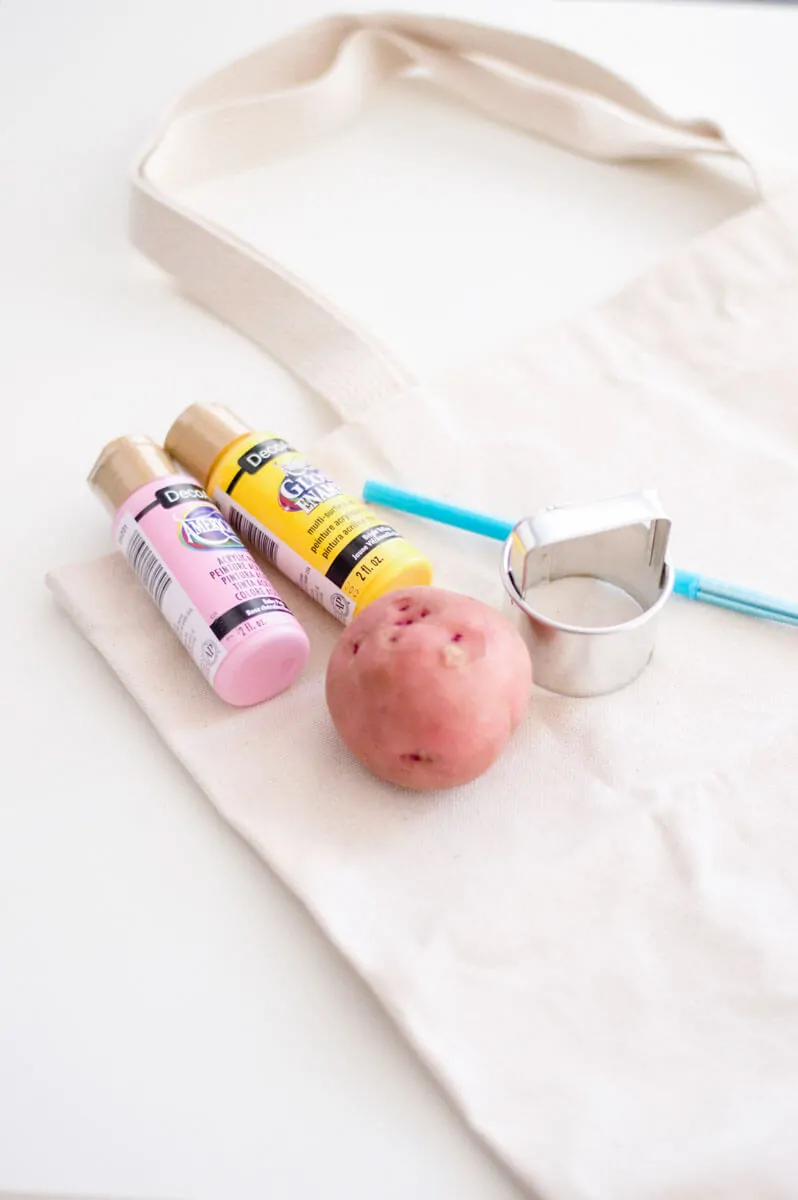 Blank canvas tote (white, off-white, or natural)
1 large potato
Pairing knife
Cookie cutter (I opted for circle stamps, so I chose two circular cookie cutters of different sizes)
Acrylic paint (2 colors of your choice)
2 paintbrushes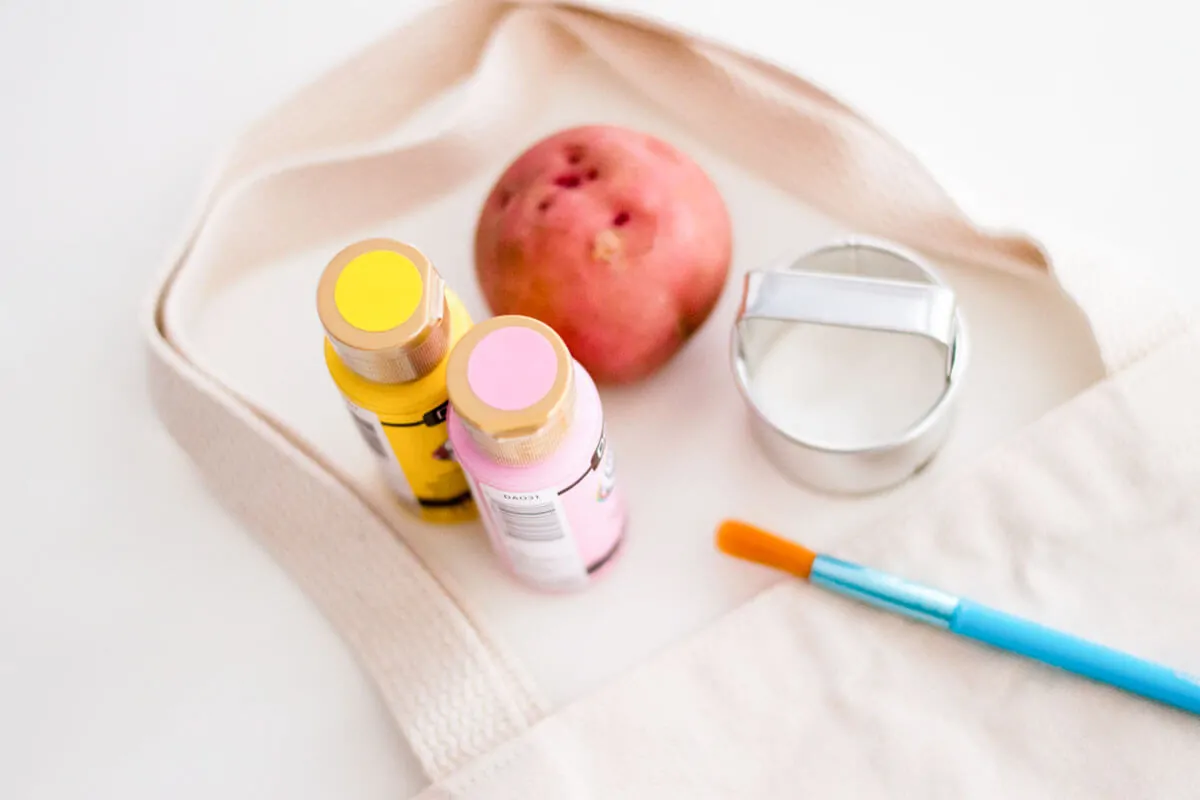 Step One: Cut and Carve
Cut your potato in half and insert each cookie cutter on the flat side, really securing it in. With your pairing knife, cut around the circumference of your potato, making sure you don't cut completely through. You just want to take off the edges so that the desired shape sticks out.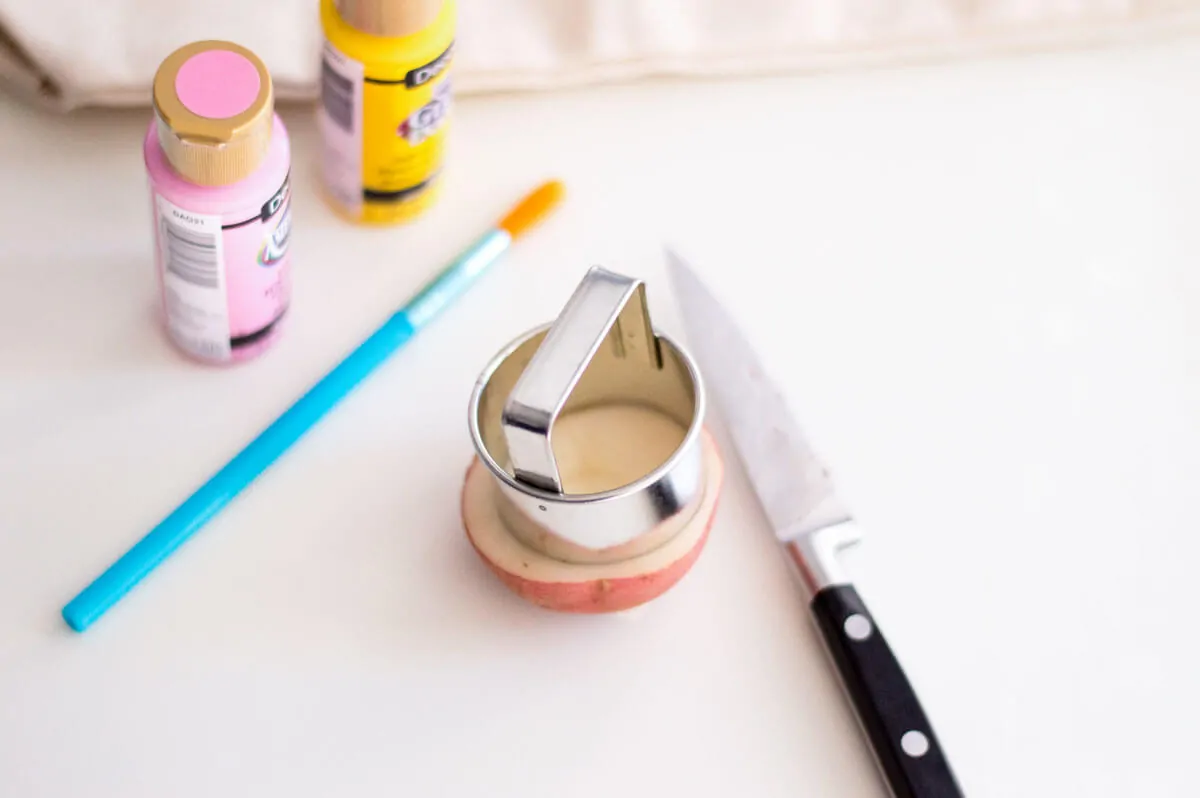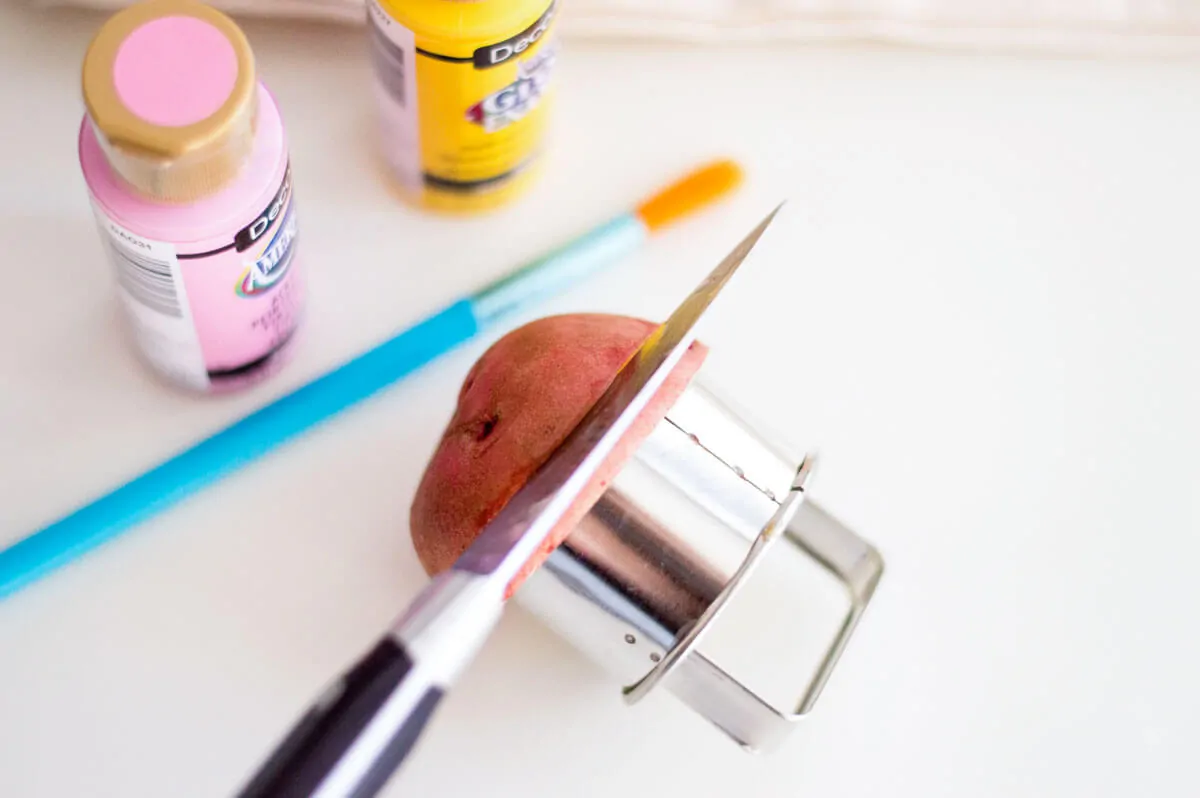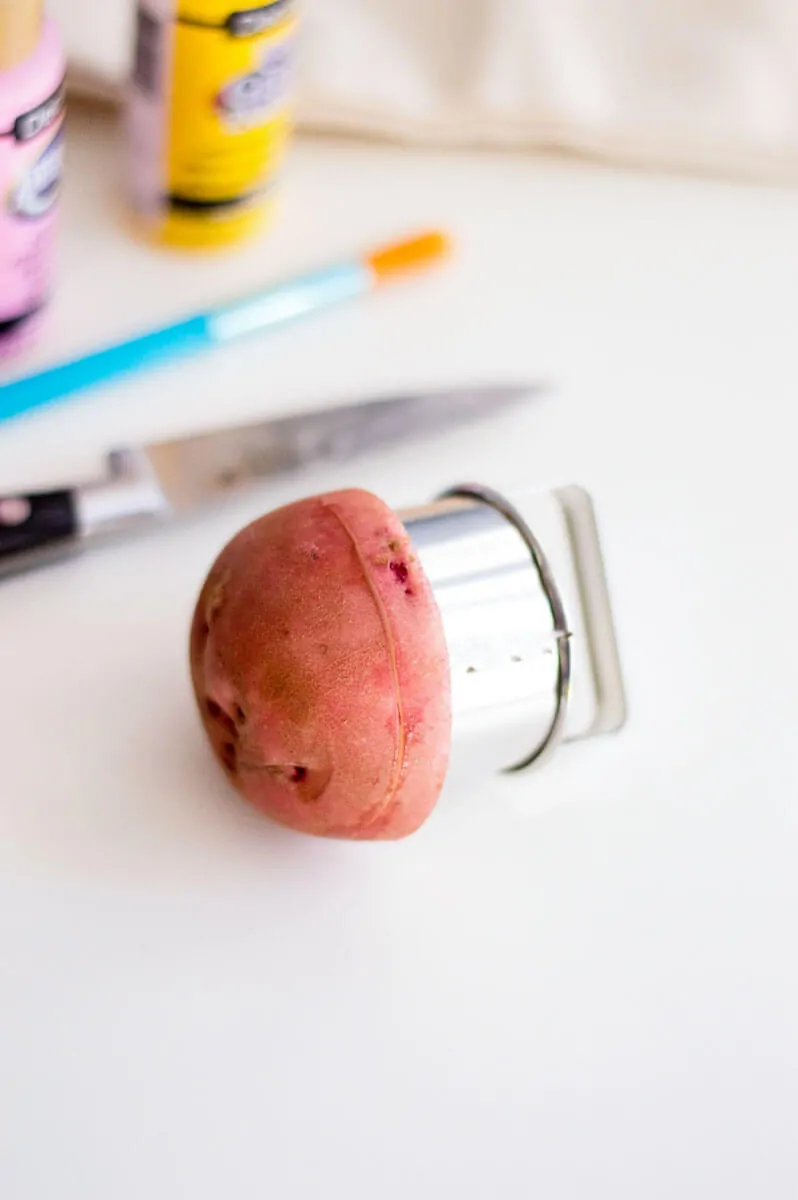 Step Two: Paint Brushes at the Ready!
Use your paintbrushes to coat your potato stamps with a thin layer of paint. I used pink for the smaller circle and yellow for the larger one.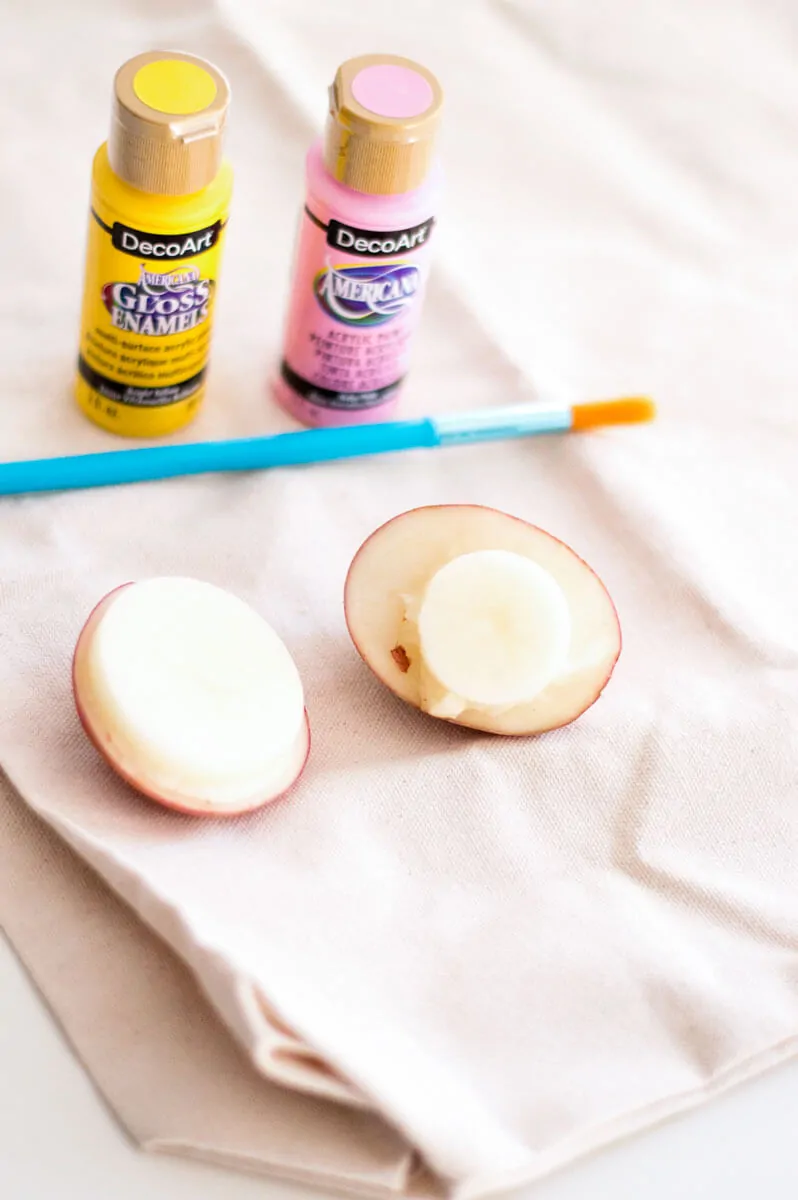 Step Three: …and Stamp!
Stamp the potato halves firmly on your canvas bag. For this design, I didn't have a particular pattern in-mind. I put the circles on the top-left corner and more on the bottom-right corner.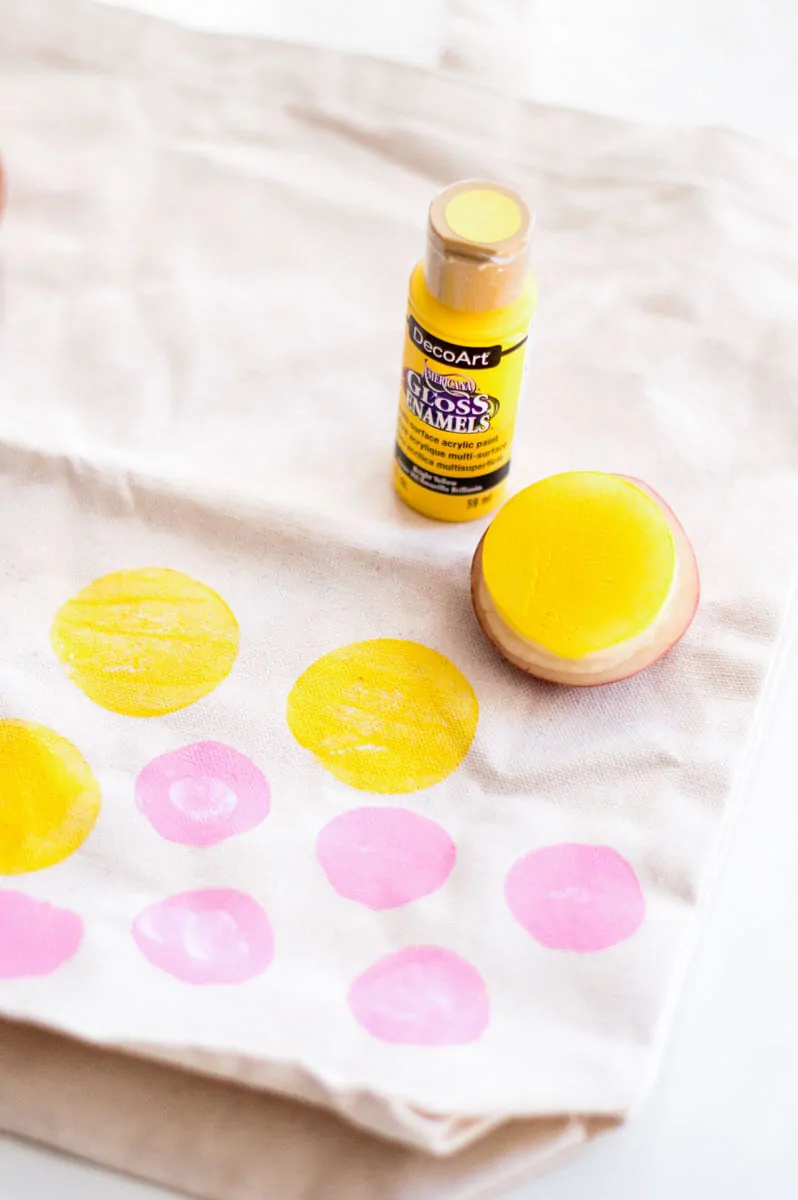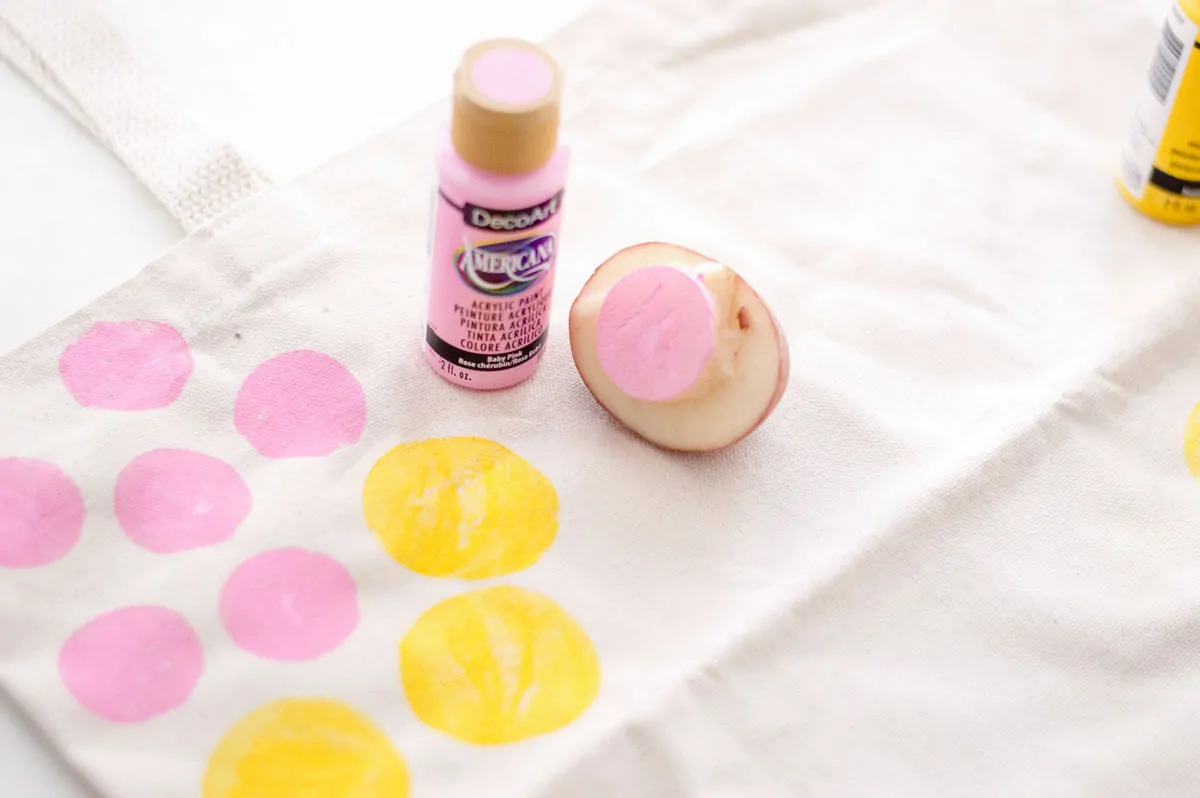 Step Four: The Waiting Game
I know it's tempting to use right away, but give it one night to dry completely. Don't worry, as of tomorrow, you can run your errands in-style… promise! In the meantime, you could use your craft paints to make some easy art projects with your kids. You could try some of these rock painting ideas or make a popsicle stick picture frame.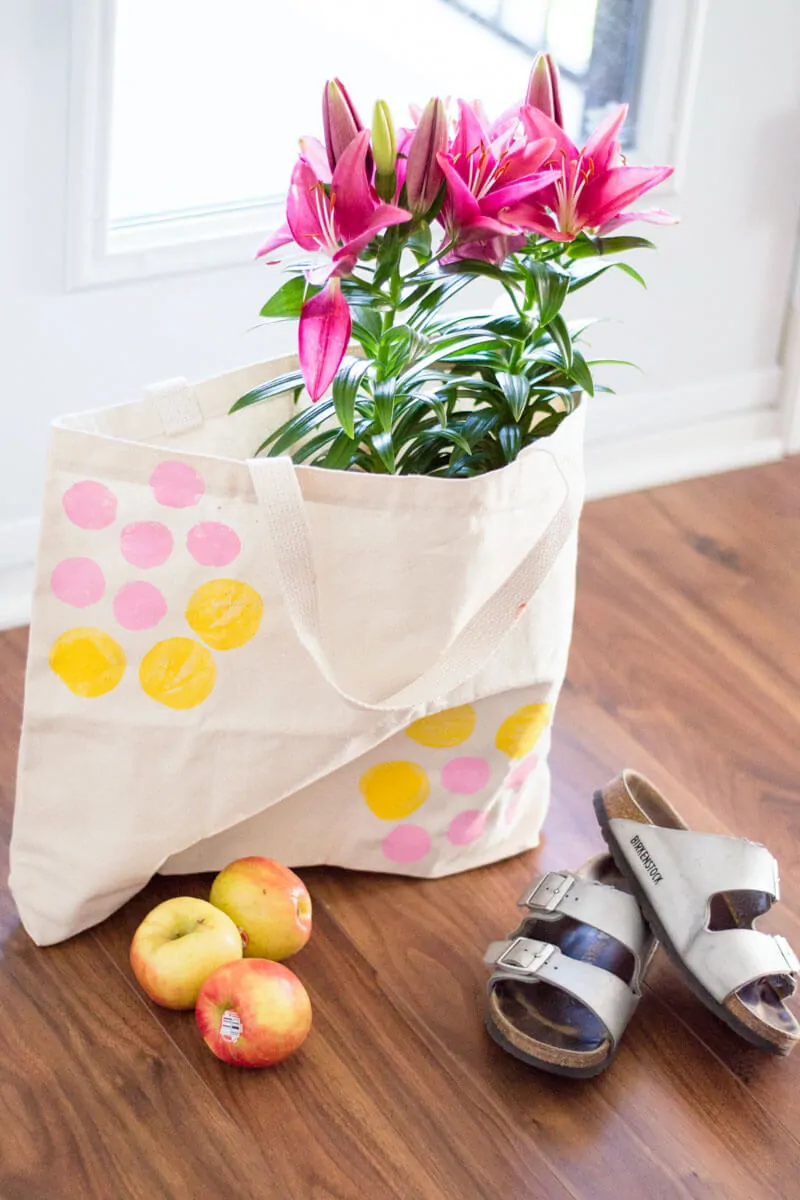 Written by 5 Minutes for Mom contributor Lisa Favre who blogs at Fabulous Habits where she highlights the best in food, fashion, beauty, and parenting.

Pin it for Later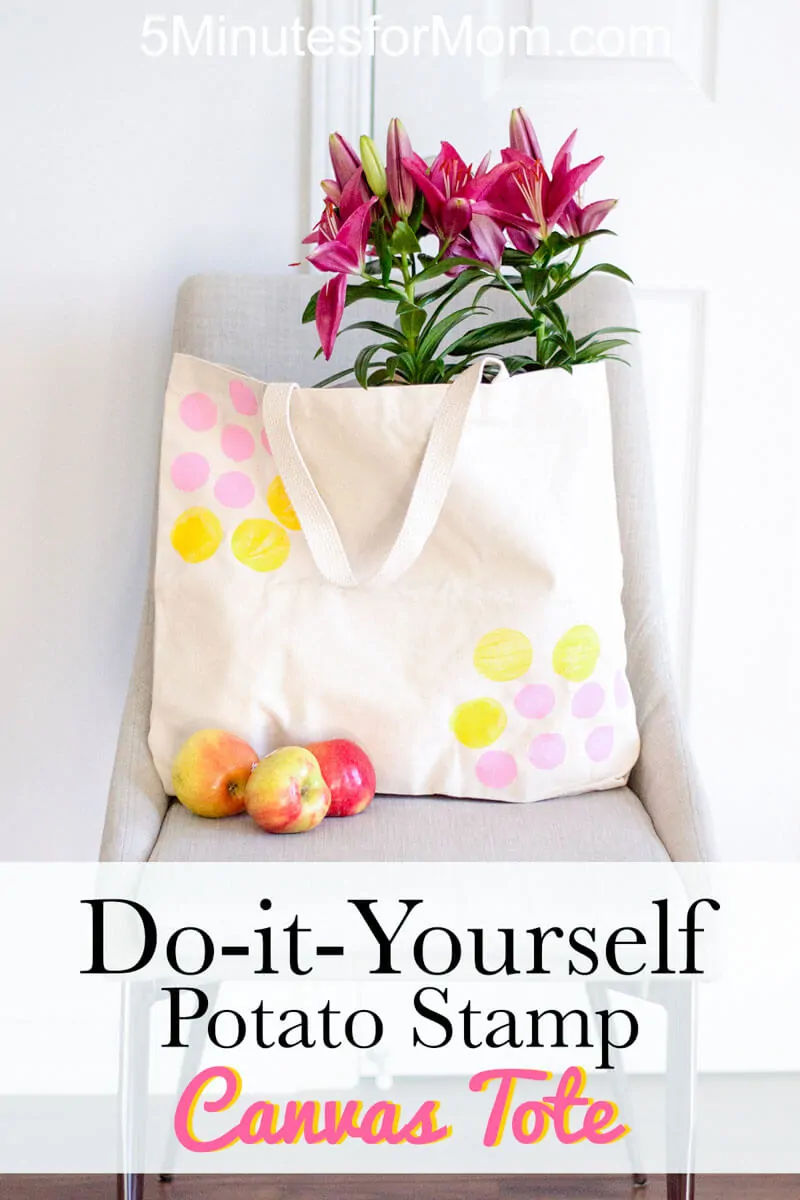 Don't Miss This…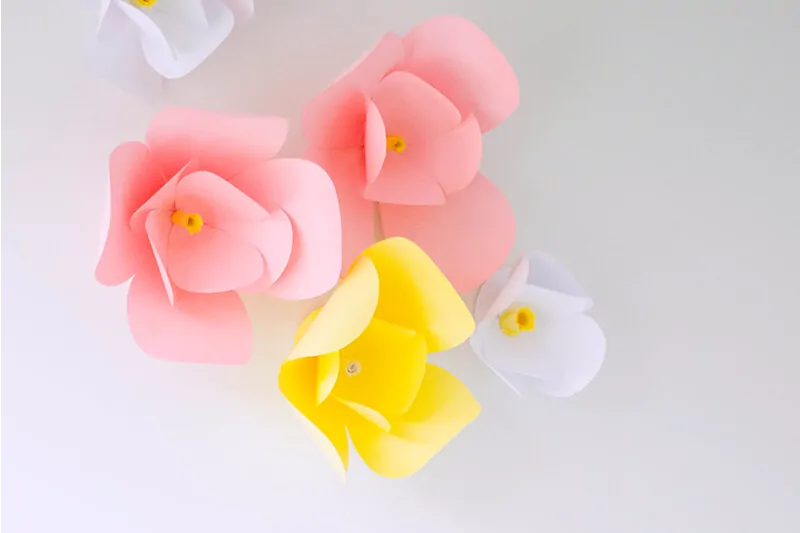 How To Make A DIY Journal With Tea Stained Paper