This post may contain affiliate links. Read my disclosure policy here.
Now that we're knee deep into November, the countdown to Christmas is officially on! You've been making your list and checking it twice. Maybe you're even feeling a little overwhelmed by all the gifts you have to buy. The gift-giving part of the season doesn't have to be stressful, though. Today we're sharing several thoughtful and budget-friendly gift ideas that all come in a mug. Yes, that's right! You can tackle that list one cup of cheer at a time–or in this case one mug of cheer at a time–with these simple Mug Gift Ideas.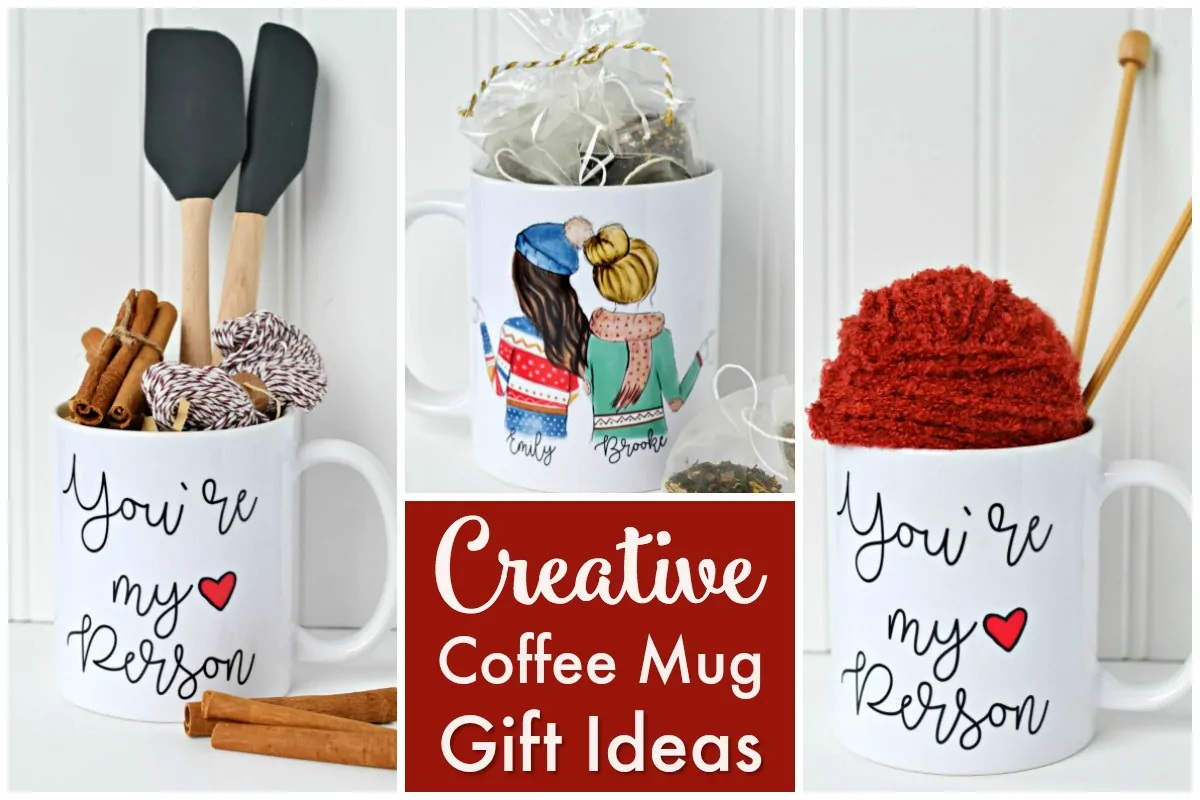 Hi, I'm Jennifer Dawn, a mother of three young children, a contributor here at 5 Minutes for Mom, and the blogger behind The Life of Jennifer Dawn. As an avid tea and coffee drinker, I'm also a big fan of cute mugs like the ones from Glacelis. They specialize in unique personalized mugs that make a perfect gift for any occasion like the Gift for Girlfriend Mug shown in this post.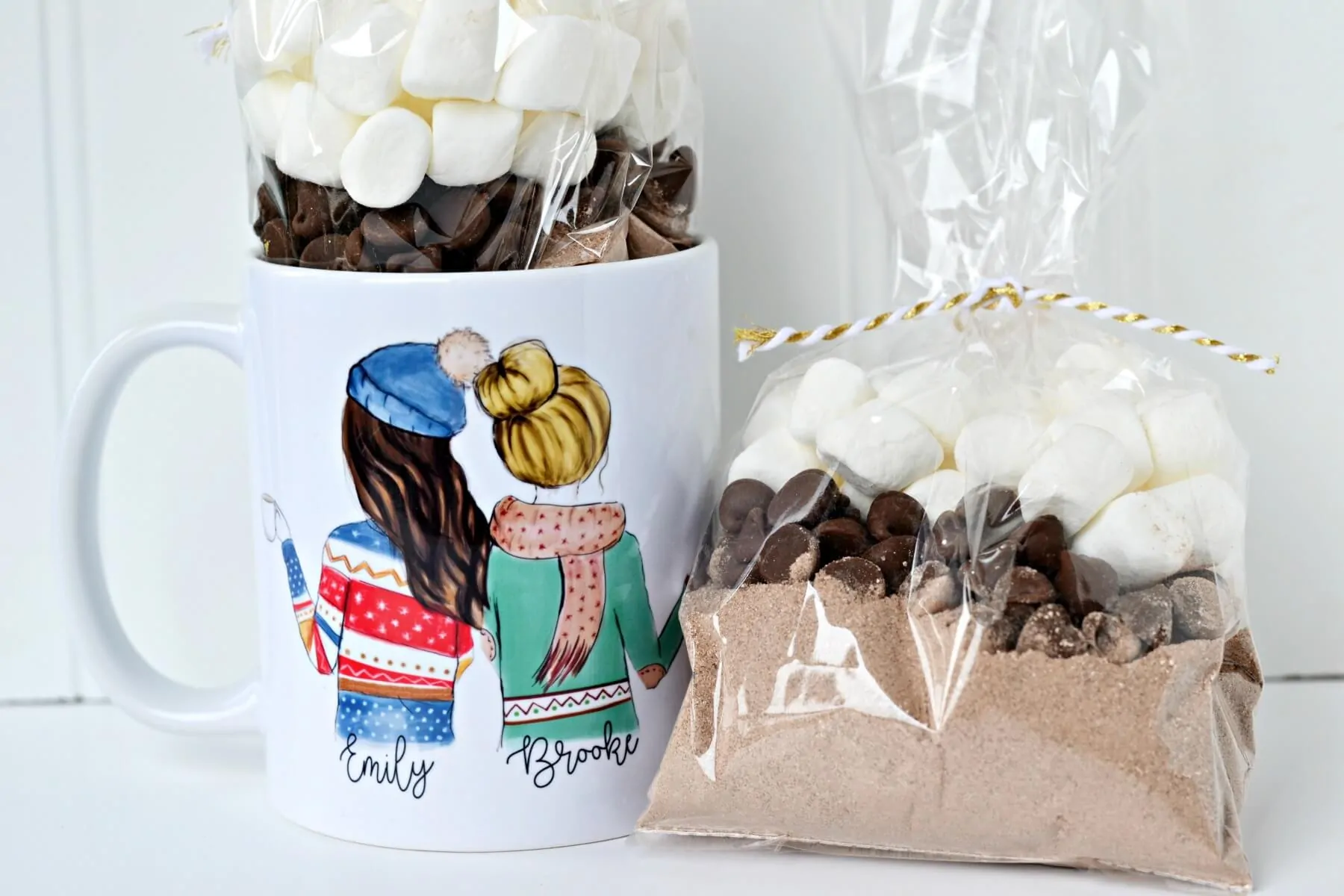 A BIG thank you goes out to Glacelis for sponsoring this post and to you for reading and sharing. We're so excited to be sharing one of their bestselling products right along with these fun mug gift ideas!
I love gifts that are simple and thoughtful. My dad used to say that if a gift is something you'd love to receive yourself, then it's a great gift. That seems like such a basic philosophy, but it's one I try to follow with each gift I give. "Is this something I'd like to receive?" For these sweet and simple mug gift ideas, the answer is a definitive yes! I'm sure friends, family, co-workers, teachers, and others on your list will feel the same way! Ready to start tackling that gift list? With these ideas, you'll be done in a jiffy!
Here are 9 creative ways to give mugs as thoughtful gifts…
1. For the Coffee Lover
Place a few wooden stir sticks along with a favorite brew into a mug to put together a simple gift for the coffee lover you know. Shredded paper tucked in around the mug's contents makes the whole thing look even nicer. You could also add some chocolate covered coffee beans.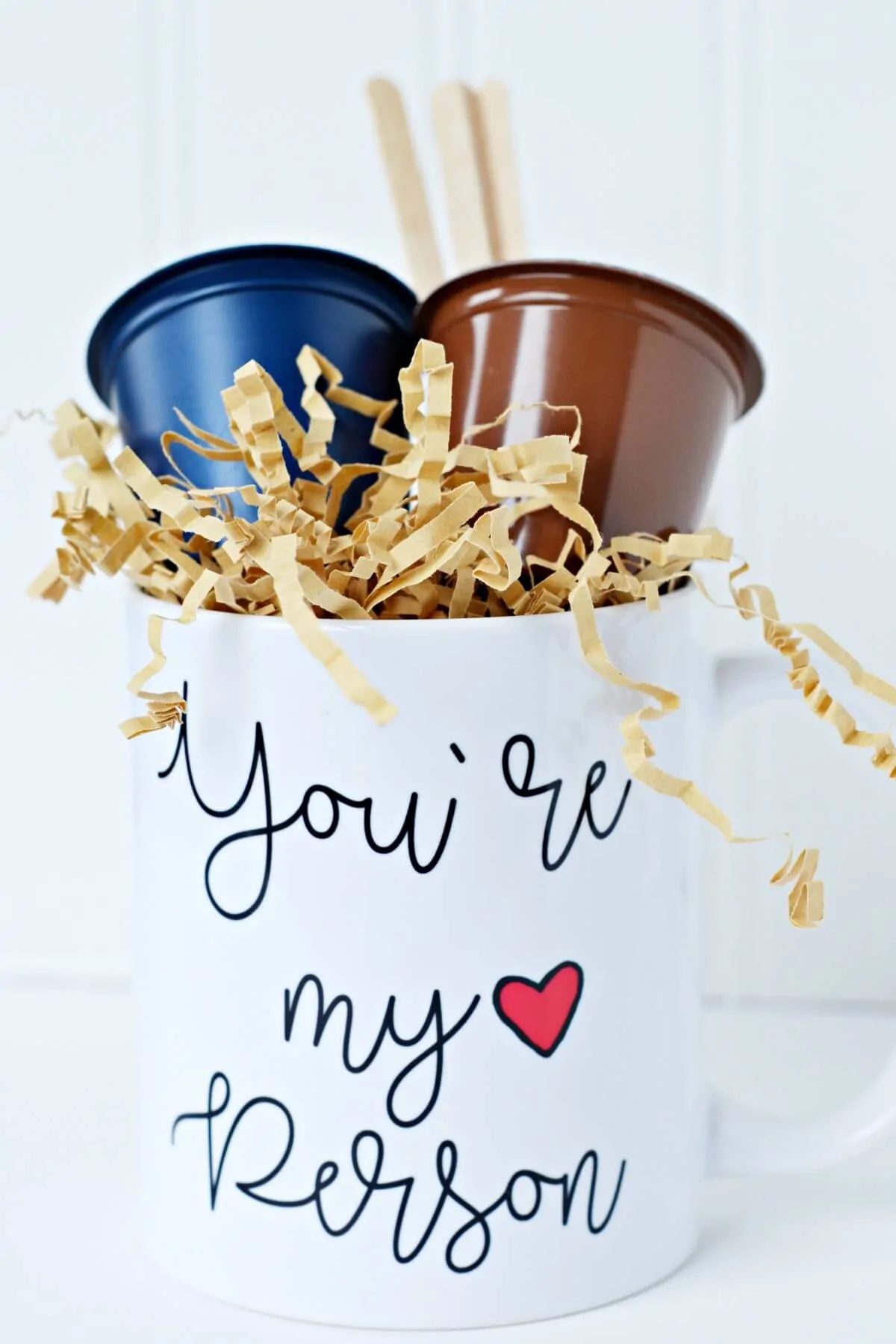 2. For the Tea Drinker
Add tea biscuits, tea bags, and sugar into a mug for that friend or family member who enjoys tea over coffee. A mug filled with tea bags, fresh lemon, and honey even makes a thoughtful gift for a friend who is under the weather. They could certainly use a cup of cheer!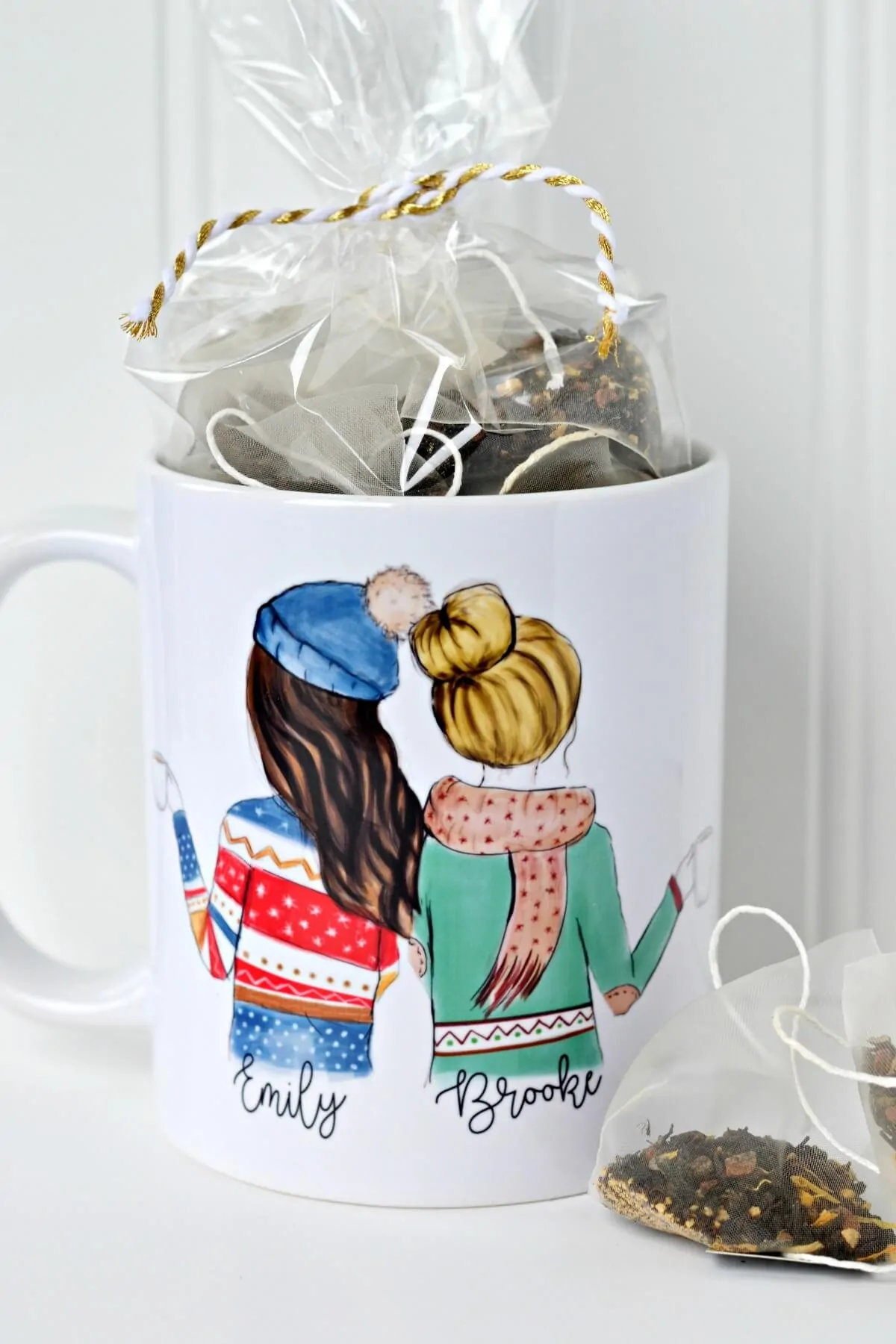 3. For the Hot Cocoa Drinker
Here's a fun idea! Layer hot cocoa mix, chocolate chips, and marshmallows into a treat bag. Tie the bag with string and place it into a mug. Be sure to include instructions for how much warm water or milk to add to the mix. Need a gift for an entire family? Place a whole collection of mugs along with the hot cocoa mix into a basket for a family to enjoy some special moments over steaming mugs of hot cocoa. It's a gift that will certainly be appreciated during the cold winter months.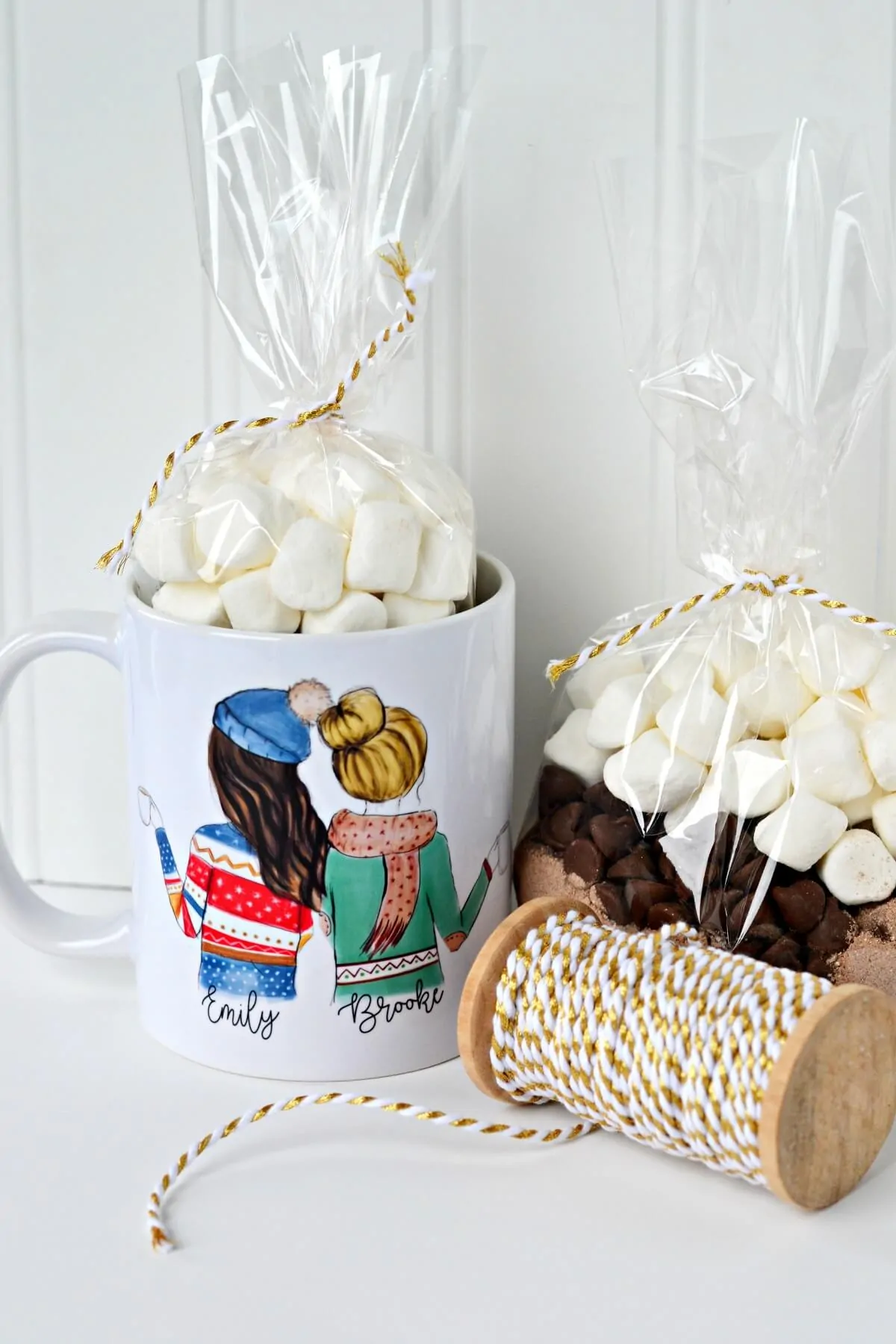 4. For the Chocolate Aficionado
Here's a simple idea! Place a treat bag of chocolates into a mug. Want to use something other than chocolate? The recipient's favorite candy is a great option too! Give the gift a nostalgic touch with candy that was their favorite as a child.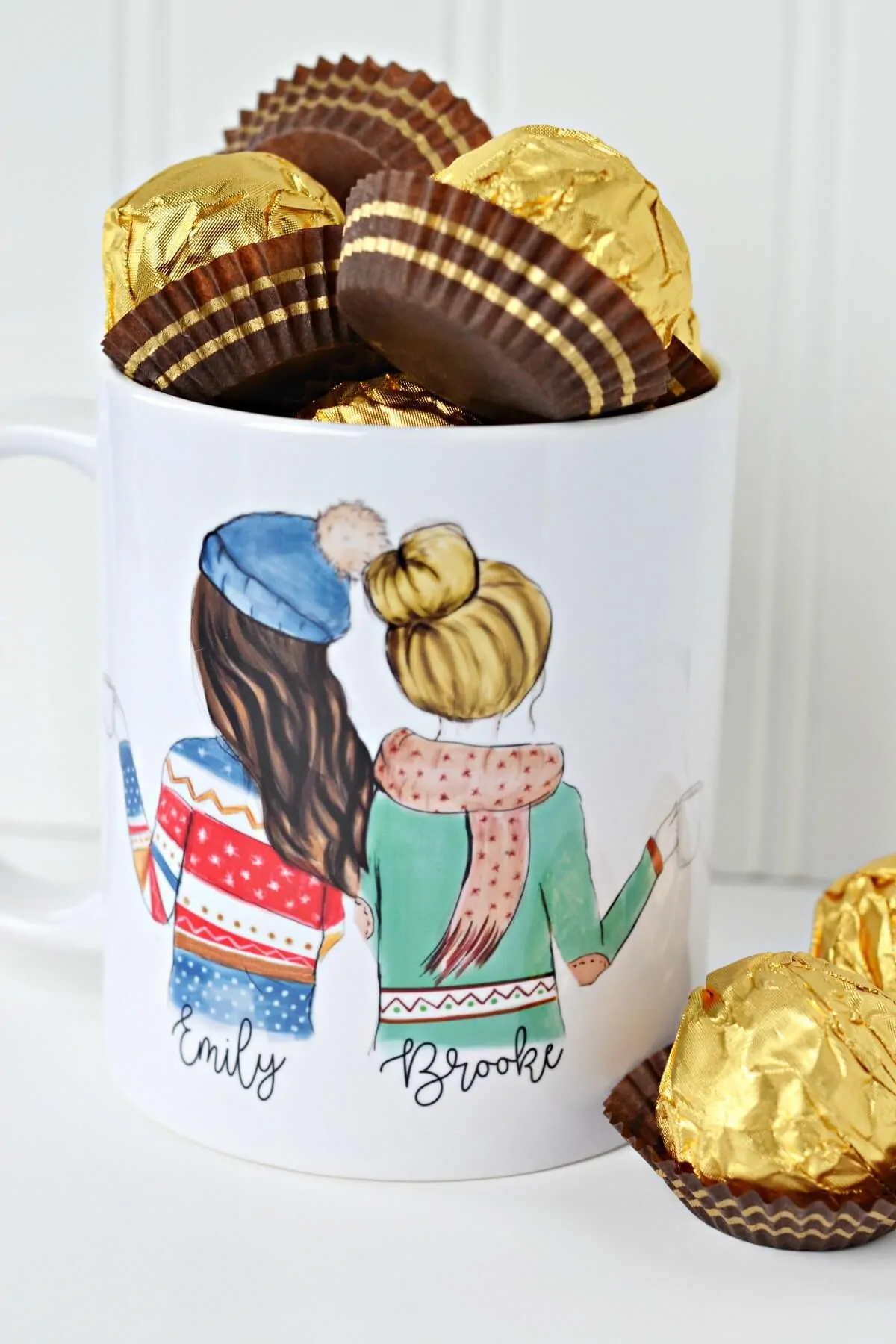 5. For the Crafter
Yarn and knitting needles! A cross-stitch kit! Scrapbooking supplies! Pens for hand lettering! Watercolors! The possibilities are endless for this fun mug gift idea. Fill a mug with crafty items for that creative individual you know and love. You could even include a gift card to their favorite craft store.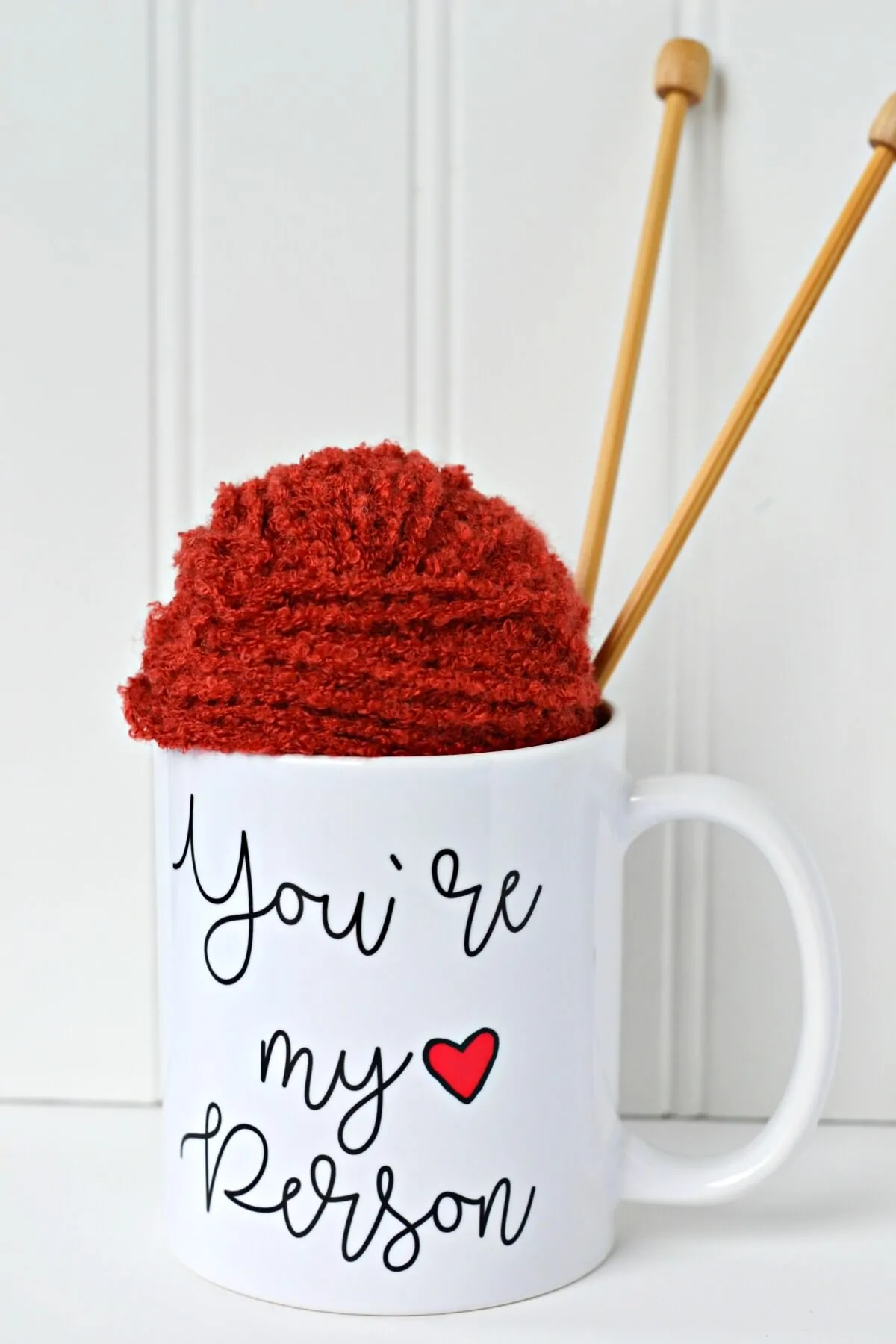 6. For the Planner
Put a small planner, notepad, Washi tape, and pens into a mug for a gift that helps the recipient get their mornings off to a productive start. With this gift idea, you're even giving them a vessel to pour their coffee into.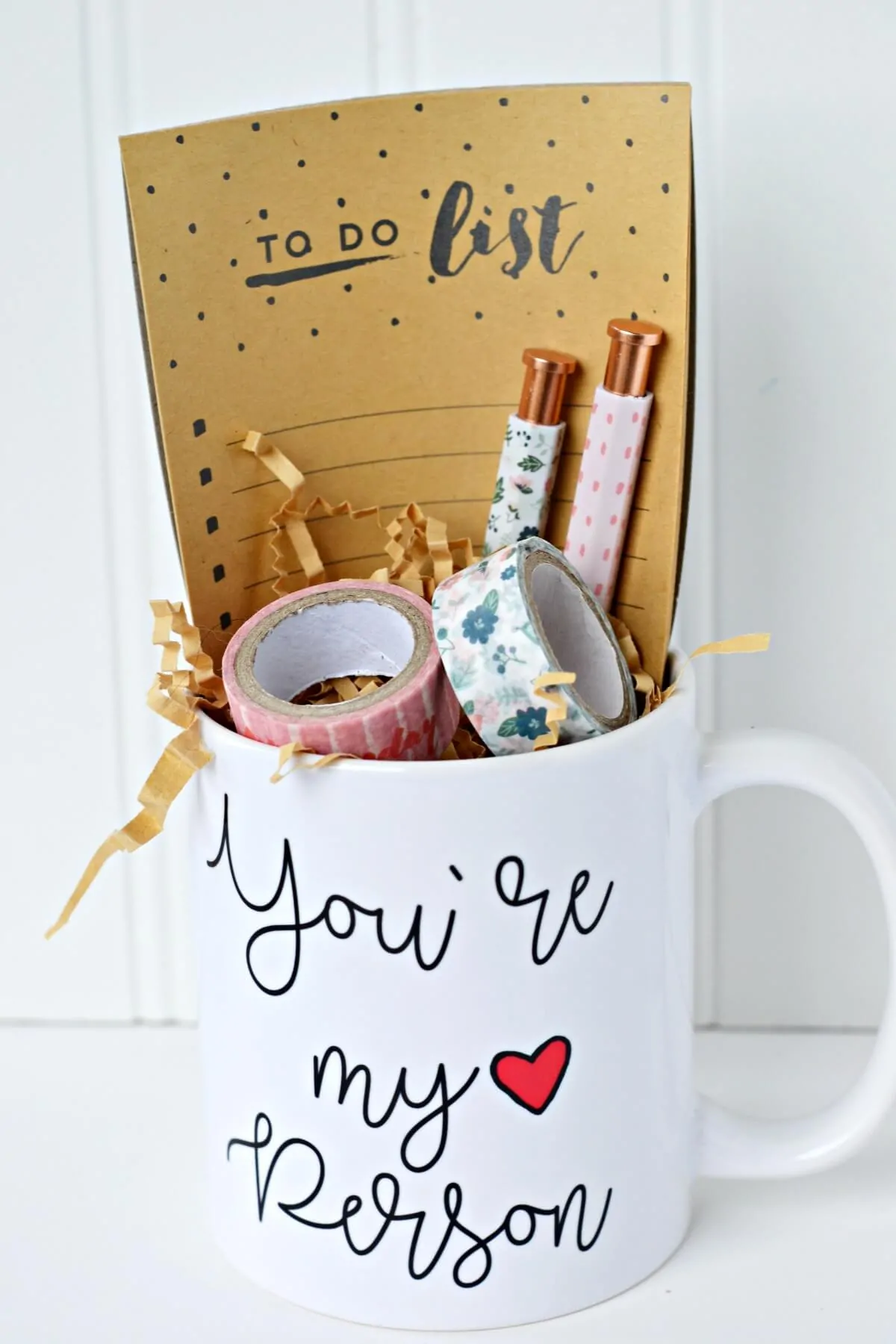 7. For the Baker
Know someone who loves to bake and/or cook? Fill a mug with baker's twine, spatulas, small cookbooks, and kitchen gadgets. It's a practical gift that has an adorable presentation.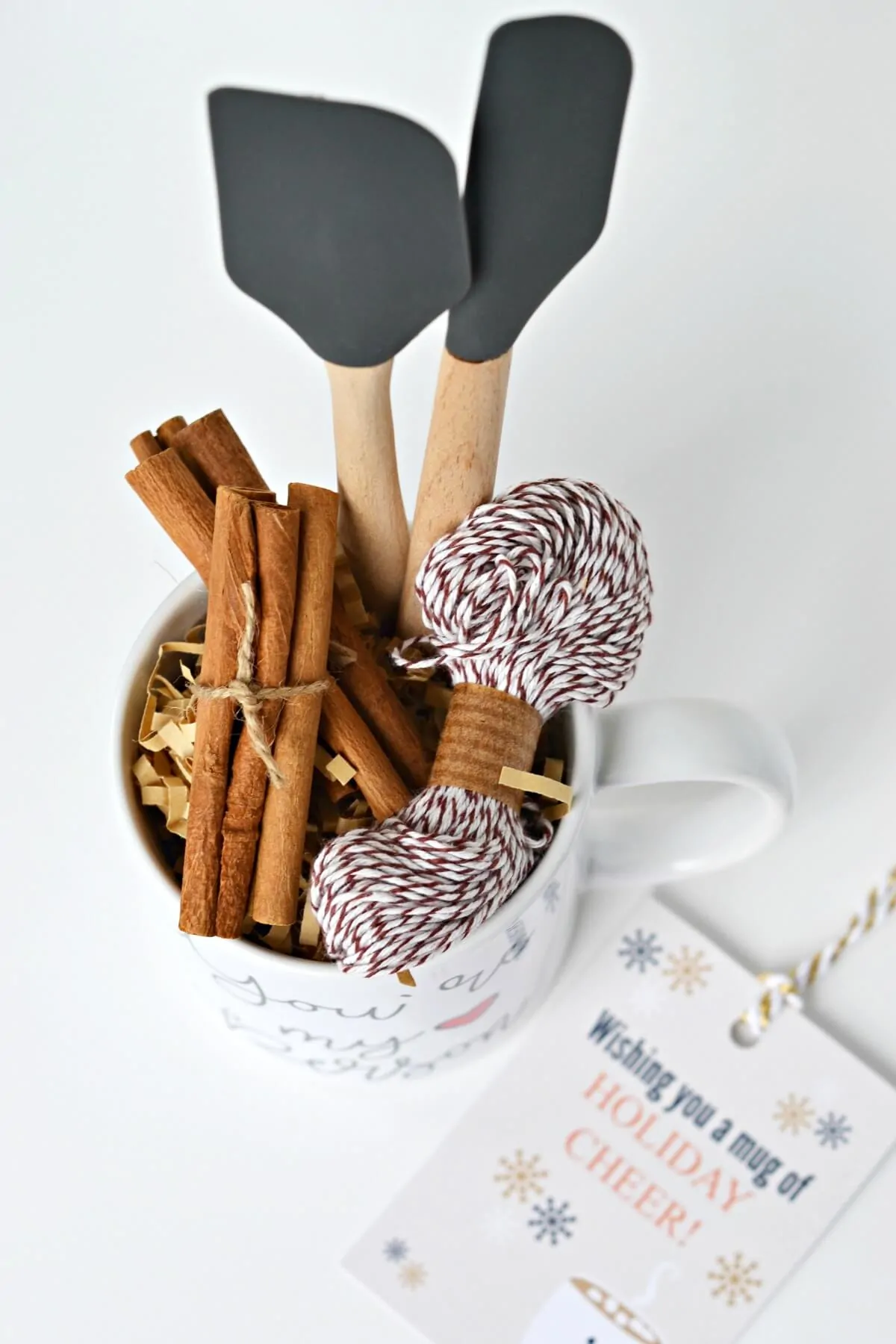 8. For Anyone with a Sweet Tooth
Are you the one who loves to bake? Here's the perfect gift idea for you to whip up! Make cookies, croissants, cakes, or brownies to package and place into a mug. The recipient will love enjoying that mug filled with tea or coffee right along with your baked goods.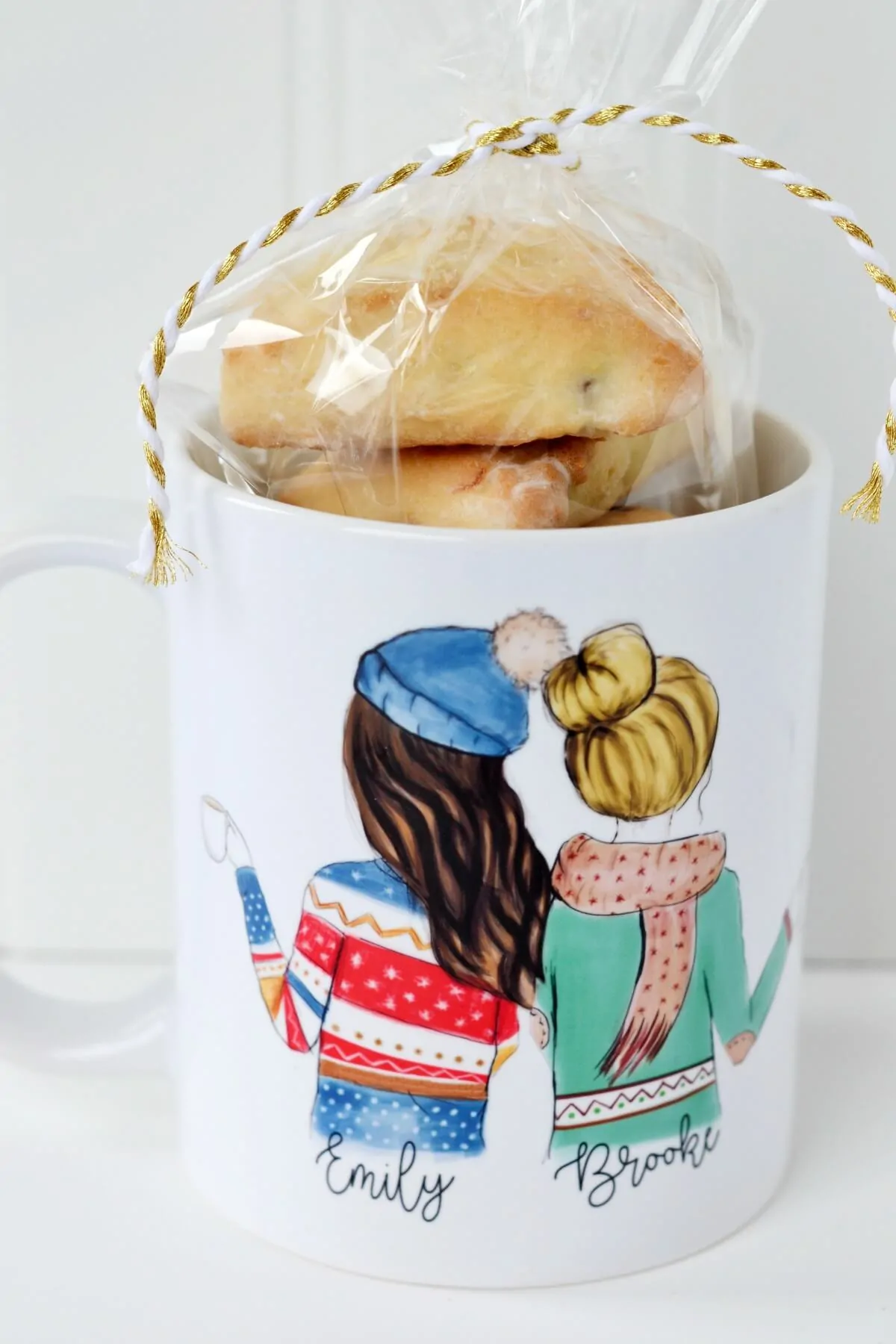 9. For the Shopper
This is the simplest of them all! Package together a holiday card, shopping gift card, and mug with paper shreds, clear wrapping, and string. It's a gift that's sure to please since the recipient can pick out exactly what they need or want with the gift card. Don't forget the gift tag.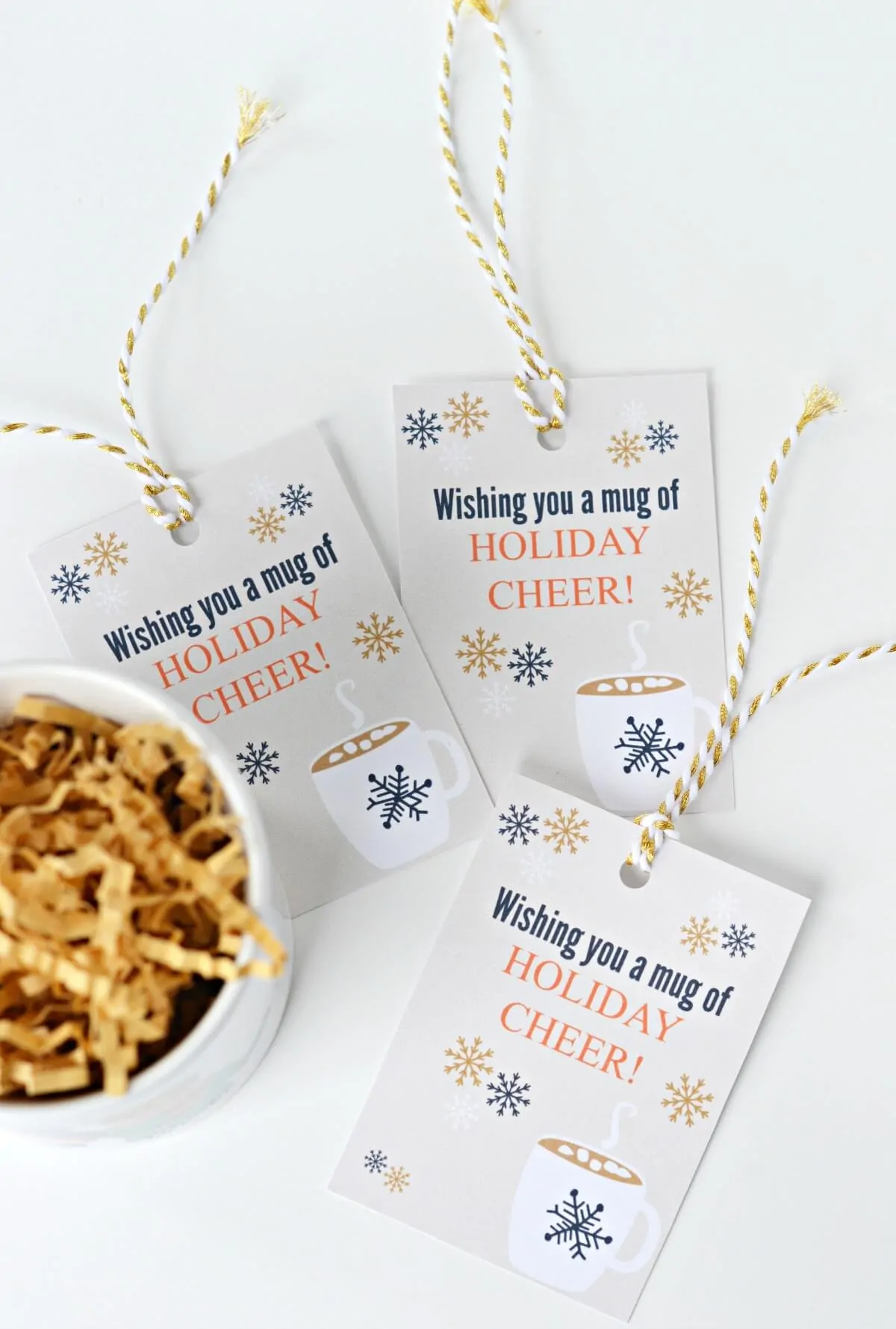 Free Printable Gift Tags
Oh, and speaking of gift tags…I have a little surprise for you. It's a set of printable gift tags that are perfect to pair with mugs. Print them out. Punch a hole in the top of each one. Then attach the gift tags to mugs with pieces of twine or string. Yes, it's truly that easy to pull together a beautiful and thoughtful gift!
Click Here to Download the Free Printable Gift Tag…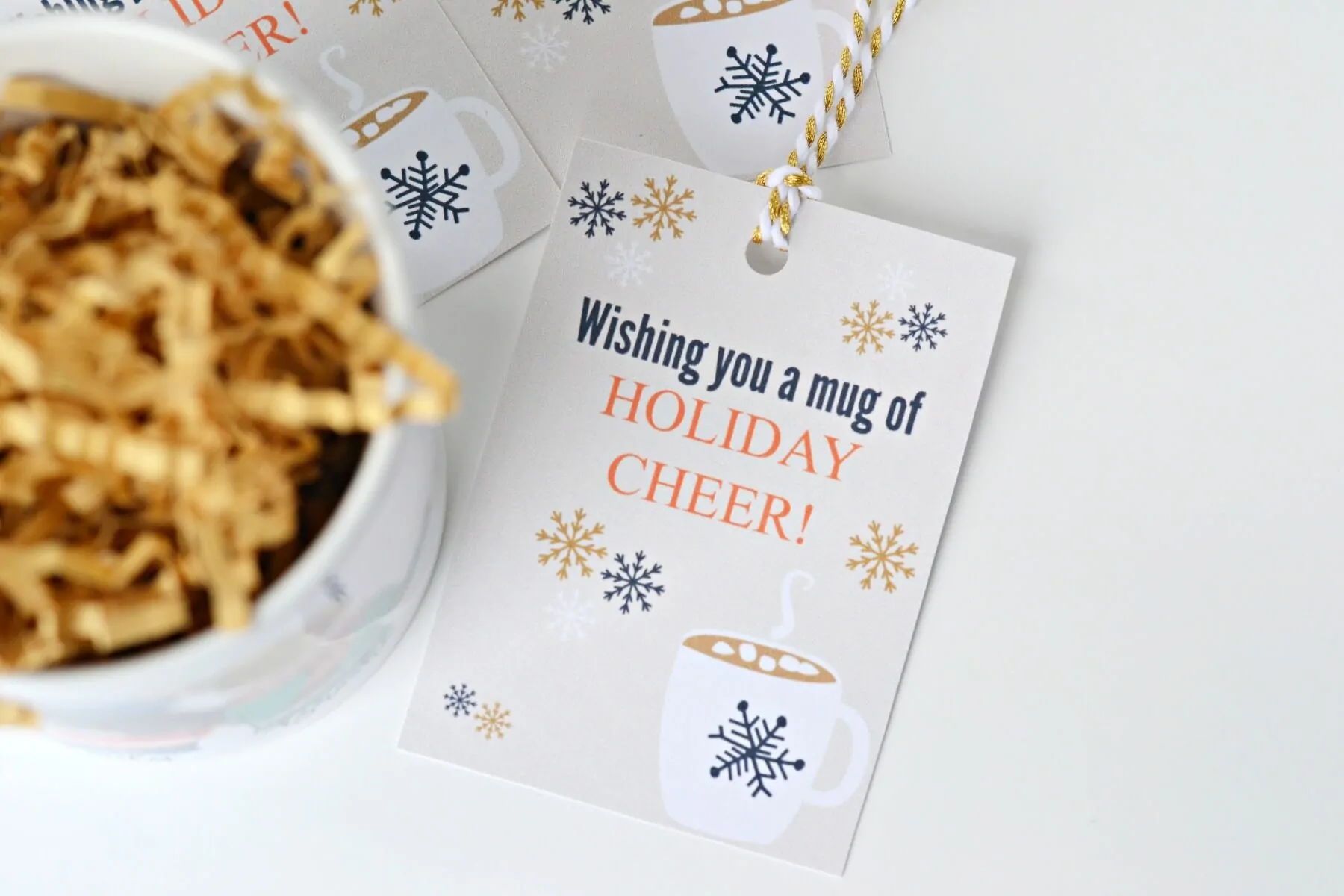 Disclosure: This post is sponsored so extra thanks for reading and sharing.
Written by 5 Minutes for Mom contributor Jennifer Dawn. Jenn blogs about living a beautiful and creative life at The Life of Jennifer Dawn.
More Christmas Gift Ideas
We think unique gifts are the best… so get inspired with all these fabulously special gift ideas.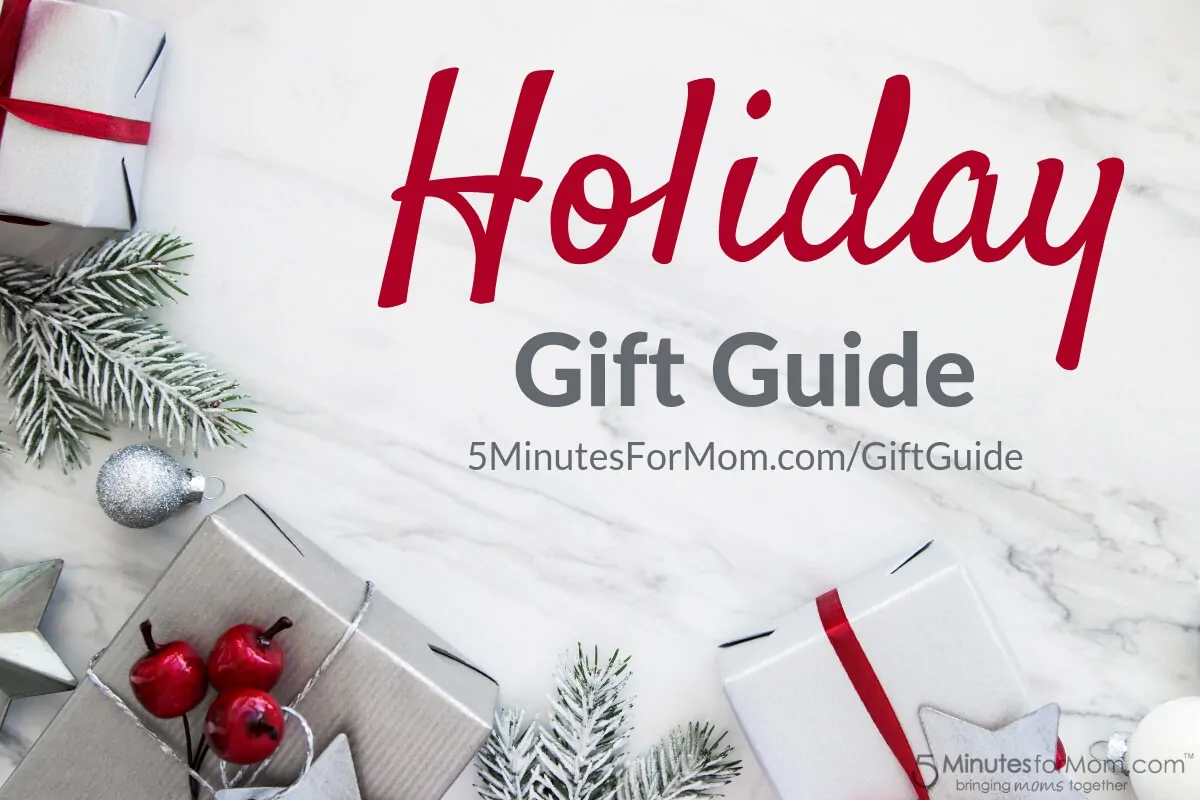 We've divided our Holiday Gift Guide into four main sections…