This post may contain affiliate links. Read my disclosure policy here.
It's that time of year again — time to get your kids prepared to head back to school. Depending on where you live, your kids might be starting school in a couple weeks or you might have a full month left. But regardless of what day the school bus starts rolling, you'll want to get prepared now. This post is sponsored, so extra thanks for reading and sharing.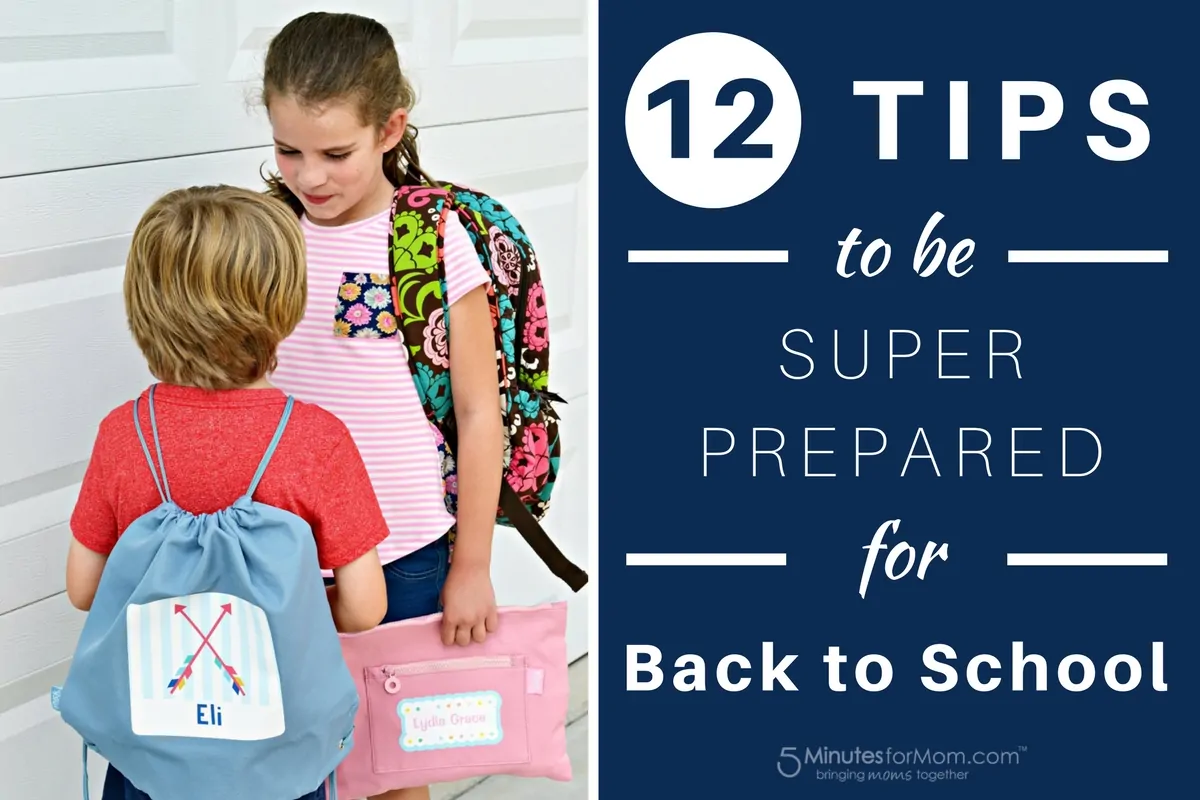 I'm Jennifer from the blog The Life of Jennifer Dawn and contributor here at 5 Minutes for Mom. I'm here today to help you get prepared for back to school with twelve tips to get you and your kids ready to tackle a new school year. We're also sharing a fantastic company that offers school supplies, backpacks, labels, and lunch boxes all personalized with your child's name. Stuck on You has dozens of great products that make back to school shopping a breeze.
With Stuck on You and these 12 tips, you'll be the most prepared mom on the block…
1. Buy Clothes and Supplies
Take inventory of the supplies you still have from the previous year. It may surprise you how much can be reused. Beat the rush and buy anything else you need early.
Prices on school supplies are at their lowest during this time of year, so be sure to stock up. 
Stuck on You has many of the supplies that your child may need like pencil sharpeners, colored pencils, pencil pouches, rulers, and scissors.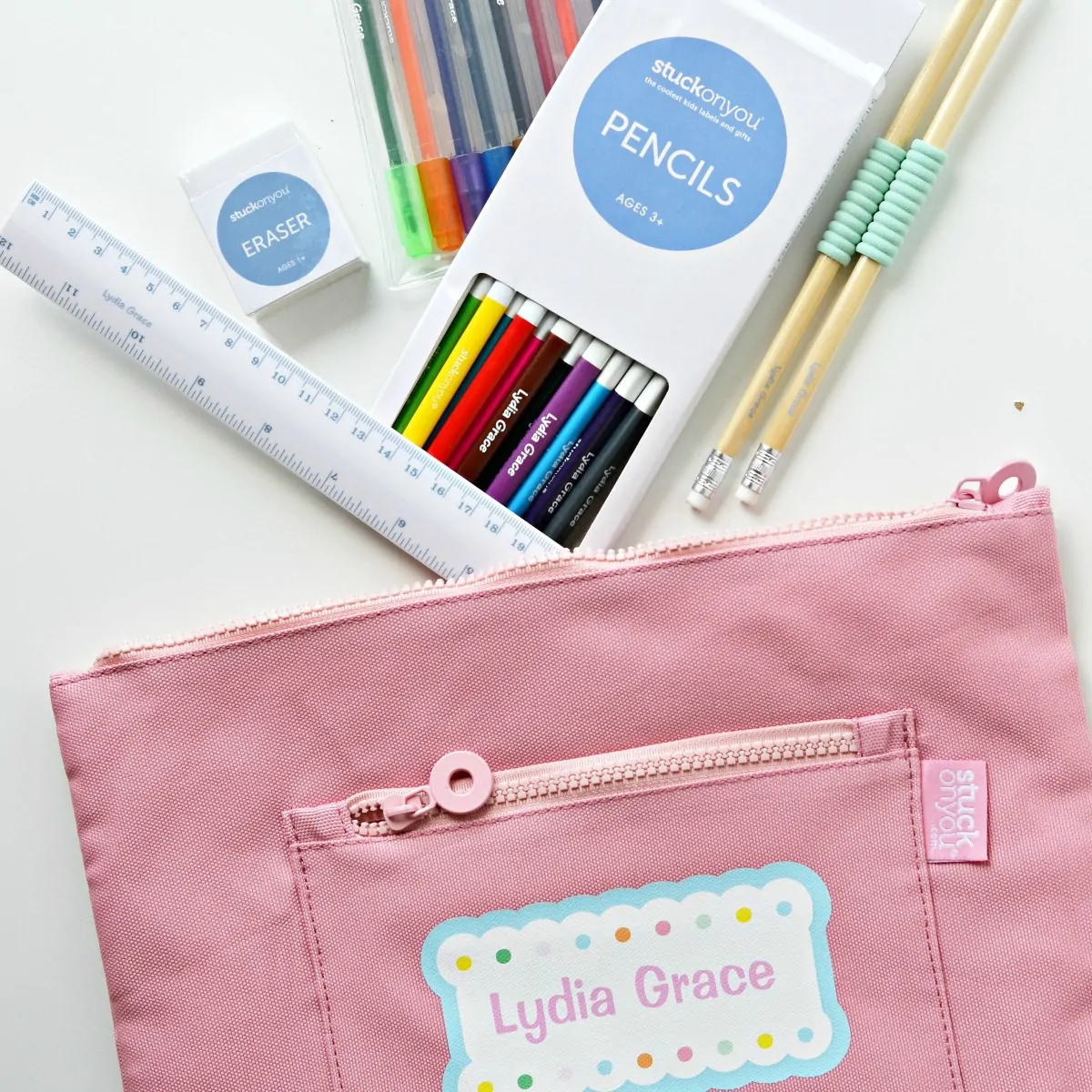 They even have backpacks that can be personalized with cute designs and your child's name. Do you need an extra bag for dance lessons or soccer practice? Stuck on You has you covered on those too.
This is a perfect time to clean out your child's closet and sell or donate any clothes and shoes they've outgrown. Buy some basic pieces that will mix and match together to create a versatile back to school wardrobe.

2. Label Everything
Lunch boxes, water bottles, and school supplies always seem to wind up missing at some point during the year. It's like they grow legs and wander off or something! Am I right? Save yourself and your kids a lot of stress and expense by labeling all of their lunch containers, bags, and supplies.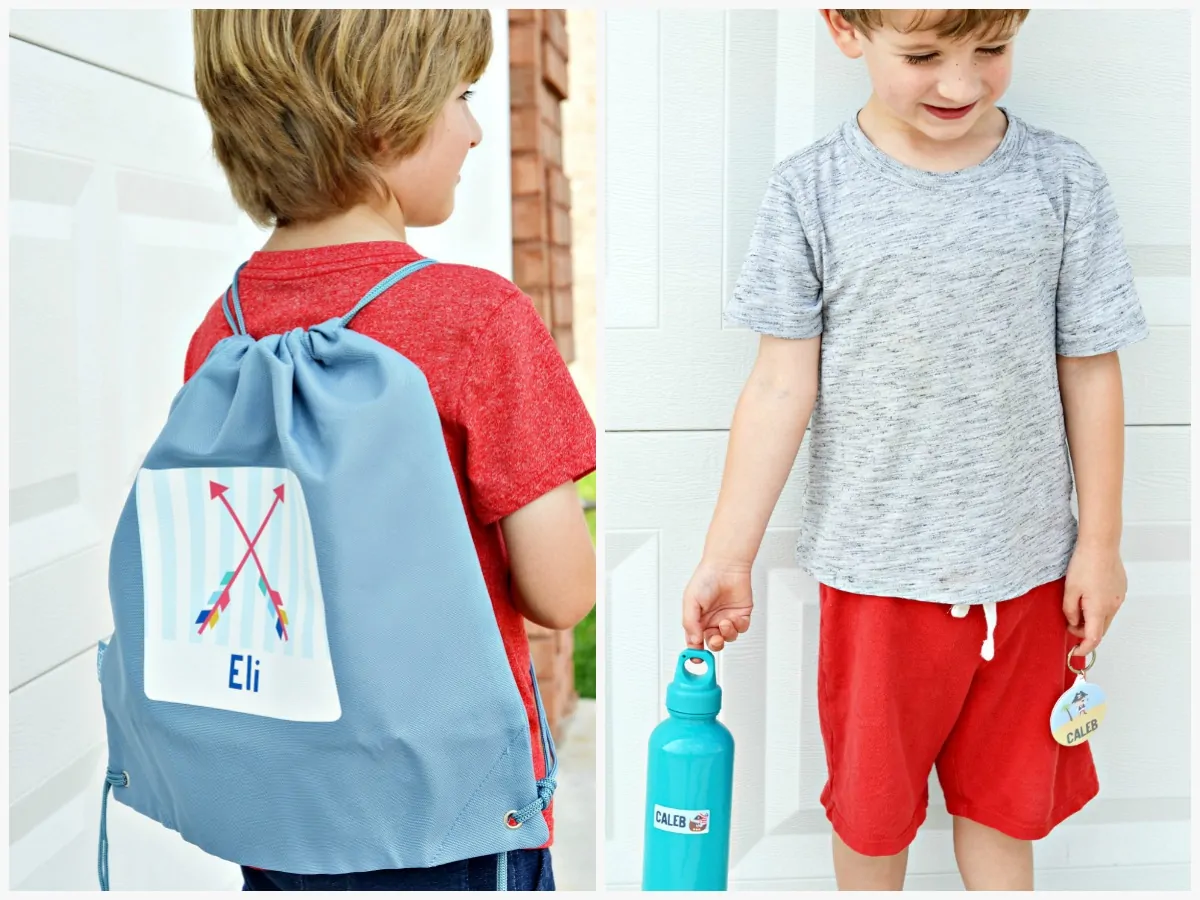 Stuck on You is a lifesaver when it comes to this step. They have bags, lunch containers, pencils, key chains, and more that can all be personalized with your child's name. 
The labeling is done for you! Order a pack of colored pencils or pens and it comes with each individual writing utensil personalized with your child's name.
They also have customizable labels. There are iron-on labels for clothes, scratch-resistant labels for books, and even microwave and dishwasher safe labels for lunch containers and water bottles. How's that for easy labeling?
3. Get on a Routine
Chances are that schedules and bedtimes haven't been enforced as much during the break from school. Get the kids back on a regular routine about two weeks before school starts. This helps to gradually transition them back to consistent bedtimes and earlier wake-ups.
Establish a routine for the family to follow before and after school. With just a quick search on Pinterest, you can find dozens of printable routine cards and schedules. Choose one that will work best for your family and set it out as a visual reminder of the daily schedule.
Even though we are a homeschool family, there are still mornings when we have co-op classes, extracurricular activities, or other events to attend. Once I put a visual routine in place for getting ready, our mornings started flowing much smoother.
Having a set routine for the hours after school ensures that homework, family dinners, and extracurricular activities all run like clockwork. You want evenings and bedtime to run just as smoothly as your mornings.
4. Get Organized
As a homeschool mom, getting organized for us means setting up our homeschool room with all of the books and materials we'll need for the year.
For you, it might mean creating a kitchen command center, homework station, or storage area for backpacks and shoes.
What area of your home or life needs a little organizational magic before the busy school days begin? What can you do to spruce it up?
5. Encourage Independence
Let the kids do as much as they are able on their own. Do you have a child who is old enough to make their own sandwich? Can one of the older kids help their younger siblings get dressed? Have your kids been given opportunities to complete tasks on their own for when you're not there to help?
Encourage them to be as independent as they are able. This takes a lot off of your plate and helps them build confidence and responsibility.
As mothers, we naturally want to nurture and take care of our kids, but we also need to be willing to step back and allow them opportunities to make their own choices and do some things for themselves.
6. Create a Lunch and Snack Station
Speaking of encouraging independence…create a station filled with the supplies and healthy foods for the kids to prepare and pack their own lunches and snacks.
Designate a bin in the refrigerator and a cabinet or drawer as the holding area for lunch items. Water bottles, food containers, bags, utensils, napkins, spare condiments, and healthy food choices can all be kept in those designated areas to make packing lunches fun and easy.
7. Use a Calendar or Planner
Start by filling out the start and end dates for the school year. Then add-in any important school-related events. Make sure to include holidays and vacations. The school's website will typically have a calendar that lists all of this information. Take a look and add those dates to your own calendar.
A planner will also help you keep track of appointments and extracurricular activities. You'll feel more pulled together and organized if you have a clear idea of what's coming up each week.
My husband and I even have a weekly meeting where we go over the calendar and make any necessary plans for the week ahead. It's a great way for us to stay in communication with each other and support our kids' education as a united front.
8. Get on a Housekeeping Routine
Cleaning schedules and menu plans will help you stay on top of running the house during the busiest months of the year.
Enlist the kids' help, too! Assign them chores and tasks to do around your home. Many hands really do make light work!
9. Prepare the Kids
Schedule a one-on-one time which each of your children before school starts. Spend this time doing something fun together. Ask their thoughts and feelings about starting a new school year. Talk to them about what to expect this year. Do they have any questions or fears?
This special time together can help settle "beginning of the year" jitters and open up an honest line of communication that'll hopefully remain open for the rest of the year.
10. Set Goals
Have each person in the family brainstorm a few attainable goals they'd like to accomplish during the year. Make sure to write them down somewhere to check progress and refer back to periodically.
Being goal-oriented is an excellent way to get the year off to a positive and productive start.
11. Prepare the Night Before
Get yourself and the kids into the habit of preparing everything you'll need for school the night before. Pick out clothes, pack bags, and even prepare snacks and lunches.
Having these things done the night before will make your mornings much less stressful.
12. Stay Positive and Make It Fun!
Have you ever heard the saying, "If mom isn't happy, nobody is happy." There is a lot of truth to this. Moms set the mood for the rest of the household. If you are positive and upbeat about school, the kids will be as well. Learning and school should be exciting!
Make it a point to inject some fun into the process. Have a back to school celebration! Or even buy your child something special that will get them excited about starting school again.
Back to School Checklist – Free Printable
Are you feeling more prepared now? The beginning of a new year can feel overwhelming, but it doesn't have to be that way.
To help you get super prepared, enjoy this FREE printable. It walks you through the steps that will get the school year off to a great start for you and your kids!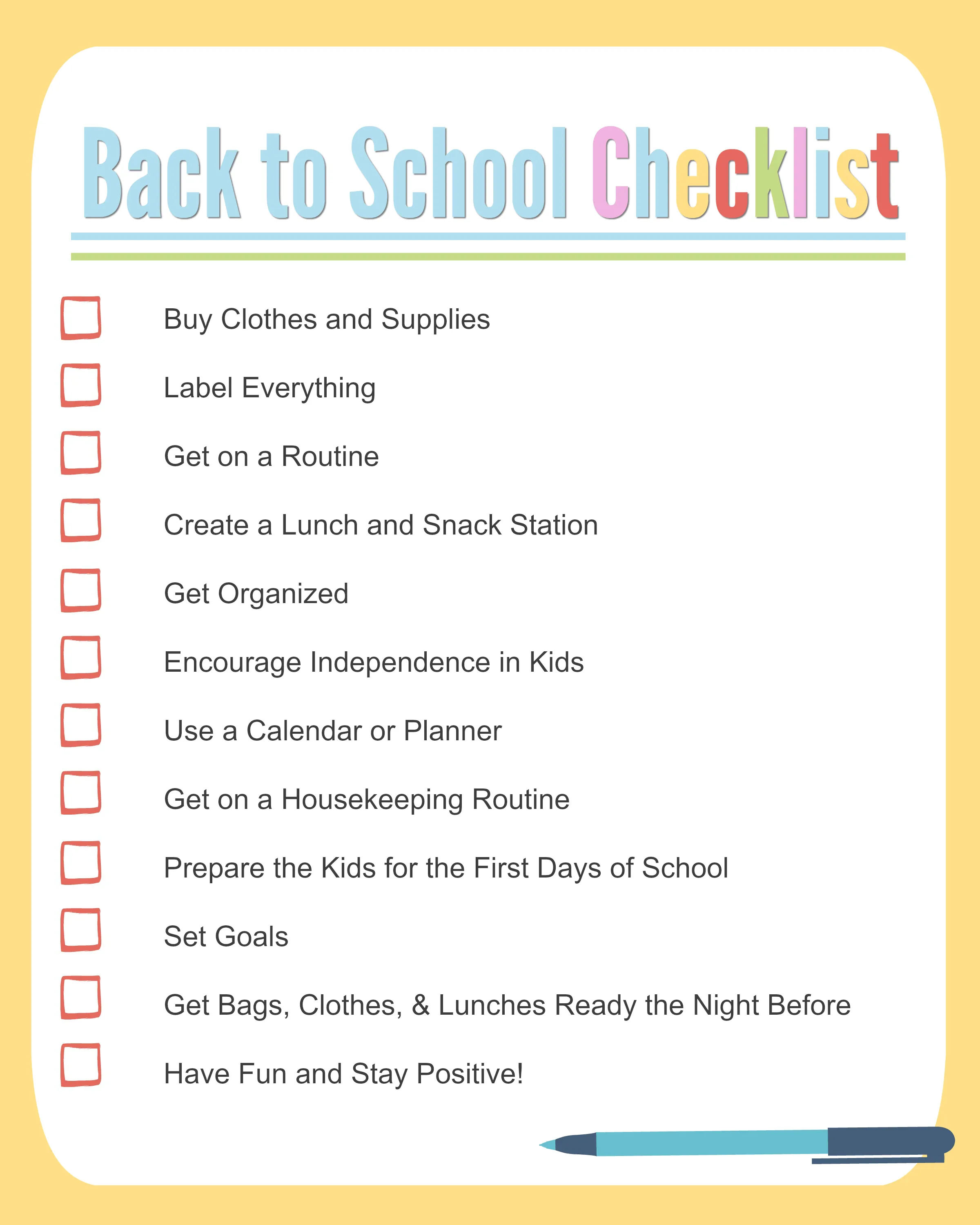 Click Here to Download a Print Ready PDF Version.
Remember to check out Stuck on You for fun, personalized products for going back to school.
Giveaway
We're giving away a Stuck On You Prize Pack worth $95 and containing:
If you'd like to win, leave us a comment sharing a tip that helps you and your family prepare for the beginning of a new school year. Then complete your entry using the form below.
Open to US and Canadian residents except those in Quebec.
Follow Stuck On You:
facebook.com/stuckonyouofficial/
facebook.com/stuckonyou.usa/
instagram.com/stuckonyouofficial/
twitter.com/StuckOnYouTweet
au.pinterest.com/StuckonYouAust/
And Don't Miss Our Back To School Giveaway
Would you like to win a $100 Amazon Gift Card for your back to school shopping?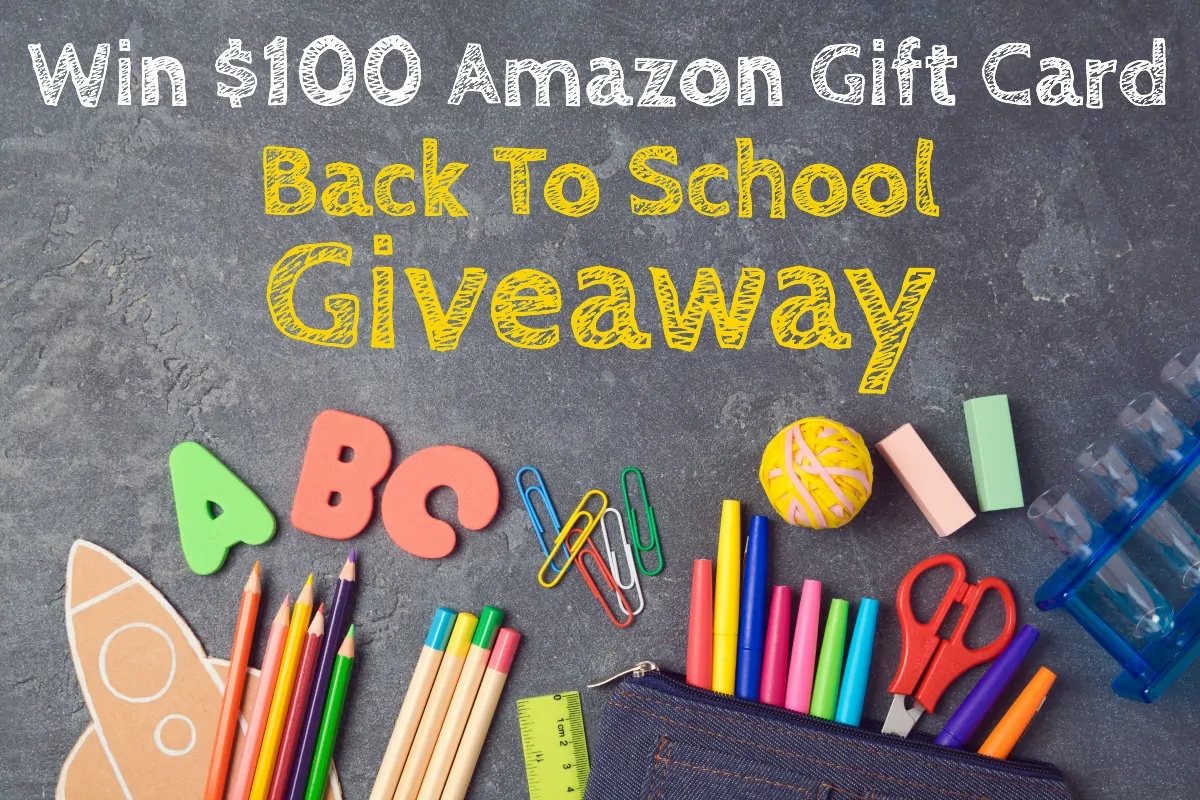 Plus… CLICK HERE to enter to win a $200 Amazon Gift Card and 1 year of Trend Micro.
Pin it for Later

Disclosure: This post is sponsored by Stuck on You. All content and opinions are my own.
Written by 5 Minutes for Mom contributor Jennifer Dawn. Jenn blogs about living a beautiful and creative life at The Life of Jennifer Dawn.