This post may contain affiliate links. Read my disclosure policy here.
Anna here again with part 3 of our Saving Money Series. Today is all about grocery shopping on a budget. Thanks so much for sharing and pinning, it is so appreciated.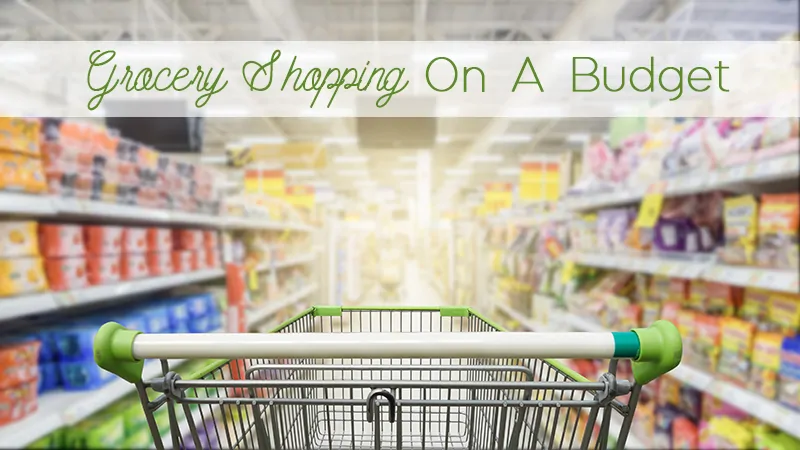 Do you grocery shop with a budget? Or do you just make a menu, make a list, and then shop?
I used to grocery shop on a budget big time! When my husband and I were first married we would go through seasons where our grocery budget was literally $15 a week. $15! It was tough but somehow I made it work. Three kids and inflation make that pretty much impossible now.
But a few years ago I slowly, and unconsciously, started making my menu, then making my list and shopping… with no real thought as to how much this was making me overspend in the grocery store!
Prices have increased quite a bit from the time we were spending $15 a week. But what we've been paying for groceries each week is astronomical. So I've been going back to the basics and I have some tips for you if you find yourself struggling with spending too much money at the grocery store.
Did you catch post one – No Spend Challenge – Can You Do It? and post two – Eat From the Pantry Challenge? If not they are great posts if you are trying to cut back on spending and save more money.
How to Grocery Shop on a Budget
Inventory. Just like in the Eat From the Pantry Challenge, take inventory of your pantry, fridge, and freezer. Buying something you already have is not only annoying but messes with your budget right off the bat.
Sales Flyers. Instead of making your menu before you make your list, check out your local grocery stores sales flyers to see what's on sale first. Then start planning your menu based on what you already have on hand, and what is on sale that week.
Make a list. And stick to it. Unless you happen to remember something you actually need then do not stray from your list. This is one of the hardest for me to do. Especially if my kids are with me. Sometimes if I see something not on my list then I put something back or mark off an item on my list and make a switcheroo.
Stock Up. When there is a great sale on something that you use and buy frequently buy a few extra…just don't overdo it. Do you really need 3425 packages of chips? I didn't think so.
Do not shop hungry. This might not seem like a big deal. Let me tell you. This is a HUGE deal. If you shop while you're hungry your grocery budget is going to be shot to pieces. For real.
Leftovers are your friend. I like to plan for leftovers for dinner one night a week. I lay everything out on the counter and everyone gets to come make a plate and pop it in the microwave. Wasting food makes me cry. If you absolutely don't like leftovers then try to cut back on how much you cook.
What about you? Do you have any tips for how to Grocery Shop on a Budget?
Pin for Later
Pinning and sharing is so appreciated.